Four-time NBA all-star Jimmy Butler wants out of Minnesota. Team officials seem reluctantly ready to oblige. The lingering question: where could he be headed next?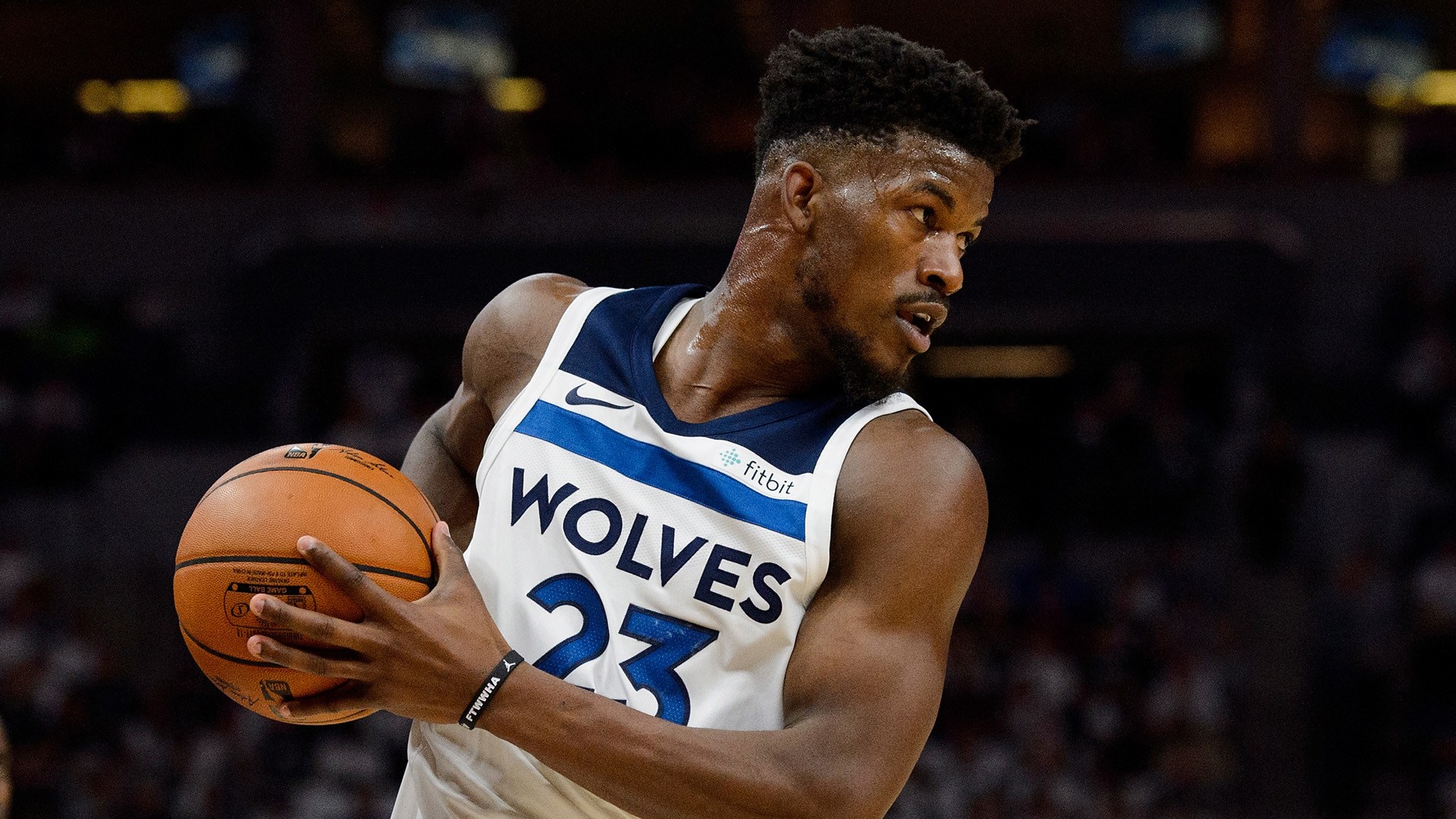 One of the best two-way players in basketball, Butler demanded a trade last Tuesday. Less than a week before the beginning of training camp, the 6-foot-8 shooting guard and small forward informed his coach that he didn't want to start the new season with the Timberwolves.
Butler, 29, presented a list of three teams he'd play for — the LA Clippers are his top option, but he told his coach he'd be cool with playing for the New York Knicks or Brooklyn Nets. He also requested that he be dealt quickly, pushing for a trade to take place before Monday's NBA media day, a request the team did not meet.
Minnesota Split
There's an apparent rift in Minnesota between ownership and the front office on what to do with Butler. The team owner may be ready to dump his disgruntled player ASAP, but team management and coaching staff is reluctant to be so impulsive. The front office is saying they refuse to deal him unless they get equitable value. Head coach and team president Tom Thibodeau insists that Butler is an elite player and wants to keep him in Minnesota.
"We're not going to make a bad deal," Thibodeau said at a 25-minute media day press conference. ""If it's a good deal, we're interested … But you have to take the team first."
GM Scott Layden didn't seem to be in any rush over the weekend either, though he acknowledged that his pocket had been buzzing since other NBA teams learned that Butler potentially on the trading block.
"When you have a player like Jimmy who is clearly a top-10 player and All-NBA player, the phone is ringing," Layden said while holding up his mobile for visual effect. "That's why I brought it up here."
Team owner Glen Taylor seeks to deal Butler quickly. Taylor openly fielded offers directly from other owners and GMs. In the past, Taylor spearheaded trades for previous superstars Kevin Garnett and Kevin Love.
Where Might Butler Go?
Butler's salary is $20 million this season. At the end of this contract cycle, Butler will be eligible for a five-year, $190 million contract extension with the T-Wolves or any other team that acquired him through a trade. If Butler signs with a new team, he's only eligible for a four-year deal with a maximum $141 million.
In-house feuding escalated in recent weeks between the T-Wolves all-star center Karl-Anthony Towns and forward Andrew Wiggins.
Some of the dysfunction played out on social media this past week. Andrew Wiggins' brother, Nick Wiggins, tweeted "Hallelujah" when the trade story broke.
Butler responded with an Instagram story of a workout video. Butler said, "Hallelujah. Keep that same energy."
The LA Clippers have two max contract spaces available for next season. There's no secret that the Clippers will be courting Kawhi Leonard, who will play out this season for the Toronto Raptors before heading into free agency next summer.
The NY Knicks have the cap space for Butler, but Butler was quoted as saying his interest in the Knicks was "overstated" because he "wants to win sooner than later." Even with Butler, there's no guarantee the fledgling Knicks would make the playoffs.
The Sacramento Kings are aggressively seeking a trade with Minnesota. The Kings have the cap space and multiple expiring veteran contacts (Zack Randolph, Iman Shumpert, and Kosta Koufos). The Kings sweetened the pot with the addition of a 2018 first round pick.
The Miami Heat also expressed interest in Butler. Heat president Pat Riley admires Butler's tenacity on both offense and defense. The Heat currently have Tyler Johnson, Hassan Whiteside and Dion Waiters on the chopping block. Riley would prefer to not deal Josh Richardson, Bam Adebayo and Kelly Olynyk to acquire Butler, but it looks like he might have to part with Kelly Olynyk.
T-Wolves Holding On, Butler Holding Out
Butler was noticeably absent from NBA media day on Monday. Training camp begins today.
Head coach Tom Thibodeau attempted to persuade Butler to join the team in training camp. Butler continues to sit out while he awaits a trade, but Thibodeau was hopeful that Butler will rejoin the team in camp if they can't get a trade together this week.
The young Wolves have enough talent to make another postseason appearance, but Butler was a key part to the equation.
Minnesota ended the 2017-18 season with a 47-35 record, which garnered them the No. 8 seed in the playoffs. Minnesota had the third-best record in the West when Butler went down with a knee injury. By the time he rejoined the team at the end of the season, the Wolves went 9-10 and slipped to the #8 seed.
"We're still a playoff team without Butler," added Karl-Anthony Towns.
The Minnesota Timberwolves are currently listed at +15000 to win the NBA Championship.