Jimmy Butler erupted for a monstrous triple-double with 40 points, 13 assists, and 11 rebounds in a resounding victory for the Miami Heat that pissed off LeBron James so much, he stormed off the court with 10 seconds remaining on the clock. Even without two starters, Bam Adebayo and Goran Dragic, the Heat rebounded from an 0-2 hole in the NBA Finals to defeat the LA Lakers 115-104 in Game 3.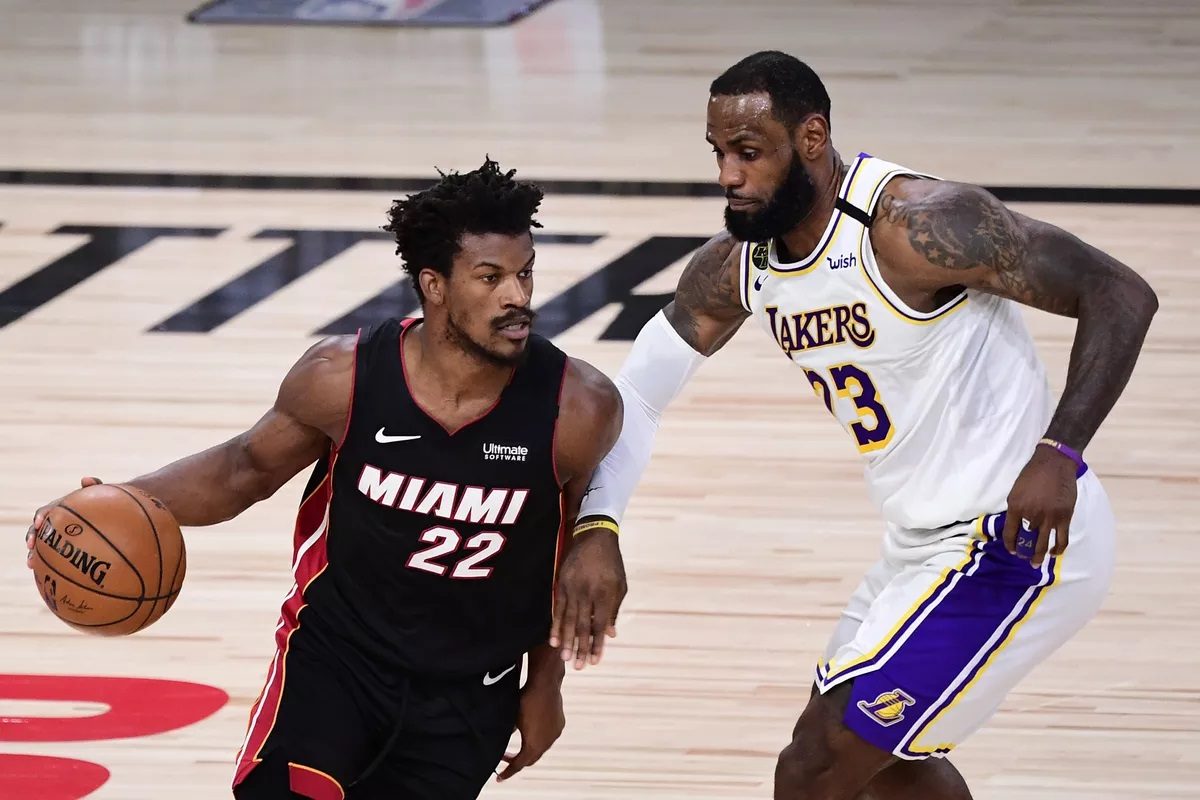 The most impressive aspect about Butler's 40-point outburst? He didn't make a single 3-pointer. He didn't even attempt one. Butler dropped 40 points for the Heat the old-school way — by going to the hole.
Butler became only the third player in NBA Finals history with a 40-point triple-double. Jimmy Buckets joined the likes of Jerry West and LeBron James.
---
Jimmy Butler Game 3 Triple-Double
Minutes: 45
Points: 40
Assists: 13
Rebounds: 11
Steals: 2
Blocks: 2
FG: 14-20
FT: 12-14
---
The Heat avoided a 0-3 deficit, which is essentially a death sentence in the NBA postseason. The Heat were already in dangerous territory down 0-2. LeBron never lost a 2-0 deficit in the postseason in the 24 times he got spotted a two-game lead.
Jimmy F'n Buckets
Butler can score 40 points on any night. He doesn't because he knows his team can't win every night when he lights it up and unmasks the superhero, Jimmy Buckets.
Butler usually scores just enough for the Heat to win. He knows when he needs to fill in the slack, or when to keep passing the rock to the hot hand. In Game 3 of the NBA Finals, Butler was the hot hand, but he also dished out 13 assists to share the scoring love during his epic triple-double.
"How else do you say it other than 'Jimmy F-cking Butler'?" said Heat coach Erik Spoelstra. "This is what he wanted. It's really hard to analyze or describe Jimmy until you actually feel him between the four lines. He is a supreme, elite competitor."
During a post-game interview, ESPN's Rachel Nichols asked Butler about his triple-double.
"We won, I could care less about a triple-double," said a very serious Butler. "I hope the next game I score zero, and y'all talk like y'all wanna talk, and we win, so I can come up here and say the same thing."
"He's always been the type of guy you can depend on," said Jae Crowder. "Whatever you need, not just scoring, he can get a big rebound or big foul or big charge. He'll come through."
"We're going to compete," said Butler. "We're not gonna lay down. Gonna fight back in this thing and even it up 2-2."
NBA Conspiracy Theories: The Big Mouse Said No Sweep
It's about time LeBron felt the other side of a classic "job" by the officials. The zebras, Scott Foster in particular, are company men for the NBA and their corporate partners. Lest we forget, professional sports is first and foremost a television show. The court at Disney World of Sports in Orlando is smack in the middle of a television soundstage. The NBA Bubble, especially the NBA Finals, is Hollywood magic at its finest.
A four-game sweep of the Heat would result in lost profits in the bigger picture. It didn't take a kooky, tin-foil hat conspiracy theorist to know that the zebras would favor the Heat with every close call in Game 3.
The Heat even used the exact scenario as part of their game plan. Whenever Anthony Davis initiated contact, a Heat defender flailed backward. They didn't have to really sell the offensive foul with a ridiculous flop because the zebras were ready with a quick whistle. Davis fell into foul trouble early due to three quick fouls. The NBA's striped henchmen neutralized the NBA's most dominant player on the court in the first two games of the finals.
Davis scored just 15 points on a non-threatening 6-for-9 shooting. He only pulled down five rebounds and had zero blocked shots.
Without Davis, it was Jimmy Buckets and Friends versus LeBron James and a whole bunch of no-names, aside from a puffy-faced Rajon Rondo. Rondo went on mega-zebra tilt early on and he never found his rhythm. As much as LeBron begged and cajoled for Playoff Rondo to emerge, it never happened. Rondo added just four points off the bench in the 11-point loss.
On Deck: Game 4
The Lakers were 9.5-point favorites in the last two games, once Dragic and Adebayo were injured. However, oddsmakers adjusted their line for Game 4. The Heat are now +7.5 underdogs.
The Heat improved to 13-5 SU, but 14-4 ATS this season.