It's not nearly time for Jimmie Johnson to panic, as his Cup Series victory drought stretches into the first two months of 2019, but Johnson, who was winless last year, is starting to see encouraging signs. He returns to a very familiar and successful tract, Auto Club Speedeway, Fontana for this Sunday's Auto Club 400.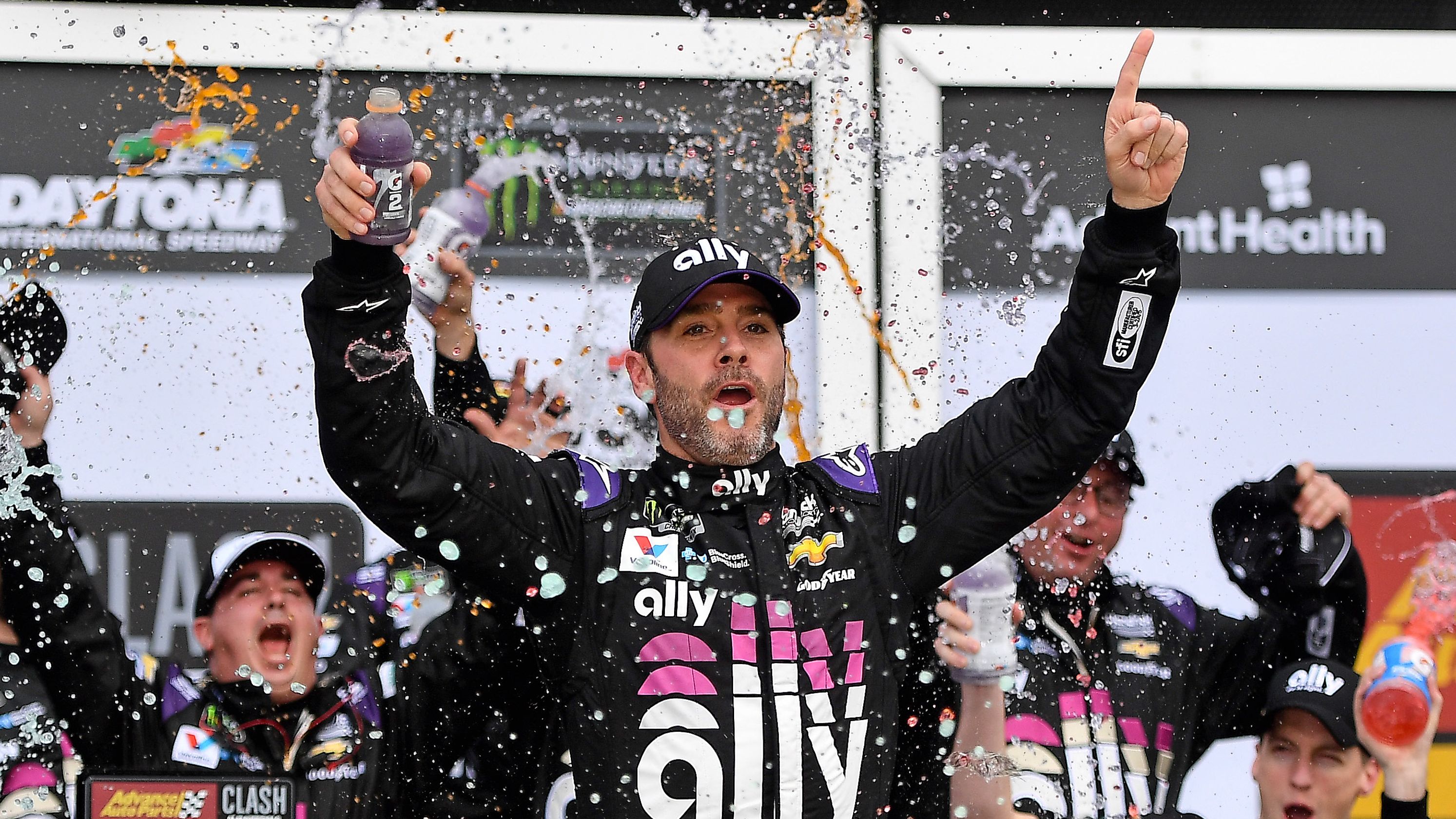 The veteran driver has won at Fontana six times, the last in 2016. If he was going to break his victory drought, this would be a logical place. Oddsmakers, aren't convinced, however. They have him at 50/1, well behind favorite, Kyle Busch (4/1) and Kevin Harvick (5/1).
Even though Johnson hasn't won since Dover on June 4, 2107, the 43-year-old remains optimistic. He finished eighth at Phoenix last Sunday, and was encouraged at his best result since a seventh-place finish at Talladega.
"Definitely a strong performance," Johnson said. "We need more. We need to find more, but on a short track where grip is so important our guys did a nice job all weekend long of bringing a little bit more. I'm excited about that. We weathered the storm on two tires, on four and ended up with a nice top 10."
No Excuses
Johnson did start the year off win an unofficial victory at the Advance Auto Parts Clash. The race only featured 20 cars and was shortened due to rain.
The contest was scheduled for 75 laps, but was stopped at 59 laps after the third red flag due to the weather. Johnson said at the time, though, he will gladly take the win.
"We still need a points race win to say we're back in victory lane," Johnson said. "But it was a great first step today."
That led to some momentum going into the first race of the year, the Daytona 500. Johnson finished ninth, his best finish since a fifth-place result in 2015.
One area Johnson said is not a factor is the new rules package, implemented by NASCAR this season.
"I'll race whatever they bring," Johnson said of the rules. "I'm here to figure out whatever the rules package is, and I've been doing this long enough to have a lot of downforce, no downforce, a lot of power, no power."
Harvick Still Winless
It is a strange position for Harvick, who has not won in four races this year, but has three top-10 finishes. This time last year the 43-year-old had won three in a row. Still he believes a trip to the winner's circle is imminent.
"Auto Club Speedway is by far one of my favorite tracks we go to," Harvick said. "It's top three on my list as far as tracks that I'm excited to go to, just for the fact that the asphalt is so worn out. It is very similar to Atlanta in a much different shape of a racetrack."
Despite his affection for the track, he has not won there since 2011, though he has two second-place finishes since then.
"It's in my home state," said Harvick, who is from the San Diego area. "It's a big week and I know, from a driver standpoint, Auto Club Speedway and Atlanta Motor Speedway are right up there at the top of everybody's list because there is so much falloff and the asphalt is so worn out."