The US Senior Open could be a battle of Wisconsinites according to oddsmakers. The Westgate Las Vegas SuperBook has Steve Stricker the favorite at 5/1, with Jerry Kelly next at 8/1.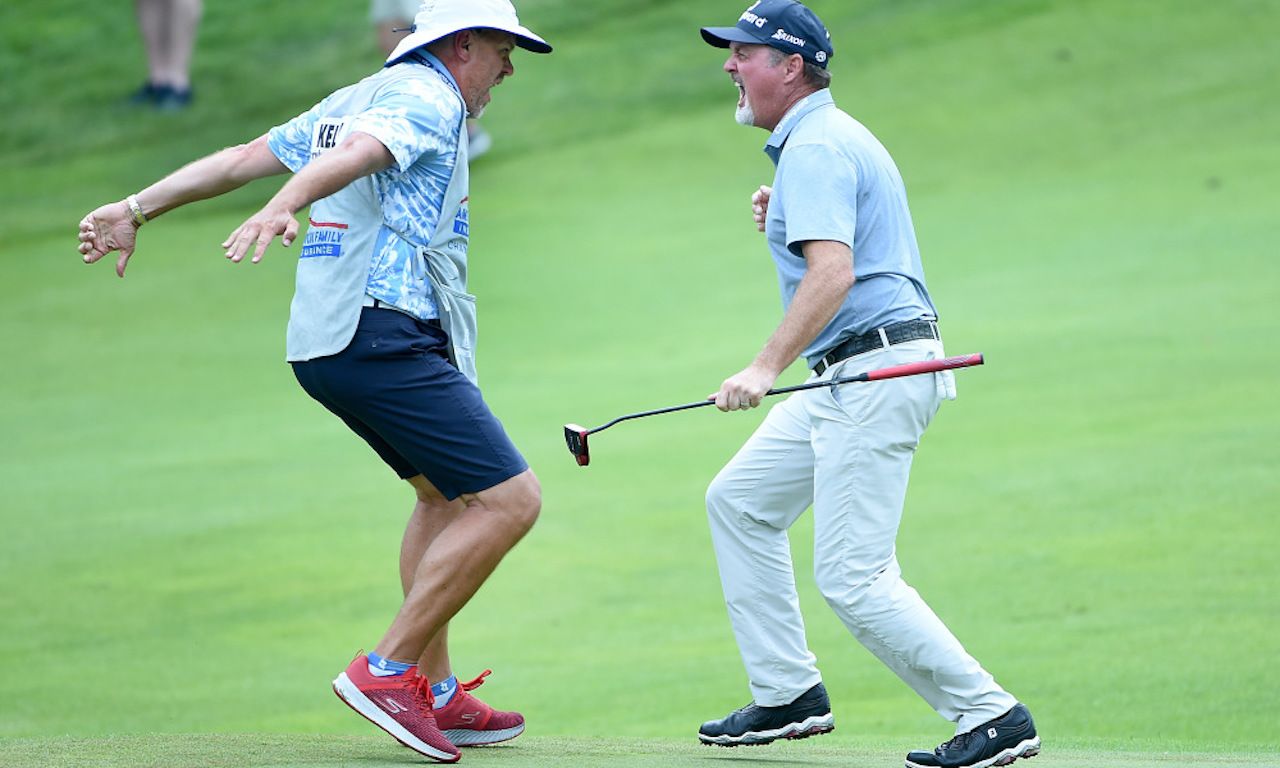 While Stricker is the top pick, he already lost one battle to fellow Badger State resident Kelly. Kelly won last week's American Family Insurance Championship in Madison, a tournament that Stricker acts as the host at. Stricker got into a playoff with Kelly and Retief Goosen, but got knocked out on the first extra hole. Kelly won on the third playoff hole.
"The chills were flying up and down," Kelly said. "It was pretty amazing. My mom saying the sun came out, my dad was there. I haven't won since my dad passed, so this was the first one and I was talking to him all the time. There were a lot of birdies coming up and chirping right next to me and I was like, 'Hey, hey, Dad, how are you?' It was kind of surreal."
It was the first victory for Kelly since last year's Mitsubishi Electric Championship at Hualalai, and was his fourth on the PGA Tour Champions. To win at home, though, was something special, Kelly said.
"It really is truly awesome," Kelly said. "It's about friends and family and to be able to do it in front of everybody … this is pretty sweet."
Stricker Ready to Roll
While Stricker has never won the tournament he hosts, he does have something Kelly doesn't, a major championship. Stricker won the Regions Tradition in May, and think about his success there to try and win his second major.
"Anytime you can win, you can draw on those experiences and hopefully use them the next time, especially when you come to another major," Stricker said. "Yeah, I'll hopefully get the opportunity to get in contention and have an opportunity on Sunday to try to win. It would be a dream, really, to try to have that opportunity and try to pull that off. Looking forward to the challenge."
The one disadvantage Stricker does have is that he was so busy with duties related to last week, it will be an adjustment to try and win this week.
"I got a couple days to kind of get my brain right," Stricker said. "Yeah, it was a busy week, got in contention, had a chance to win. A little bit of a letdown when I don't make that putt on the last hole, and now I've got to kind of refocus and get reenergized because it was a tiring week. Yeah, but shouldn't have any problem getting excited to play here and for a USGA event and the Senior Open. I'll take it easy the next couple days, learn the course a little bit, practice and hopefully be ready on Thursday."
McCarron Ready for Seconds
Another player who is looking to try and win his second PGA Tour Champions major is Scott McCarron. The 53-year-old won the Senior Players Championship in 2017, and finished second this year at the Senior PGA Championship.
McCarron, who is the third pick at 10/1, won two weeks ago at the Mastercard Japan Championship, said he just wants to keep his positive momentum going.
"'I've played well the last few years,"McCarron said. "I finished second on the Money List the last couple years and third or fourth the year before that. So it's more been a continuation of just some good play."