James Harden scored his 20th consecutive 30-point game with a 37-point performance for the Houston Rockets (26-20) in a 121-93 loss against the Philadelphia 76ers (31-17).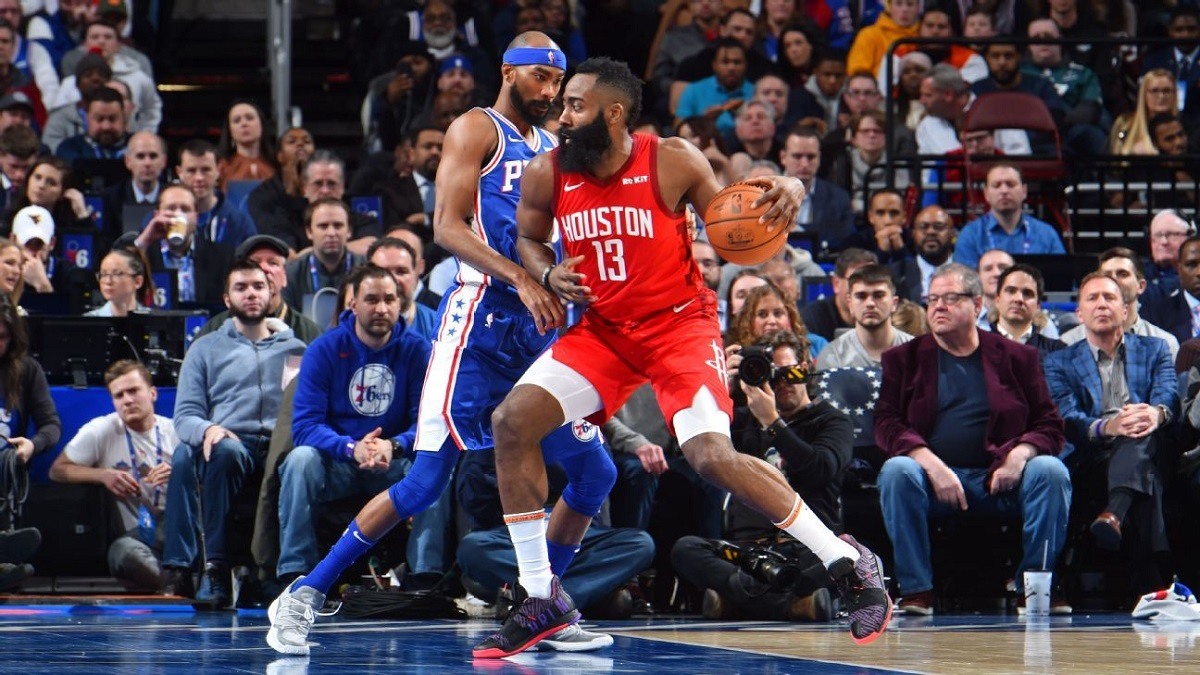 Harden dropped 27 points in the first half and finished the game with 37 points, despite sitting out most of the fourth quarter in a blowout loss.
Harden tied Wilt Chamberlin's 1964 run with 20-consecutive games scoring 30-plus. He's is still a long way from catching Chamberlin's overall record of 65 straight games with 30-plus during the 1961-62 season.
"Wilt was doing some obviously unbelievable things and numbers that nobody will ever catch," Harden said. "Just to be in the same conversation as those guys is just credit to the work I put in. That's what you play this game for, to be listed with those guys, those top players. Obviously, I got a long way to go, but this is a pretty cool beginning."
During Harden's hot streak, he has not scored fewer than 30 points since December 11, 2018, when the Portland Trailblazers held him to 29 points.
Harden scored 30 points in 30 out of 43 games this season. Overall, Harden is averaging 35.7 points per game with 8.3 assists and 6.4 rebounds.
Can't Stop Harden
The reigning MVP has been on fire the last month or so. This season, he's scoring nearly 12 points over his career average of 23.8 points. Harden stepped up his offense to compensate for injuries to Chris Paul, Eric Gordon, and Clint Capela. Not to mention, Harden is also covering up for the Carmelo Anthony experiment gone wrong. The Rockets hoped Melo would provide offense off the bench. However, after ten games, Melo failed to mesh with his two of his best friends — Paul and Harden. The Rockets pulled the plug on Melo and Harden picked up the scoring slack.
Harden scored 50 or more points four times this season, including back-to-back games last week. He set a season-high with 57 points against the Memphis Grizzlies. The next game, Harden exploded for 58 points in an OT loss to the Brooklyn Nets.
"I mean, he's incredible, he really is," said Rockets head coach Mike D'Antoni. "I can't tell you, I've run out of words. My vocabulary's not that extensive.
He previously torched the Lakers for 50 points and triple double and lit up the Washington Wizards for 54 points in an overtime loss.
HARDEN HOT STREAK
Season Average: 35.7
Season High: 57
Consecutive 30-Point Games: 20
30-Point Games Season: 30
40-Point Games Season: 16
50-Point Games Season: 4
Before tip off of Monday night's game, Harden was named the Western Conference Player of the Week by the NBA. Over his last four games, Harden scored 200 points including consecutive 50-point games.
Melo Out, Faried In
In other news for the Rockets, the team finally parted ways with Carmelo Anthony. The Rockets shipped the former All-Star to the Chicago Bulls, who promptly waived Melo.
After a thumb injury to center Clint Capela, the Rockets were in desperate need of a big man. They acquired Kenneth Faried after the Brooklyn Nets waived the former standout from the Denver Nuggets. Faried averaged only 5.1 points and 3.7 rebounds with the Nets, but his presence will be a welcomed addition to the Rockets while they wait for Capela to return.
In his first game with the Rockets, Faried came off the bench and scored 13 points and added six rebounds.
According to the South Point Casino and Sports Book, the Houston Rockets are 10-1 odds to win the NBA championship.