After Tom Brady signed a lucrative free-agent deal with the Tampa Bay Buccaneers, former Bucs quarterback Jameis Winston landed a new job with the New Orleans Saints as a backup QB to Drew Brees.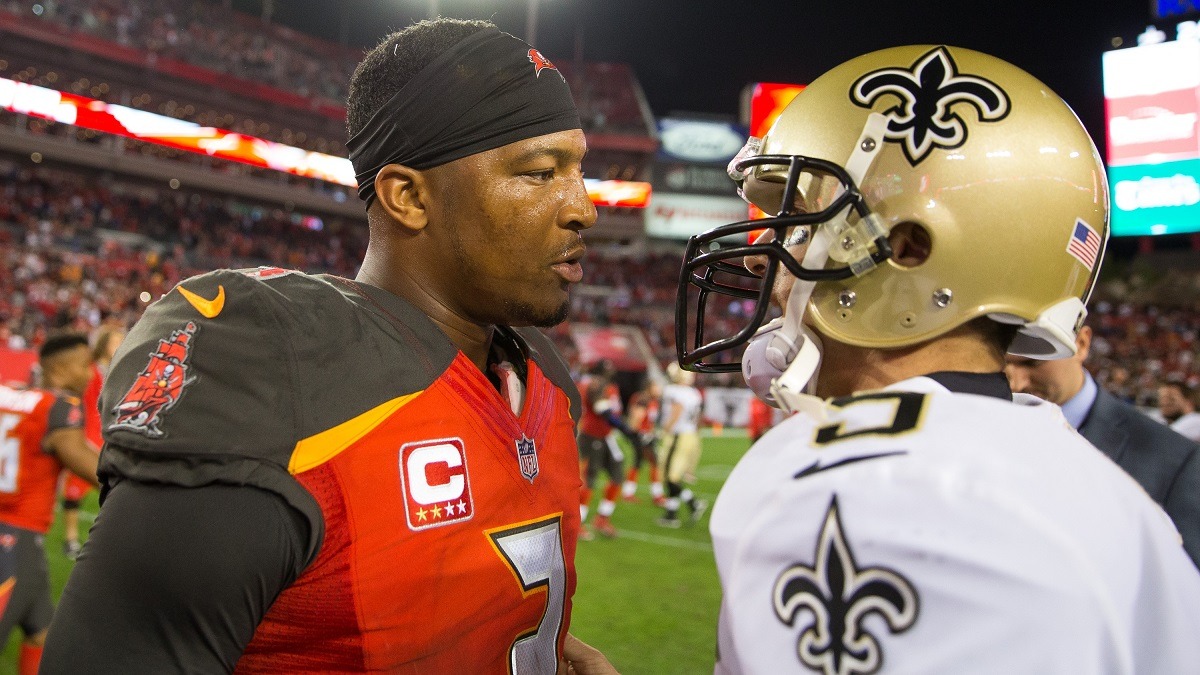 Winston, the 2013 Heisman Trophy winner and former overall #1 draft pick, signed a one-year deal with the Saints. He will earn $1.1 million as a backup QB, but his contract has incentives that could have a maximum value worth $4.7 million.
The latest roster move is a win-win situation for both parties involved. Winston lands a much-needed job with a Super Bowl contender. Plus, the former #1 pick has the opportunity to learn elite quarterbacking from a future Hall of Famer by playing behind Brees.
Ex-backup Teddy Bridgewater led the Saints to an undefeated 5-0 record as a starter when Brees injured his thumb in Week 2 last season. The Saints were unable to retain Bridgewater's services after he departed in free agency. The Carolina Panthers pressed CTRL-ALT-DELETE on their franchise. They added a new head coach and moved on from Cam Newtown by signing Bridgewater instead.
The Saints turned to Winston to fill the backup spot previously held by Bridgewater.
NOLA Saints the Harvard of the NFL
An excited Winston shared his thoughts on joining the New Orleans Saints via Instagram.
"Being a part of the New Orleans Saints, being a part with Drew Brees, Taysom Hill, Sean Payton, coach Joe Lombardi, coach Pete Carmichael. When you think about that room, that's like a Harvard education in quarterback school," Winston wrote on IG.
Brees is a lock for the Football Hall of Fame in Canton, Ohio. Brees is a member of the exclusive 500 TD Club, and he currently holds the record for most passing touchdowns in NFL history.
"I wanted to put my ego aside, put the money aside, think about my family, think about my career," explained Winston. "There was no better position than to be in the same room with someone that I've really looked up to, someone that I've admired since I've been playing this game in Drew Brees."
Brees returned to the Saints for one more season. This gives Winston the opportunity to learn Sean Payton's playbook before it's his turn to step into the Saints' starting job, so long as Taysom Hill doesn't wrestle it away from Winston.
Payton referred to Hill as his "Swiss Army Knife" because of his versatility and ability to play multiple positions on both sides of the ball, including special teams. Hill recently signed a contract extension worth $10.5 million to become the highest-paid backup QB in the league.
Winston's Wild Ride in Tampa
Winston, a multi-sport athlete from Alabama, played his college ball at Florida State because it was one of the few schools that permitted him to also play collegiate baseball as a pitcher and outfielder.
Winston won the Heisman Trophy in 2013 after a sensational season with Florida State. At the time, the redshirt freshman became the youngest Heisman winner in history at three weeks short of his 21st birthday.
After two seasons in college, the Bucs selected Winston with the #1 overall pick in the 2015 NFL Draft. After an auspicious rookie season, Winston earned a spot in the Pro Bowl.
Winston played 72 games with the Bucs. In 70 games as a starter, he went 28-42 during several difficult seasons in Tampa.
In 2018, Winston tossed a career-high 33 touchdowns under Bruce Arians' aerial offense. Winston set an NFL record with 5,109 passing yards last season. However, Winston also threw a career-high 30 interceptions. He turned the ball over almost as much as he got the Bucs into the endzone.
Overall, in 72 games with Tampa, Winston connected on 121 touchdowns and 88 picks. With Winston migrating to New Orleans, he hopes Brees can help him make better decisions in the pocket and reduce his interception rate.