College Football made its triumphant return this weekend, and Jalen Hurts was one big winner. The games for the most part went according to plan. No team in the top 10 lost, with most of them winning easily.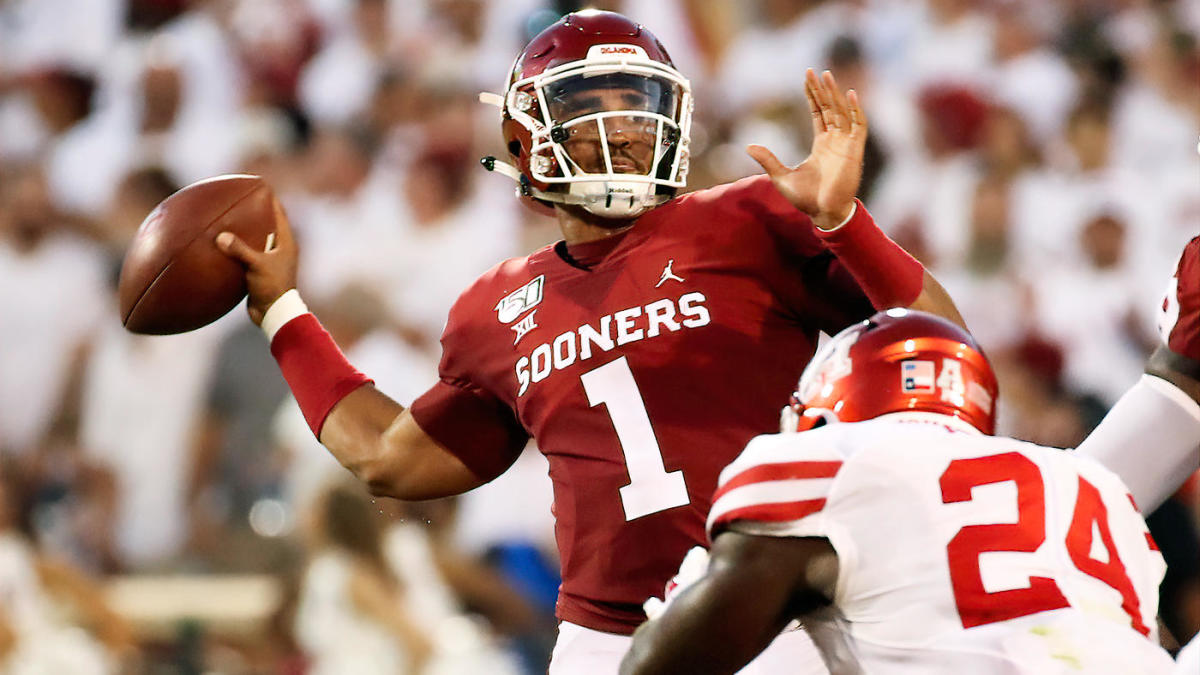 There were some mild surprises below the top 10, with No. 11 losing to No. 16 Auburn, and Iowa State needing three overtimes to dispatch Northern Iowa.
That's not to say there weren't any losers over the weekend. We take a look at some, as well as some winners.
Winners
Jalen Hurts
The Alabama transfer had as good of an opening night as a quarterback could have in Oklahoma's 49-31 victory. The senior was 20 of 23 from the air, throwing for three touchdowns. He also rushed for another three.
He joined Johnny Manziel as the only other player in the past 15 years to throw for 300 yards and three scores and run for 150 and three scores in a game. Despite the performance, Hurts believes he can be better.
"The reality is I'm not the same player I was as an 18-year-old freshman, a 19-year-old sophomore," Hurts said. "We did some good things tonight, but we've gotta continue to take steps to be where we want to be."
Hurts' Heisman Trophy odds opened at 12/1, but after this performance, he has to legitimately be in the conversation for the award.
Mack Brown
The former Texas coach hasn't prowled a sideline since 2013, but looked like he hadn't missed a beat. His new school, North Carolina, hosted South Carolina, and was an 11.5-point underdog. The Tar Heels won outright, 24-20. UNC is now halfway to its 2018 win total.
"I've never seen a happier group in the dressing room than they were tonight," Brown said. "The '05 (Texas) national championship team wasn't any happier than this team tonight."
The happiest person, though, might have been Brown.
Losers
Willie Taggart
The second-year coach lost his debut game for the second straight year. This time Florida State was manhandled late by Boise State. The Seminoles led 31-19 at halftime, then watched the Broncos score 10 points in the fourth quarter alone for the come from behind victory.
After finishing 5-7, and missing out on a bowl game last year for the first time since 1981, the fan base is running out of patience. It's one thing to lose to Clemson or Florida, which they will probably do this year, but quite another to get outplayed by a team in your home stadium.
Taggart is 16/1 to be the first coach fired this season, behind USC's Clay Helton and Rutgers' Chris Ash at 5/1. A couple of more clunkers to teams like Louisville and Boston College, and Taggart could be looking for work.
Pac-12
No one has ever gone broke betting against the Pac-12, and they proved that theory again. First it was Arizona, losing outright as the favorite to Hawaii. Then UCLA couldn't cover against Cincinnati. Neither could Cal against UC Davis.
The one team expected to be dominant in the conference was Oregon, but they collapsed against Auburn and lost outright.
The worst game might have been USC against Fresno State. The Trojans not only lost their starting quarterback for the year, they nearly lost the game after a questionable 4th down and 1 call by coach Clay Helton. They missed covering by six points.
There were some victories, but they were expected. Colorado pummeled Colorado State. Arizona State did the same to Kent State, but this is a conference that is a bettor's paradise.
SEC
Yes, Alabama won and covered, as did Georgia and LSU, but it was the middle-tiered teams in the SEC that took a beating. The most glaring defeat was Tennessee. The Vols were favored by 23.5 points and lost outright to Georgia State.
Another favored team that lost outright was Missouri. They faced Wyoming and were favored by 17.5. They lost outright 37-31.
Other conference teams that didn't cover were Florida, who squeaked by Miami, and South Carolina, who was favored by 11.5 and lost to North Carolina.