Jacksonville Jaguars head coach Urban Meyer has yet to name a starting quarterback or install rookie Trevor Lawrence — the #1 pick in the 2021 NFL Draft — as the Week 1 starter. Gardner Minshew and Lawrence are competing for the starting QB job, but no one can figure out if Meyer is playing Jedi mind tricks to make Lawrence work harder in the Jags' training camp, or if he's just being coy with the media.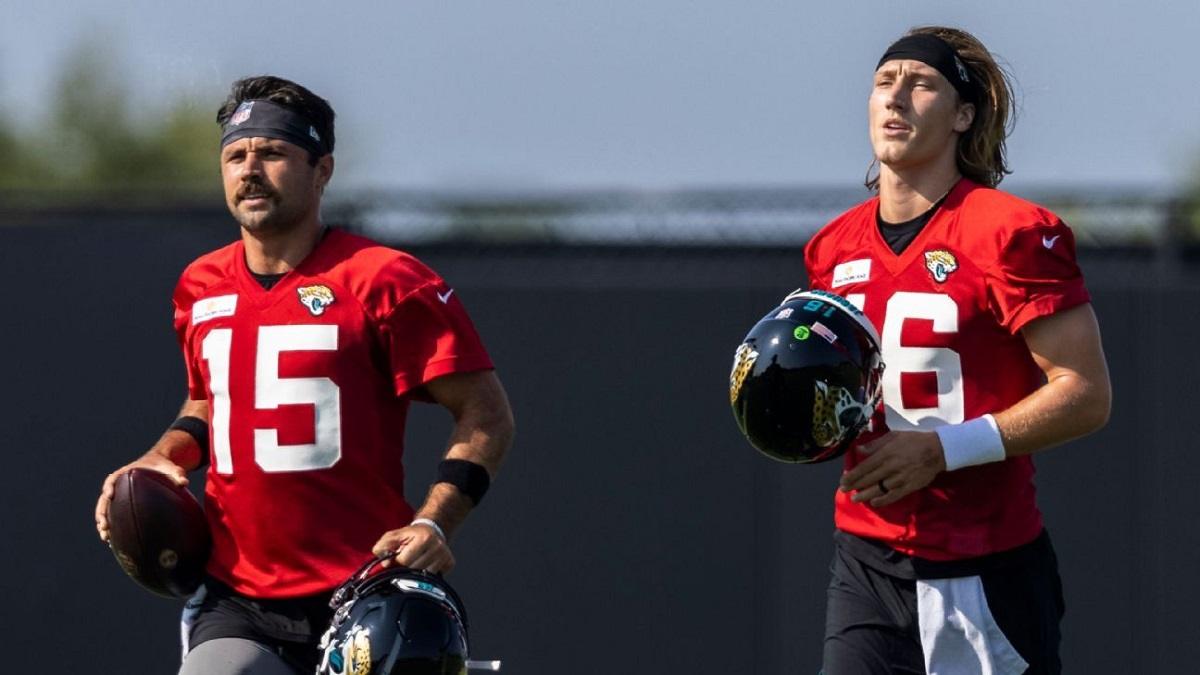 Lawrence, the #1 pick out of Clemson, went to the Jaguars after they finished the 2020 season with the worst record in the NFL. The Jags edged out the Jets late in the season when the Jets finally ended their winless streak. Demoralized Jets fans were apoplectic that the team didn't tank to secure the #1 pick in the draft and a once-in-a-generation talent like Lawrence.
Out of the last eight quarterbacks that were picked #1 overall since 2010, only two didn't start in Week 1. In 2016, Jared Goff didn't earn the starting job from Jeff Fisher until Week 11. In 2018, the Cleveland Browns finally started Baker Mayfield in Week 4.
The Jags are one of the long shots on the NFL futures board at +13000 odds to win Super Bowl 56, according to the Mirage Casino and Sportsbook in Las Vegas.
When will Lawrence start?
The Jags have yet to play a preseason game, with their first one on deck for Saturday against the Cleveland Browns. I guess that's when we'll see how far Lawrence has developed during his time in training camp, where he's been splitting first-team reps with Minshew.
"I feel like I've come a long way, especially in camp, just owning it and knowing where my answers are and being able to make adjustments," said Lawrence. "That's the biggest thing, transitioning from college to the NFL is you're going to see a bunch of looks and it's really about how you respond and adjust it to put you in a good situation. I feel good about where I'm at and where the offense is. There's still a long ways to go, but we're making progress for sure."
Lawrence wants to start in Week 1, but he's saying all the right things. Minshew, meanwhile, hasn't backed down, which created a spirited environment. Minshew isn't the kind of guy who would freeze a rookie out and not help Lawrence win the starting job, which is why Minshew brings great chemistry to the locker room. He's an ideal backup and someone who can come off the bench if they need someone to sling the ball.
In the 20th Century, rookie quarterbacks didn't start unless they were thrust into action due to an injury. It took several seasons as a third-stringer and backup before head coaches trusted a young quarterback to run the offense. In the modern NFL, salary caps dictate roster spots, so rookie quarterbacks often start because they're cheaper than veterans. At this point, it's not a question of if Lawrence will be the starting QB for the Jags this season — it's simply, when will Lawrence start for the Jags?
Everyone loves Minshew
One thing is certain in Jacksonville; Minshew continues to run wild ever since he stepped onto the field to relieve Nick Foles, who was injured in the first series of Week 1. Minshew had his ups and downs, but his teammates and coaching staff love him. Even Meyer took a shine to Minshew.
"He's earned my respect," said Meyer. "I love that guy. He's a warrior-competitor. He's a fighter. I told him that. I've just got great respect for Minshew. He brings it every day. Every day."
In 23 games with the Jags at QB, Minshew threw 37 touchdowns and 11 interceptions, and he's completed 62.9% of his passes. In 20 games as a starter, the Jags went 7-13 with Minshew. He went 6-6 as a starter in his rookie season, but only 1-7 last season.
Minshew has been the subject of numerous trade rumors, including deals with the Denver Broncos, Indianapolis Colts, and Dallas Cowboys. The Colts could use an insurance policy because Carson Wentz had foot surgery and you never know what other ailment might knock him out of the lineup later in the season.
The Cowboys also want a reliable insurance policy if Dak Prescott gets injured. The Broncos have their own problems at quarterback after Aaron Rodgers decided to stay with the Green Bay Packers for one more season.