Tiger Woods looked stunned as he walked off the 18th green after Sunday's final round of the Wells Fargo Championship. He didn't make a single birdie during all day for only the 11th time in his career. The last time Woods went an entire round without breaking par on any hole was during the final round at the World Golf Championships at Trump National Doral in 2014. A week later he underwent his first of four back surgeries.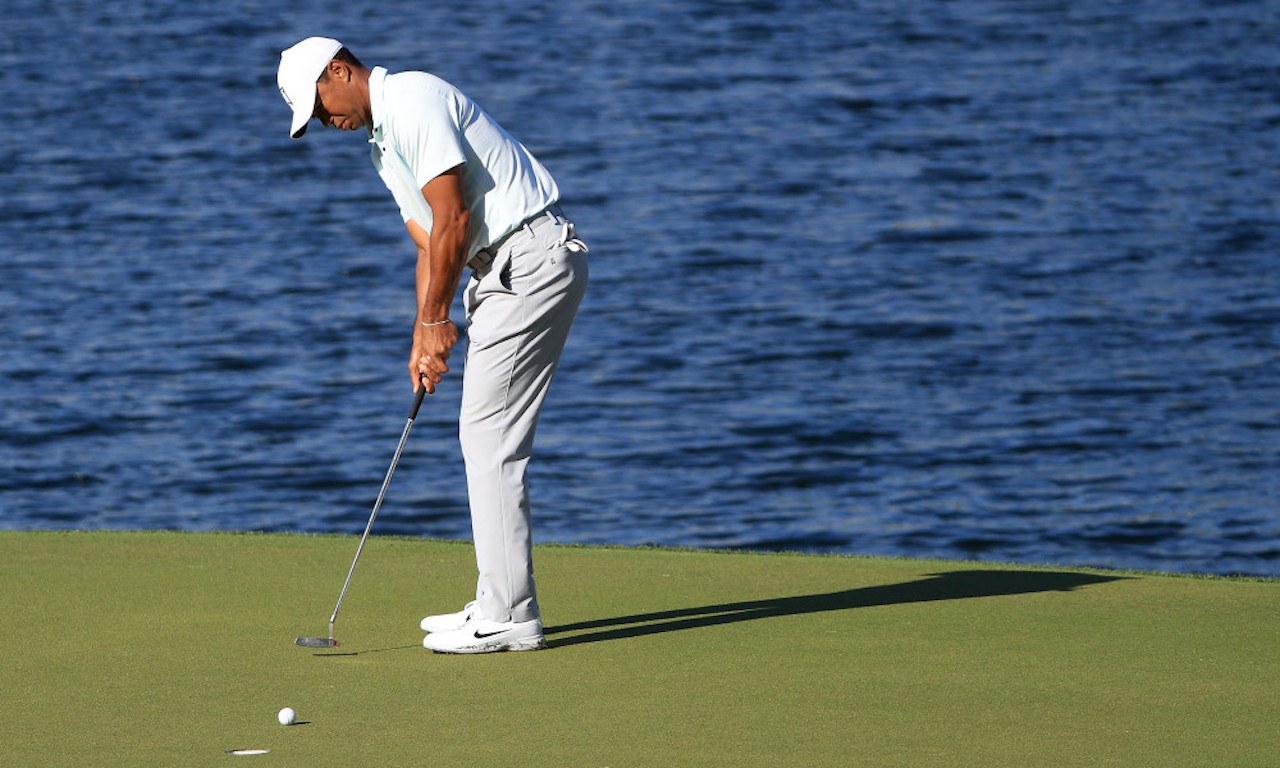 On Sunday, he finished with a final round, 3-over par 74. His four-round score was 2-over and he tied for 55th, 14 strokes behind winner Jason Day.
"I hit the ball halfway decent today … so I wasn't disappointed with that," Woods said. "Again, just did not putt well and didn't make a birdie today. I got shut out. It was just a bad week."
Woods is seemingly going backwards in his comeback from his fourth back surgery. He finished tied for 32nd at his last event, The Masters. At one point before the season's first major championship, he was the favorite to win at 10/1.
He is 30/1 to win the Players Championship, which begins Thursday at TPC Sawgrass. The question for bettors looking at this week's PGA Tour event: Is Tiger Woods still worth wagering on anymore?
Comeback Puttering Out
Woods' flatstick was definitely not his friend at Quail Hollow last week. The 42-year-old's putting stats were abysmal. He had 126 total putts for the four rounds and had more than 30 putts in every round.
In the three-putt avoidance category, Woods ranked 32nd before the event and then plummeted to 115th. In putts per round, he went from tied for 11th to 44th.
"It's just one of those weeks and I'm on to the next week, which is nice," Woods said. "That's one of the great things about golf is that once the tournament's over, you're on to next week."
Woods has had many swing coaches during his career, but never someone to tutor him on putting. The only one he trusted with that part of his game was his father Earl, who died in 2006.
Noted putting expert Craig Farnsworth, an optometrist known as "The Putt Doctor," told USA Today that part of Woods' game is definitely off.
"The biggest thing I'd say personally is that he spent so much time on his swing that other parts of his game suffer, and this is one of them,'' Farnsworth said. "I think that you have to keep working on your strengths, and sometimes people forget that and spend way too much time on the how to's or mechanics and lose some of the athleticism."
Former Coach: Woods Might Not Win Another Major
Bruce Harmon worked with Woods from 1993 to 2004, an era when the former No.1 player in the world won eight of his 14 major championships. The legendary coach told Yahoo Sports that he has his doubts his former pupil can win another major championship because of all of the competition.
"We just need to see Tiger show us that he can win on a regular tour stage first, and then maybe that will give him the confidence, but it's extremely difficult to win these days, there are so many good players," Harmon said.
Woods is listed as a 25/1 longshot to win the upcoming US Open, which begins on June 14 at Shinnecock Hills in New York. The last time it was played there was 2004, and a healthy Woods finished tied for 17th, 14 shots behind winner Retief Goosen.