Two high-powered offenses play for the College Football Playoff National Championship tonight as Clemson takes on LSU, and the pricing for the DFS showdown matchup on DraftKings reflects the potential. It's nigh impossible to craft a lineup with most of the offensive weapons from both teams, so lineup construction requires particular scrutiny tonight. I can't imagine not including both quarterbacks (Joe Burrow and Trevor Lawrence) in my lineups, but you can't also squeeze in the top wide receivers and running backs for each team, no matter who you select as your captain.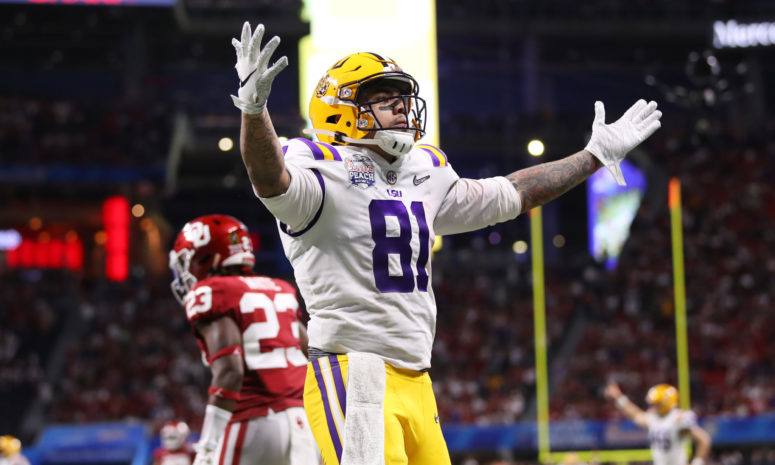 With that in mind, here are some value selections you may consider to help you slot in the most possible high-priced players in this game:
Thaddeus Moss, LSU WR, $4,200
Big No. 81 has shown flashes of greatness, and had a nice stat line of four receptions for 99 yards and a touchdown against Oklahoma in the national semifinal game. On the season, Moss has scored double-digit points on DK six times, averaging 9.8 DFS points per game, so he's not likely to give you a goose egg tonight in DFS showdown.
Cade York, LSU K, $3,800
To make the salary cap, you're probably going to want to slot in a kicker, and it might as well be York, who stands to be busy if the LSU offense is humming – and it rarely doesn't. York has been solid this year, connecting on 21 of 26 field goals with a long of 52 yards (providing more of an opportunity for the bonus points of a long field goal). Of course, where he really stays busy is kicking extra points, making 83 of 87 this season. York is a much better option than the similarly priced Clemson kicker, B.T. Potter, who has a shaky leg, making just 12 of 20 FGs this year.
Chris Curry, LSU RB, $4,000
Although Clyde Edwards-Helaire is back from his hamstring injury, and is expected to shoulder his usual full workload, Curry is likely to spell the starter. Filling in for Edwards-Helaire after he was hurt in the national semifinal, Curry rushed 16 times for 90 yards, and added one catch for nine yards against Oklahoma.
Diondre Overton, Clemson WR, $3,000
While Overton has just 22 receptions on the season, he's capable of a big game, as his 119 yards and three TDs against Boston College showed. He hasn't caught more than four passes in a game in 2019, but he needs just a single deep one for a TD to make him well worth his low salary in DFS showdown.