The undefeated Naoya Inoue will get another chance to show off his skills to an American audience on Saturday, as the IBF and WBA bantamweight champion takes on mandatory challenger Michael Dasmarinas in Las Vegas.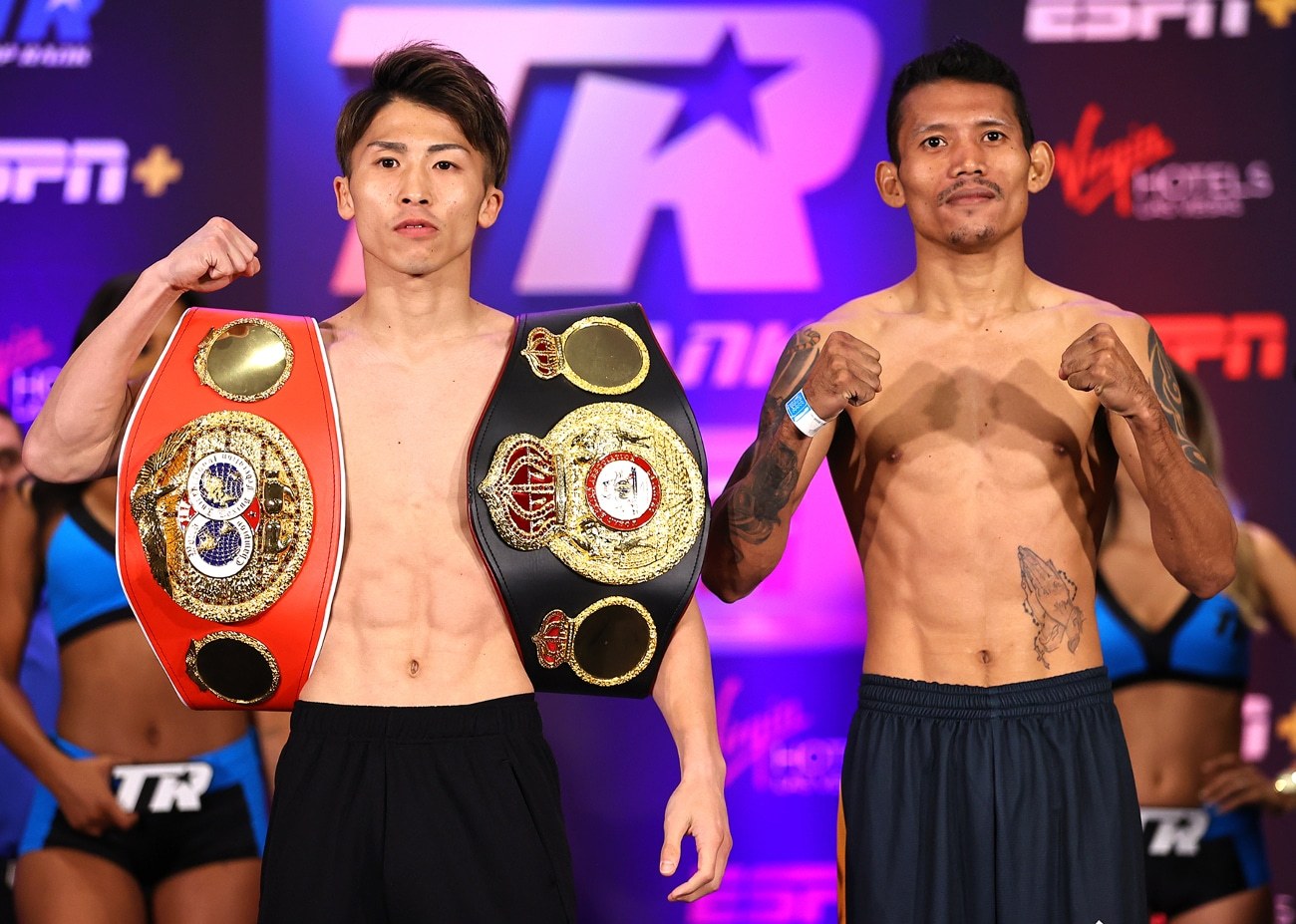 Inoue (20-0, 17 KOs) has established himself as the best bantamweight boxer in the world, though his star is still rising outside of his native Japan.
Inoue wants to put on a show vs. Dasmarinas
A powerful body puncher who has scored numerous devastating knockouts so far in his career, Inoue ranks highly on many pound-for-pound lists. ESPN ranks him at No. 3 behind only Canelo Alvarez and Terence Crawford, while The Ring lists him at No. 2 behind Alvarez.
Still, Inoue wants to show off what he can do in front of a packed crowd.
"I haven't fought in front of a crowd since the Nonito Donaire fight [in November 2019]," Inoue told Yahoo Sports. "So I am excited about that and excited to put on a show."
Inoue boasts a stellar 85 percent knockout rate, and it's likely that he'll look to finish Dasmarinas at some point on Saturday night. But he told reporters that he's not in a rush.
"I hope to show all the techniques I've been practicing," Inoue said at a press conference. "I deliberately won't be going for a knockout, and will beat him by dominating the flow of the bout."
In the other corner will be Dasmarinas (30-2-1, 20 KOs), a relatively little-known Filipino boxer. While Dasmarinas is a worthy challenger, he's not considered one of the biggest threats to Inoue in the division.
That makes Inoue a massive favorite in this bout. DraftKings Sportsbook lists Inoue as a -3335 pick to beat Dasmarinas (+900). Inoue stands as a -715 favorite to finish the fight by a knockout or TKO.
Challenger: 'I'll do everything I can'
Dasmarinas won't be conceding anything, of course, and says he's fighting with every intention of taking the title on Saturday.
"I'll do everything I can in training," Dasmarinas said on Facebook Live. "We're training now so that we have a chance to win."
But the challenger faces a monumental task. Top Rank matchmaker Bruce Trampler says that Inoue possesses both the skills and the attitude of the great champions – and great punchers – in boxing history.
"They have that puncher's mentality," Trampler told Yahoo Sports, talking about the great punchers throughout history. "Tyson had it; he wanted to hurt you. Inoue wants to hurt you. He wants to rip you up downstairs and then when your hands come down and your chin is exposed, he goes upstairs. He gets it. It's not something that I think can be taught. I wouldn't say he's a natural body puncher, because nobody is, but he's an instinctive body puncher."
Also on the same card, WBO women's super featherweight champion Mikaela Mayer (-10000) will defend her title against challenger Erica Anabella Farias (+1200).