Zion Williamson will not suit up for #4 Duke (26-4) in their final game of the regular season against rival #3 North Carolina (25-5) at Chapel Hill.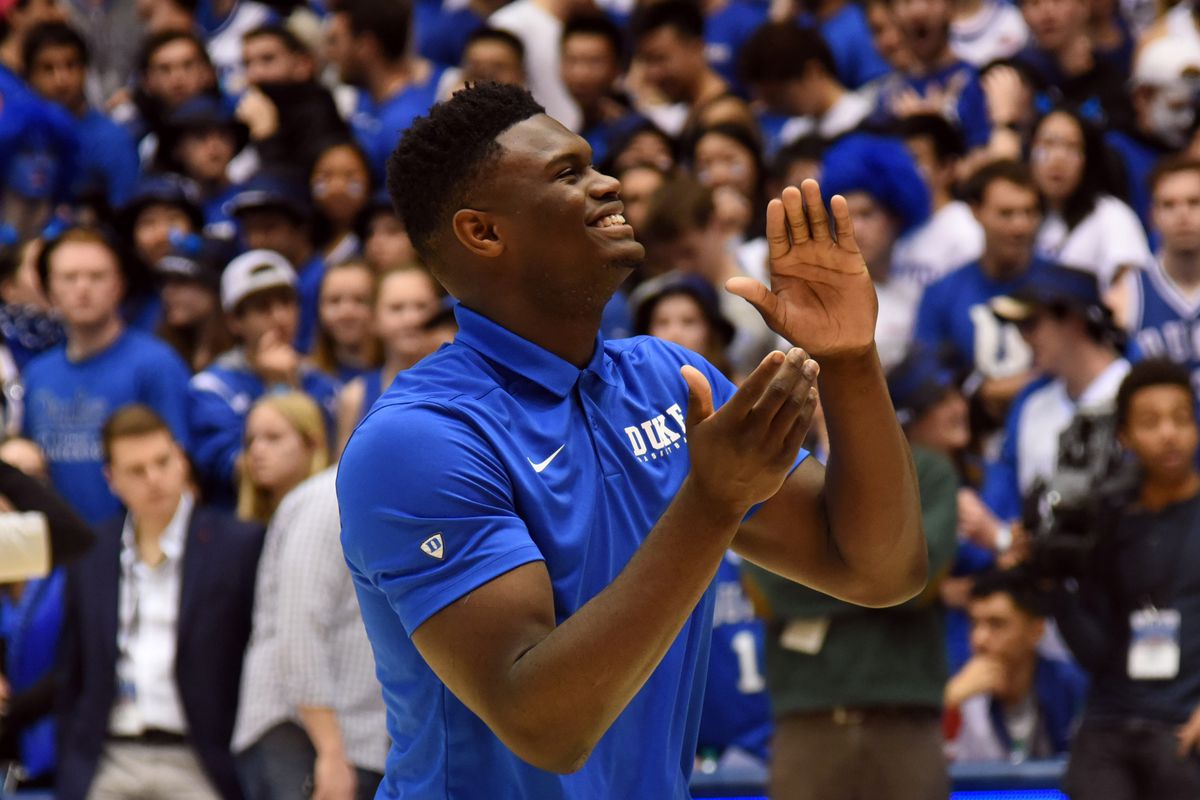 Duke lost the first meeting of the season 88-72. Williamson injured his knee in a freak sneaker mishap in the opening minute of the highly-anticipated rivalry between Duke/UNC.
Williamson returned to practice this week, but he's still not ready to return to the lineup. Head coach Mike Krzyzewski suggest Williamson will be ready to play again at the start of the ACC Tournament next week.
"I'd be surprised if Zion doesn't play in the ACC tournament," said Duke head coach Mike Krzyzewski.
Several NBA players advised Williamson that he should sit out for the rest of the year including March Madness. Williamson is expected to be the first player selected in the upcoming NBA Draft. The New York Knicks were purposely tanking in order to get a better chance at bringing the Zion Dunk Show to Madison Square Garden.
Duke and North Carolina Rematch
Virginia and North Carolina are currently tied for first place in the ACC with a 14-2 record. Duke is right behind them with a 13-3 conference record. All three teams are currently in the Top 5 in the latest AP Poll.
Despite being on the road, North Carolina took advantage of a Zion-less squad. The Tar Heels pounded the ball inside en route to a 16-point victory. Senior forward Luke May dropped 30 points and pulled down 15 rebounds. Senior guard Cam Johnson added 26 on 4-for-5 shooting from beyond the arc.
Freshman Coby White had an off night with only 9 points and 6 turnovers against Duke. He bounced back with two monster games including 34 points against Syracuse and 28 against Clemson. White drilled 12 treys in those games on 12-for-22 shooting from downtown. He cooled off in a blowout against Boston College this week. And just like the previous game, he expects Duke's defenders to be smothering him on the perimeter.
The Other Super Frosh
Everyone has been talking about Zion going as the #1 pick. However, his teammate RJ Barrett is in an elite group of potential lottery picks that also includes Ja Morant from Murray State and Jarrett Culver from Texas Tech. Barrett leads Duke in scoring with 23.3 points per game. He also adds 7.4 rebounds and 4.2 assists, while shooting 46.4 percent from the field.
Duke struggled without Zion, but Barrett has a chance to avenge a loss on a big stage. Duke will be a 4-point road dog, but Barrett has an opportunity to show NBA scouts he's up to a huge challenge.
"Playing with not a full deck has been very difficult," Coach K said. "But I'm not going out politicking."
Meanwhile, Cam Reddish is the other super frosh from Duke. Zion has been a special media star for years and RJ Barrett has been getting a lot of attention, but Reddish has flown under the radar. When Reddish gets in a groove, he's tough to stop. He lit up Carolina for 27 points in their first meeting. The 6-foot-8 forward from Pennsylvania is third in scoring with 14.0 points per game. He's only hitting 28.8 percent of his three-pointers over the last seven games.
Freshman point guard Tre Jones will also have to step up against UNC. He averages only 8.7 points per game and had a bad night two weeks ago with only three points on a cold 1-for-6 night from downtown.