There's a certain symmetry, a certain karmic presence in Steve Asmussen sending out Epicenter as the 5/2 favorite for the inaugural running of the 1 1/16-mile Gun Runner Stakes at Fair Grounds.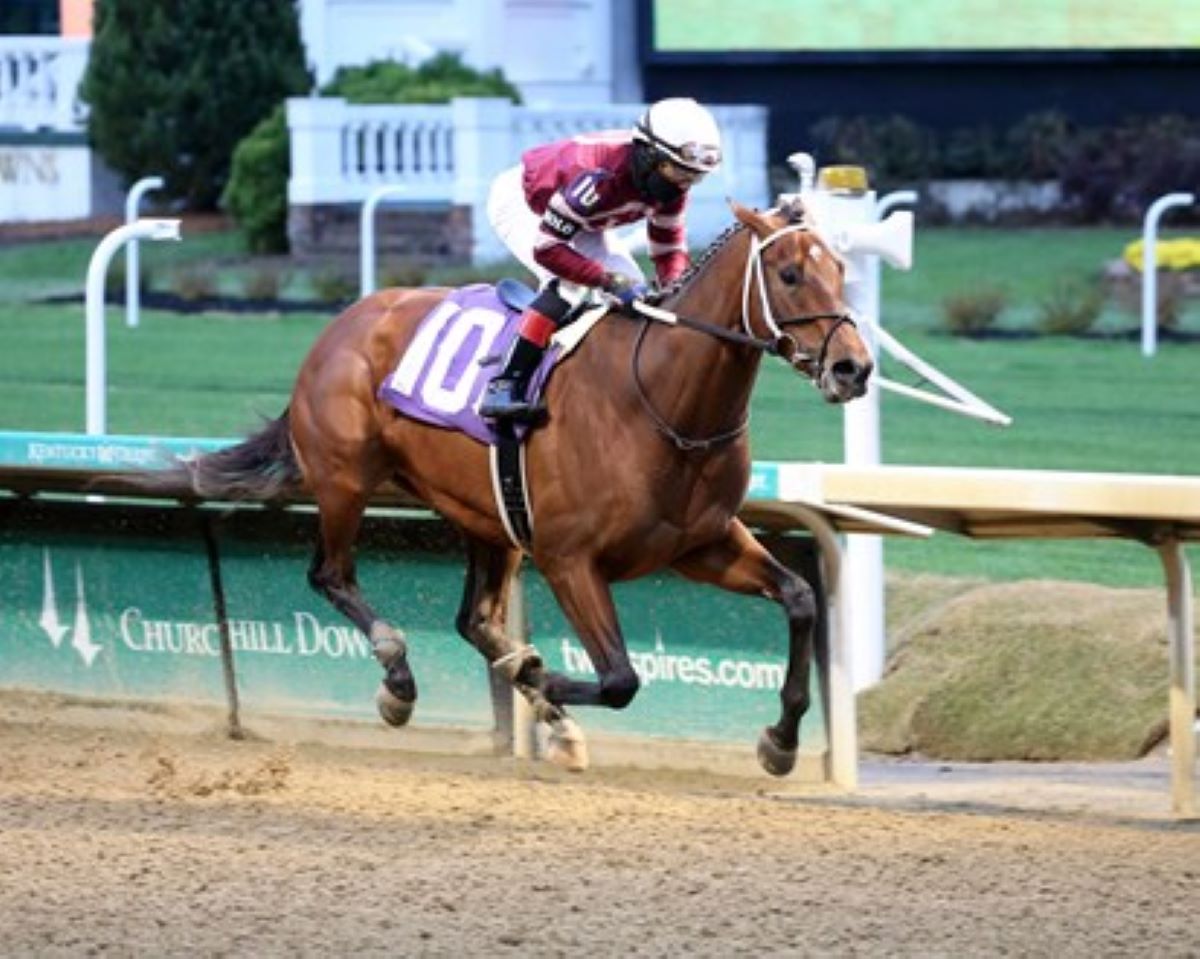 Whether Epicenter can follow in the hoofprints of Gun Runner – one of Asmussen's best horses – remains open for time and debate. What's not open for debate are the 10-4-2-1 Kentucky Derby qualifying points up for grabs in the newest addition to Fair Grounds' Derby prep season.
Along with that on Fair Grounds' 13-race Sunday program is the Gun Runner's sister race: the Untapable. That 1 1/16-mile race offers the same 10-4-2-1 qualifying points for the Kentucky Oaks.
Both horses are named after Asmussen trainees owned by Winchell Thoroughbreds, one of Asmussen's chief clients. Gun Runner was the 2017 Horse of the Year, winning his last five career races – all of them Grade 1s. His 2018 Pegasus World Cup victory sent him to stud with 12 wins in 19 starts and nearly $16 million in the bank.
Untapable, Gun Runner among Asmussen's trophy horses
Untapable won nine races in 20 starts, including the Breeders' Cup Distaff and 2014 Kentucky Oaks. She retired with nearly $4 million in career earnings.
"If nothing else, it shows we are getting old," Asmussen told Fair Grounds' John Krystufek. "It's very exciting for Fair Grounds to have an Untapable and a Gun Runner Stakes. Those two are great examples of the Winchell program and how successful it has been. I'm just extremely fortunate to have been a part of it."
The Gun Runner and Untapable are two of the six stakes on the card. The final Pick 5 of a trio of Pick 5 wagers is an All Stakes Pick 5 that offers a $100,000 guaranteed pool.
Epicenter the center of attention last out
The Gun Runner is Race 11. It features seven colts and geldings, five of which won their last start. One of that quintet of last-out winners was Epicenter. The Not This Time colt made time to win a Churchill Downs November maiden special weight by 3 ½ lengths. His 97 Equibase Speed Figure was 19 points better than his debut 79 in a Churchill Downs maiden special weight in September.
"Nice horse, lot of talent," Asmussen said. "I do believe with Churchill closing (the backstretch) this summer and us training the majority of our fall 2-year-olds at Turfway (Park) on synthetic, I didn't have a great read on him, or a lot of them, for their first runs. I thought his debut was a good race. He showed a little bit of ability and got a lot out of it, but he definitely got tired. He trained impressively off of it and his second race went exactly how we were hoping it and he looked well."
In winning that race, Epicenter tired out one of his erstwhile rivals: Surfer Dude (5/1). The Curlin colt needed five starts to break his maiden, which he did last month at Churchill Downs. He has hit the board four of his five races (1-1-2).
Tejano Twist owns an impressive eight starts
Two others figure in the mix: 3/1 co-second favorites Tejano Twist and Rocket Dawg. Tejano Twist brings in the deepest resume in the field: 3-3-0 in eight career races. One of those wins is the Lively Shively Stakes at Churchill Downs, which came last out. It also came from off the pace, which lends trainer Bret Calhoun to want this two-turn test for the Practical Joke gelding.
"The timing of this race and the chance to try two turns is perfect for us," Calhoun said. "That's absolutely why we are here. I could have gone to the Springboard Mile for four times the money and I thin that he would have fit very, very well in there. But at the end of the day, it's time to find out how far this horse can run. Do we need to start looking forward at the Road to the Kentucky Derby races or do we need to back off, freshen him, and make a sprinter out of him. That's the question he has to answer."
That's the same question Brad Cox's Rocket Dawg needs to answer. He too, faces two turns for the first time. The Classic Empire colt answered plenty of questions in his maiden-breaking debut at Churchill Downs last month. He romped to a 5 ½-length victory in the seven-furlong race beating 10 others. Of those 10, four won their next race.
Listed Gun Runner Stakes/Fair Grounds
Morning Line (Jockey/Trainer)
Epicenter, 5/2 (Brian Hernandez Jr./Steve Asmussen)
Waita Minute Hayes, 8/1 (Ashley Broussard/Ricky Courville)
Rocket Dawg, 3/1 (Florent Geroux/Brad Cox)
Surfer Dude, 5/1 (Reylu Gutierrez/Dallas Stewart)
Kevin's Folly, 8/1 (James Graham/Tom Amoss)
Tejano Twist, 3/1 (Joe Rocco/Bret Calhoun)
Rich Strike, 15/1 (Sonny Leon/Eric Reed)
While Cox loved what he saw in that race, he holds no illusions about what awaits in the Gun Runner.
"He is going to be up against it a little bit in regards to experience, most of these colts have three or four runs underneath of him," Cox said. "There is one colt (Tejano Twist) that has eight races underneath him. We're hoping Dawg can make up in talent what he lacks in experience."