Mystic Guide comes into Saturday's Grade 2 Suburban Stakes at Belmont Park riding a wave that crested during March's $12 million Dubai World Cup. He's fresh, rested, at the top of his game, and the No. 1-ranked Thoroughbred in the country, courtesy of the National Thoroughbred Racing Association poll.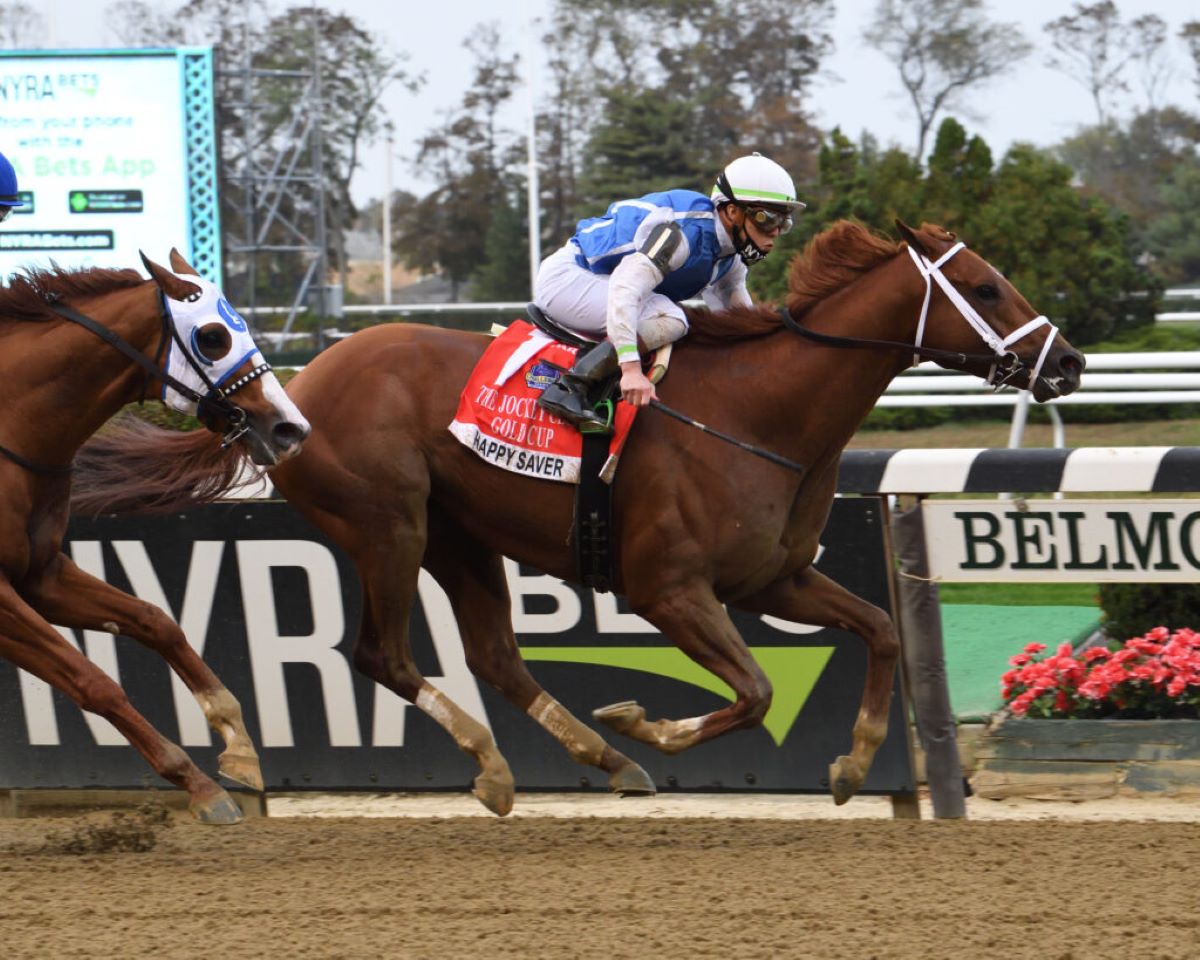 And yet, he's barely the morning-line favorite for the 1 ¼-mile test — one that provides the winner of that test a spot in the Breeders' Cup Classic this November at Del Mar. By post time, even-money, morning-line favorite Mystic Guide may not be the bettors' favorite.
The reason for that starts two gates to Mystic Guide's right with 6/5 Happy Saver. The same Happy Saver who beat Mystic Guide in last fall's Grade 1 Jockey Club Gold Cup. The same Happy Saver who is unbeaten in five races, and 3-for-3 at Belmont Park.
Mystic Guide and his big-race pelt and form vs. Happy Saver's unbeaten record and form. That's the essence of this year's Suburban, which headlines Belmont Park's seven-stakes Independence Day weekend slate. The rematch of last year's Jockey Club Gold Cup between two of the top 4-year-olds in the country overshadows everything else about this stellar Grade 2, one run since 1884.
Informative is back, after 79/1 surprise
We'll dispense with the "everything else" now. Here's where we mention that the six-horse field also includes an out-of-form and 0-for-his-last-6 Max Player (10/1), an in-form, but not-fast-enough Moretti (8/1), and a biting-off-more-than-he-can-chew Informative (15/1).
You may recognize Max Player as the third-place finisher in last year's Belmont Stakes and Travers Stakes. He's 0-for-2 this year and hasn't finished better than sixth. You may also recognize Moretti as the runner-up to Tacitus in this race last year. He's hit the board in his last eight starts and has the distance chops, but not the speed chops.
You may, meanwhile, recognize Informative as the 79/1 shot who captured Monmouth Park's Salvator Mile last month. This is not the Salvator Mile and the 1 ¼-mile distance is a bridge too far for him.
That brings us back to Mystic Guide and Happy Saver. Mystic Guide comes in winning three of his last four races – all stakes races. That streak started with last year's Grade 2 Jim Dandy at Saratoga and ended with that impressive Dubai World Cup victory.
Mystic Guide can handle stress
That $7.2 million payday was more impressive when you consider Mystic Guide dealt with two loose horses before the start. Great Scot took off during the post parade and Military Law broke through his starting gate and ran off.
"That was a strange scenario with the loose horses," trainer Mike Stidham told the New York Racing Association. "He was really getting wound up and I will admit I was concerned about how he would run, but you saw how he did."
Mystic Guide hasn't missed the board in eight career starts (4-2-2). Both seconds did come at Belmont Park, one in a June 2020 allowance and the other in the aforementioned Jockey Club Gold Cup. His only concern rests on how well he recovered from the always-draining Middle Eastern sojourn. The son of Ghostzapper hasn't run since March.
"We're delighted that everything is going well with him," Stidham said. "He's made a good transition from Dubai and he seems very healthy and happy and mentally where we need him."
Happy Saver pointed to the Suburban
The same can absolutely be said for Happy Saver. The son of 2010 Kentucky Derby champion Super Saver didn't begin his career until last June. Starting with a 5 ½-length debut victory in a maiden special weight at Belmont Park, he won four races as a 3-year-old, culminating with that Jockey Club Gold Cup victory.
That race illustrated Happy Saver's preferred stalking running style. Third behind Tacitus and Mystic Guide coming into the stretch, Irad Ortiz Jr. waited for Tacitus to vacate the rail. He then pushed Happy Saver down the rail and past both of them for a three-quarters length victory. That MO produced that perfect record.
Trainer Todd Pletcher sent Happy Saver out only once this year, watching him win a May allowance at Belmont Park as the 1/2 favorite.
Grade 2 Suburban Stakes/Belmont Park
Morning Line (Jockey/Trainer)
Moretti, 10/1 (Flavien Prat/Todd Pletcher)
Informative, 15/1 (Manny Franco/Uriah St. Lewis)
Prioritize, 12/1 (Joel Rosario/James Bond)
Mystic Guide, Even (Luis Saez/Mike Stidham)
Max Player, 10/1 (Ricardo Santana Jr./Steve Asmussen)
Happy Saver, 6/5 (Irad Ortiz Jr./Todd Pletcher
"I think as an older horse, he's a little more laid back in some of his works," Pletcher told NYRA. "He always performs well and he's really filled out and matured. For the way he ran in the Jockey Club Gold Cup last year, he's proven he likes that distance and that race looks even stronger now with what Mystic Guide has done."
The pick: Happy Saver. This is a toss-up in terms of him vs. Mystic Guide. Both have the speed to break two minutes in this race, which is what it's taken to win the last three years. Both are at the top of their games and both have 10 furlongs in their arsenals. It comes down to the fact Happy Saver ran five weeks ago and Mystic Guide hasn't run since March. But watch the board to see who goes off at the better number.