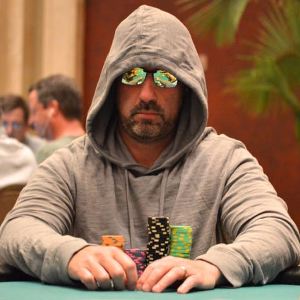 Sports betting is illegal in the State of New York, but that didn't stop eight men from operating a gambling ring that is suspected of bringing in millions of dollars in criminal wagers. Among those indicted by the New York City Police Department (NYPD) is Jay "Ghost" Sharon, a self-described poker pro who's won $214,258 over the last four years according to the Hendon Mob database.
On Tuesday, Queens District Attorney Richard Brown and NYPD Commissioner William Bratton announced that a grand jury has brought an 85-count indictment against eight men, with Sharon being accused as the ringleader of the operation who oversaw the bookmaking processes.
The accused are all in custody. During the arrests, law enforcement officials seized $93,000 in cash.
"Across the country, this group operated an illegal sports betting ring with impunity. Today, the house won with the arrest of eight defendants in and around Queens," Bratton said in a statement.
Aces Beat Queens
New York's finest began their investigation into Sharon's activities in December 2014 when the NYPD Organized Crime Investigation Division, in conjunction with the Queens County Organized Crime and Rackets Bureau, launched a probe after receiving information about a sports betting ring operating in Queens County.
According to Brown's official release, the enterprise annually accepted more than $3.5 million in bets through gambling websites and toll-free wagering hotlines. The bets were placed at offshore sites or in Las Vegas where sports betting is permitted.
"Individuals involved in such traditional criminal enterprises as bookmaking and gambling have attempted to use the anonymity of the Internet to hide their illegal activities," Brown stated. "Over the last few years, working with our law enforcement colleagues, we have taken down a number of these operations and put them out of business."
Identifying the Ghost
Sharon might be in the market not only for a good lawyer but also a new nickname as the "ghost" is no longer operating in the shadows of the law.
The 47-year-old is facing the most charges, including 81 first-degree counts of promoting gambling, two counts of fourth-degree money laundering, one count of fifth-degree conspiracy, and one count of enterprise corruption.
If convicted on all charges, Sharon would be facing up to 25 years in prison.
Sharon isn't a household poker name, but he has enjoyed moments of success over the years. In addition to placing 116th at last year's World Series of Poker Main Event for $46,890, Sharon's biggest cashing came at the Parx Casino in 2014 where he won the Big Stax 500 and $85,926 top prize.
Along his most recent triumph at the Borgata Winter Open in 2015, Sharon has two titles to his resume. However, moving forward he'll be more widely known in the gambling community for his alleged actions that were revealed this week.
Unfortunately for the ghost, innocent until proven guilty doesn't always hold true when it comes to the court of public opinion.
In Related News…
Hundreds of thousands of US employees casually participate in office sports pools when the Super Bowl and NCAA basketball tournament come around each year. Though it's viewed as simple fun among colleagues, five workers at JPMorgan Chase were recently let go by the financial institution for betting on sports among themselves while on the clock.
According to Dealbreaker.com, a VP, and several associates were terminated from the company after JPMorgan Chase network security detected a file ledger on a company computer that listed the bets being placed.