Australian driver Alex Peroni hit a raised "sausage" curb in the closing stages of a race at Monza track in Italy on Saturday, sending his Formula 3 car skyward. Amazingly, he walked away from the wreck with only minor injuries. But, calls to remove the controversial barriers have intensified.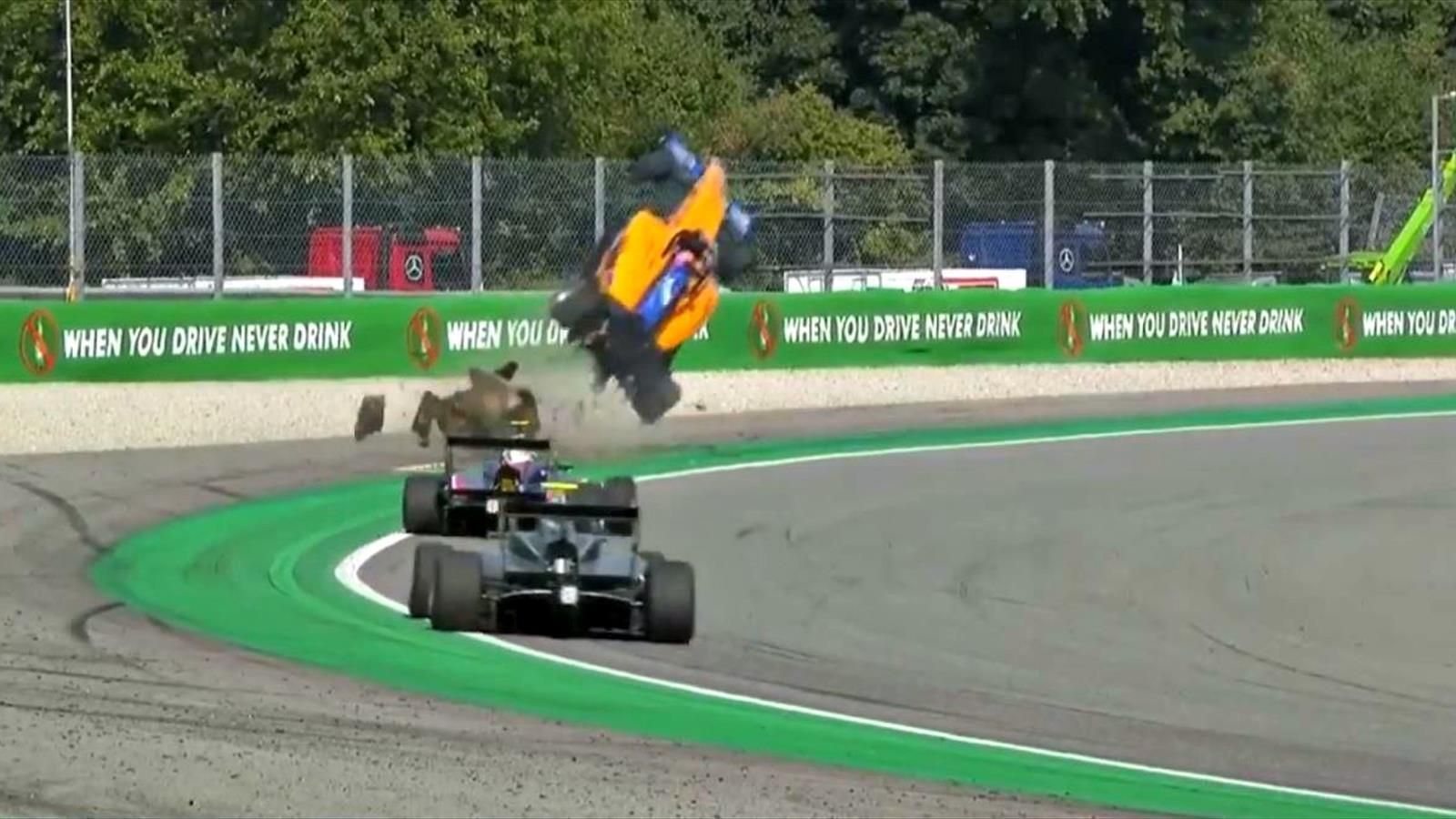 Race officials removed the offending curb that caused Peroni's dramatic crash prior to a Formula One race the next day, but did not respond to social media clamor to remove them from the sport.
Sausage curbs — or kerbs for those outside the US — are designed to reduce a driver's speed if they try to maneuver outside of track boundaries. But they also can act like launchpads, causing both horrific wrecks.
Kerb Your Enthusiasm
Formula drivers raise concerns after every case of curb-related damage or accidents. This incident was no different.
We have been saying for years these kerbs are dangerous and stupid, I hope now people wake up and smell the coffee.

I hope Peroni and the Marshalls are all ok. https://t.co/LwreXYsyop

— Jordan King (@42jordanking) September 7, 2019
The same day, Formula-E driver, Mitch Evans, was among the auto racers who took his concerns to social media, suggesting a simple safety change, tweeting:
Who the hell thought it was a good idea to plant a sausage kerb on the outside of the parabolica? Just put grass and gravel back for god sake. Good to see Peroni walk away from that, scary accident #F3

— Mitch Evans (@mitchevans_) September 7, 2019
Daunting curb-related Formula racing accidents have become recurring events on tracks across the globe.
Five years ago in Beijing, at the first ever Formula E race (an electric vehicle racing series), Nicolas Prost bumped Nick Heidfeld into a curb, sending his car up like a rocket. Last year, Sophia Floersch fractured her spine in a hair-raising wreck when her Formula 3 car was launched by a curb during the Macau Grand Prix. And earlier this year, during GP3 practice at Circuit de Spa-Francorchamps, Konstantin Tereshcheko's encounter with a curb triggered an airborne crash.
But the criticism of sausage curbs is not new. Formula One Champion Lewis Hamilton complained about curbs during the Austrian Grand Prix three years ago.
"We've now seen a couple of incidents already. I don't know how many more of those it's going to take before a car ends up in the wall and perhaps someone gets hurt," Hamilton said. "I'm sure [race officials] and the FIA are looking at it but that's definitely an area we can improve."
FIA Dismisses SafetyConcerns
The FIA — the organization that governs Formula Racing — always says it will look into curb-related accidents. Sometimes, the FIA makes modifications to the track in question prior to resuming a race — as they did at Monza. But so far. the calls to find a sausage curb replacement, like gravel or grass, have gone unheeded.
Peroni's spectacular Formula 3 crash comes just one week after the tragic death of 22-year-old Formula 2 driver Anthoine Hubert at the Belgian Grand Prix. Hubert was laid to rest at the Chartres Cathedral in France Tuesday. While curbs were not the cause of the wreck that killed him (and left American Juan Manuel Correa in a medically induced coma), Formula racers have suggested racing officials have not shown adequate alarm over safety issues.
"If a single one of you watching and enjoying this sport think for a second what we do is safe. you're hugely mistaken," Hamilton told the racing media this week. "All these drivers put their life on the line when they hit the track and people need to appreciate that in a serious way. It is not appreciated enough. Not from the fans or some of the people actually working in the sport."
Even in the wake of Hubert's death, the FIA doesn't seem moved. FIA race director Michael Masi doesn't acknowledge any systemic issue with the curb."It was a freak incident," Masi said of Peroni's curb-causes crash. "I think is the best way to put it. If you look at it, it was exactly that."
Masi also said that they had no plans to remove or limit curbs in any upcoming races. The FIA said that it would continue to perform its normal, rigorous, track review.