Houston quarterback D'Eriq King announced Monday that he will be taking a redshirt this season, and plans to return to the school for the 2020 season. It was an unusual step being that King is the team's starting signal caller.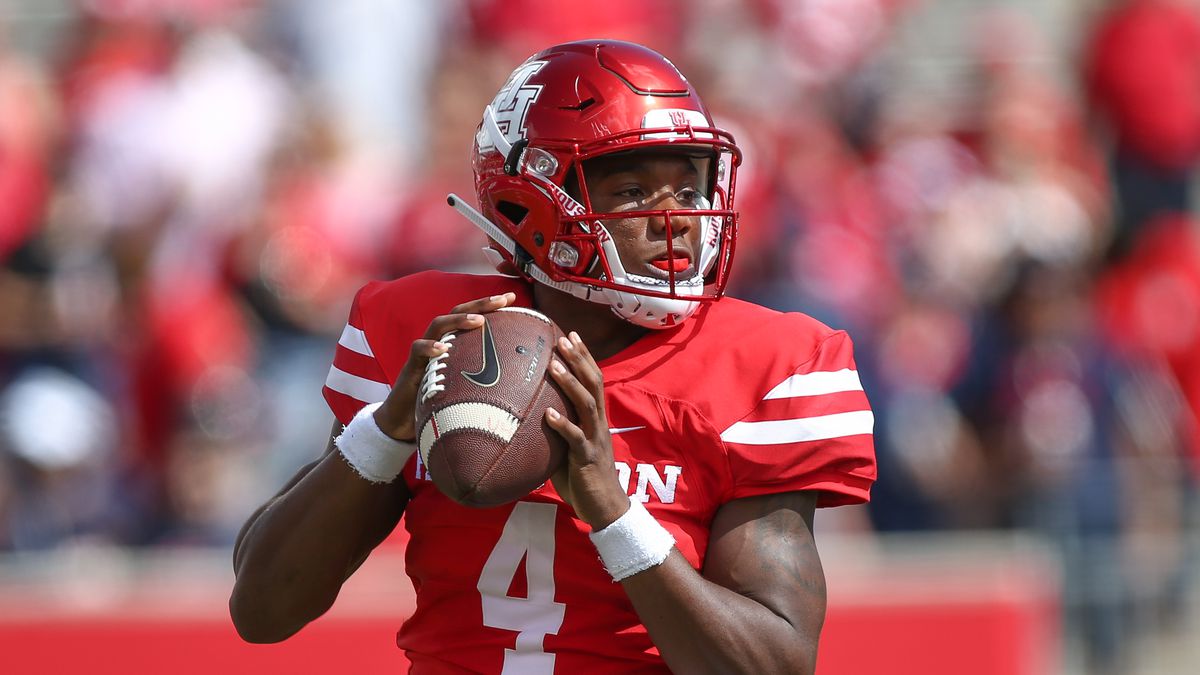 But the Cougars are 1-3 under first-year coach Dana Holgorsen, and the thinking might be the team will have a better chance to contend in King's final year of eligibility.
King seemed to deny he was going to transfer to another school. He said in a statement that he plans to return to Houston.
"I came here to play football for the University of Houston and that is not changing," King said in a statement released by the school. "After carefully thinking through this process with my family and Coach [Dana] Holgorsen, I have decided the opportunity to redshirt this season gives me the best chance to develop as a player, earn my degree and set me up for the best success in the future. I'm looking forward to being a part of the success of this program going forward."
Second Houston Player Takes a Redshirt
Another player on the team quickly followed King. Wide receiver Keith Corbin also said he is taking a redshirt and plans to return with King for his senior year. He also said in a statement it would be advantageous for him to take off this season.
"Having the opportunity to take time and focus on the completion of my degree. Plus having the chance to develop as a student-athlete is why I have decided to redshirt for the remainder of the 2019 season," Corbin said in a statement.
The Cougars were upset last week by Tulane. Houston was a 4.5-point favorite. They are visiting North Texas this week, and the odds shifted on the news of the two players leaving.
The Cougars opened Sunday as a -3 pick, but when King and Corbin announced they were taking a redshirt, the odds swung to -6.5 in favor of North Texas.
Oklahoma Rushing to Victories
When Jalen Hurts transferred to Oklahoma this year, the Sooners knew they had another potential star quarterback. While the former Alabama signal caller has delivered with his arm, he has also helped the team's rushing game.
The Sooners are No. 2 in the nation in rushing yards per game, averaging 324.3 yards in their three victories. Oklahoma faces Texas Tech, who has struggled defending the run. The Red Raiders are No. 87 in rushing yards allowed, and that is against weaker opponents, Montana State and Texas-El Paso.
Oklahoma is ranked No. 6, and is favored by 27 points. In addition to the Sooners' high-powered offense, the Red Raiders are also without their starting quarterback, Alex Bowman, who injured his shoulder last week against Arizona.
Heisman Update
If you saw what LSU quarterback Joe Burrow has done to opposing defenses and wanted to back him for the Heisman Trophy, it may be too late. The senior was fetching 200/1 odds in June, but after strong performances against Texas and Vanderbilt on the road, he is suddenly one of the favorites at some sportsbooks.
Alabama quarterback Tua Tagovailoa is still the favorite at the Westgate Las Vegas SuperBook at +180. Burrow, however, is +350, ahead of Hurts (+400), and Ohio State quarterback Justin Fields (+800).
If you are still looking for value in the Heisman race, Clemson quarterback Trevor Lawrence has dropped from +300 to +1200.