Hot Rod Charlie devoured his Middle East appetizer. Now, it's on to the main course.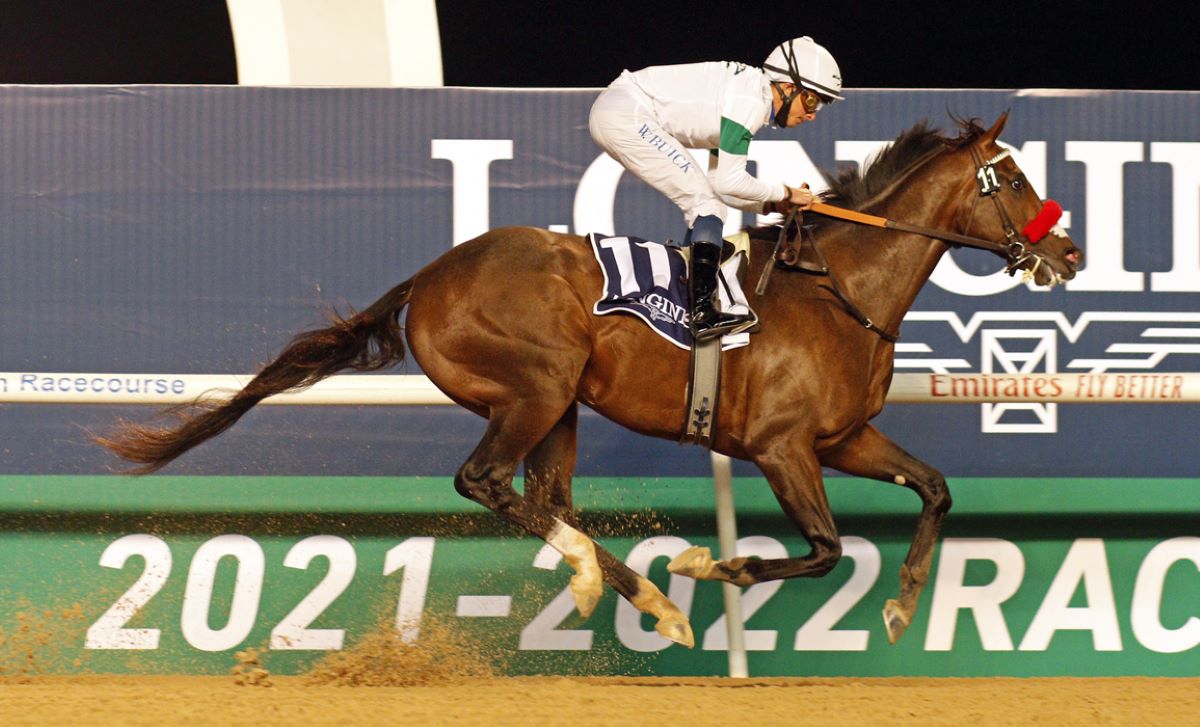 The standout colt blew away his Group 2 Maktoum Challenge Round 2 rivals Friday, capturing the 1 3/16-mile Dubai World Cup prep by 5 1/4 lengths.
In so doing, Hot Rod Charlie opened his 4-year-old campaign at Meydan Racecourse in Dubai following the first half of a path blazed by two other prominent American shippers. Those would be Curlin (2008) and California Chrome (2016). Both came to Dubai, both captured local preps, both went on to win the Dubai World Cup, which — at that time — was the world's richest race.
"It's been such a great journey; let's hope there are more chapters to come," trainer Doug O'Neill told the Dubai Racing Club. "We took a little different approach with him; we didn't train him too hard going into this. However, we knew we had plenty of time to get him ready for the Dubai World Cup."
Hot Rod Charlie could triple his winnings here
The $12 million Dubai World Cup is March 26 at Meydan. A repeat trip there and Hot Rod Charlie will have his second Grade/Group 1 victory — along with a hefty deposit to an earnings account that already is north of $2.7 million. Last year's Dubai World Cup winner, Mystic Guide, banked $7.2 million out of the $12 million purse.
FIrst things first. Hot Rod Charlie earned $210,000 for his Maktoum Challenge victory. Even with the relatively comfortable victory margin, he earned every penny. Breaking well, Hot Rod Charlie surged to the lead before feeling pressure from a charging Al Nefud.
At the top of the stretch, jockey Ryan Moore put Al Nefud into another gear, challenging for the lead. But William Buick, filling in for regular rider Flavien Prat, called for another gear from Hot Rod Charlie. The son of Oxbow answered with a burst of speed that easily dismissed Al Nefud's challenge.
'A very versatile horse'
"Doug and his team said he's a very versatile horse," Buick said. "He can run a mile, a mile-and-a-quarter. He's got enough pace for a mile and he can be on the pace. He's a real joy to ride and he's a very intelligent horse. He really responds to the message you give him."
That "very versatile horse" paid $2.60 as an odds-on 3/10 favorite in the US markets. Wagering is forbidden in Dubai.
"He's a horse who is just loaded with class. It was a strong field tonight, but William rode him with a ton of class and a ton of confidence," O'Neill said. "He wasn't really expecting to go to the front, but he said he 'just pulled me there and he was comfortable doing it.' The pace wasn't overly hot and he kicked on when he needed to."
O'Neill wasted no time laying out what's next for the now-four-time winner.
"Next stop, the end of March, for sure."