Bryce Harper is bringing experience and home-field advantage to Monday's Home Run Derby at Nationals Park in Washington DC. The Nationals outfielder was an 11/4 favorite when Bovada released home run derby betting odds. He has since slipped to 13/4.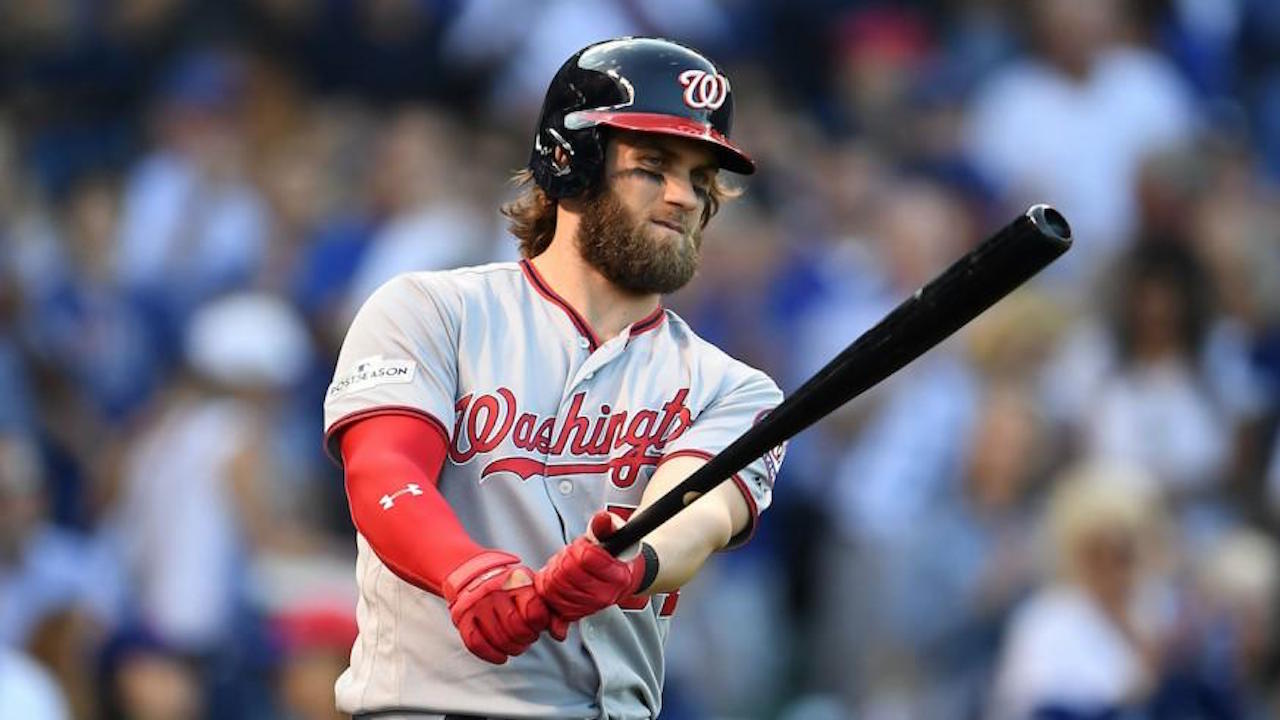 By Friday morning, Chicago Cub Kyle Schwarber was the favorite, at 3/1, after opening at 9/1 as the bottom pick among the eight competitors in the home run derby.
Milwaukee's Jesus Aguilar is next at 9/2, followed by Philadelphia's Rhys Hoskins and Chicago Cubs' Javier Baez at 11/2. Los Angeles Dodger Max Muncy is next at 13/2, followed by Atlanta's Freddie Freeman at 8/1, and Houston's Alex Bregman at 11/1.
Seven Rookies Stepping Up to Plate
All except Harper are first-time entrants, and none of the eight are close to the lead of home run leaders. The highest of the contestants is Aguilar, who is sixth with 24 dingers. Harper is tied for seventh with 23. Muncy is tied for 13th with 21. Bregman is tied for 19th with 19. Baez is tied for 24th with 18. Schwarber is tied for 34th with 17. Freeman is tied for 39th with 16, and Hoskins is all the way down at a tie for 59th with 14.
The format for the contest is hitters are paired according to seed and face each other. Those who hit the most homers in four minutes move on to the next round. The second-round victors will face each other to determine the champion.
Freeman is seeded seventh and has the task of trying to upset Harper, who is the No. 2 seed. Freeman was the top vote getter for the All Star Game and has a definite strategy when he faces Harper.
"It should be fun," Freeman said. "I'm hoping the fans are excited for him and he gets nervous and gets a zero. But we'll see what happens."
Big Name Strikeout
Who is not there is more interesting than who is. None of the top 5 leaders in home runs this season chose to enter. Both derby defending champion Mike Trout, and 2016 winner Aaron Judge, took a pass.
"This year we've got something special going," Judge said. "I kind of said I'm not going and I want to stay healthy. That's really the only reason why you do it … for the fans, put on a good show."
Teammate Giancarlo Stanton, who led the majors in home runs last year with 59, also said he wanted to skip the event.
"I don't think so," Stanton said. "Don't want to, I've done it plenty of times. Take a year off, take two years off, if I want."
One slugger baseball can count on to never attend the derby is J.D. Martinez, who is the current home run leader with 28. He is still smarting from a snub in 2015.
"MLB didn't want me," Martinez said. "I figured I'd have the option of doing it and they said no. They had other guys they wanted, all these young guys. "I was like, 'Forget it. I'll never do it.'"