South Florida will test the theory of the importance of home-field advantage on Thursday in the Gasparilla Bowl when they face Marshall at Raymond James Stadium in Tampa Bay, Florida. Marshall opened as a three-point favorite, despite being the visiting team.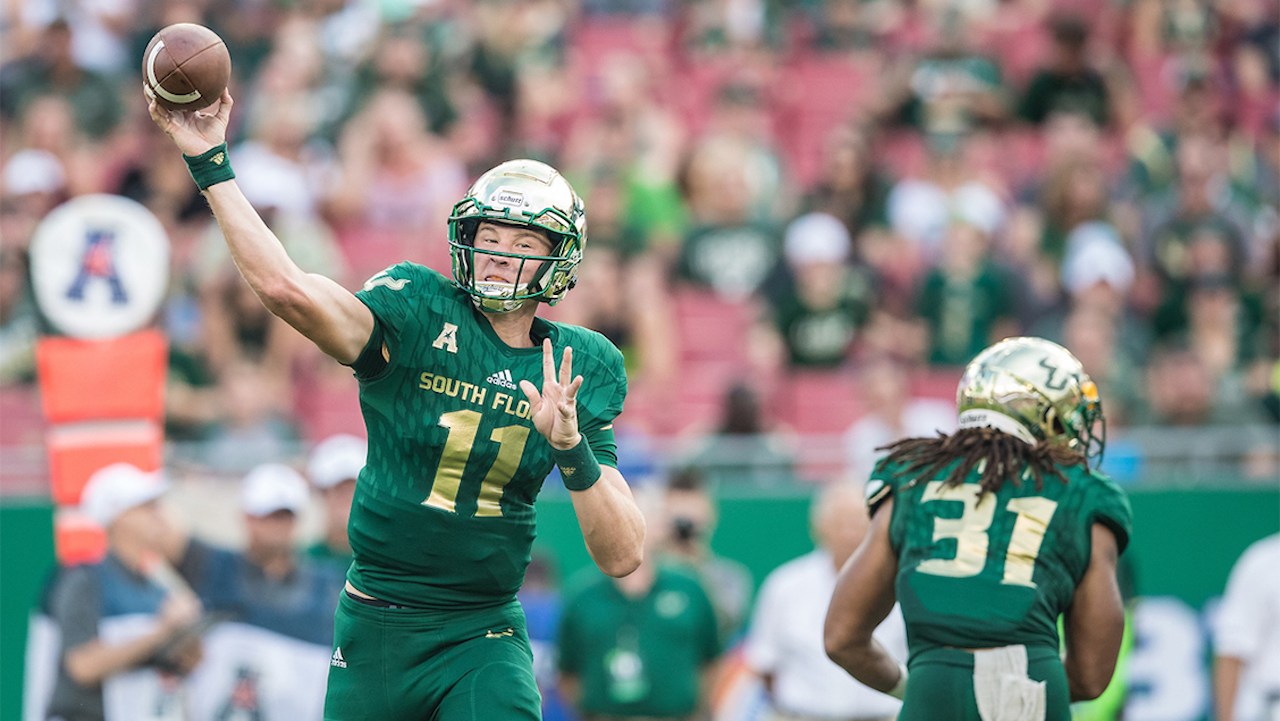 USF has several issues that could affect the spread as the game gets closer. The first is the health of starting quarterback Blake Barnett and middle linebacker Nico Sawtelle.
Barnett suffered a lower leg injury in the Bulls loss at Temple on Nov. 17 and until this week had been wearing a protective boot. He is listed as questionable, and coach Charlie Strong described his status as day to day.
Sawtelle had missed the team's last six games of the regular season with a shoulder injury. He has not practiced, either, but Strong told the Tampa Bay Times he too might play on Thursday.
"It's still a process for them each and every day," Strong said. "We've still got what, three or four days before we play the (bowl) game, so we'll see if they're gonna be ready to go."
Will He Stay or Go?
Another player who might not be on the field for the Bulls is tight end Mitch Wilcox. The All American Athletic Conference first-team pick fought through ankle sprains to set school records for a tight end in receptions and receiving yards.
That has given Wilcox the thought of skipping his senior season and declaring himself eligible for the 2019 NFL Draft. If he makes that decision, he might skip the bowl game. Wilcox told the Tampa Bay Times that he has been evaluated for the pros.
"I'll be very frank, there is an opportunity," Wilcox said. "But right now, all I'm focused on is the bowl game and helping my team and sending out these seniors right."
New Coach Calling Plays
With the departure of USF's offensive coordinator Sterlin Gilbert to become the new head coach at McNeese State, Strong has selected tight ends/special teams coach Justin Burke to be the interim play-caller. Strong said that he has a long history with the 31-year-old.
"He has been with me a long time," said Strong, who first hired Burke as a graduate assistant at Louisville in 2011. "We just sat down and talked about it as a staff, and I just made that decision."
Burke said he is working on a game plan for the offense, but said to look for some unusual play calls.
"It's a bowl game, you're gonna do that no matter what," Burke said. "You get an extra 15 practices, so there's wrinkles, there are things. But in the end, we have a great offense that has been really successful here and in other places, and our guys have really responded to that offense."
The defense is far more of a concern. That side of the ball struggled the last five games of the season, and has the ninth-worst run defense in the country. Marshall, though is 80th in total offense.