Dallas Stars forward Jamie Benn and Columbus Blue Jackets winger Josh Anderson engaged in a classic hockey fight in the first period last night, and the two whaled on each other in a heavyweight bout.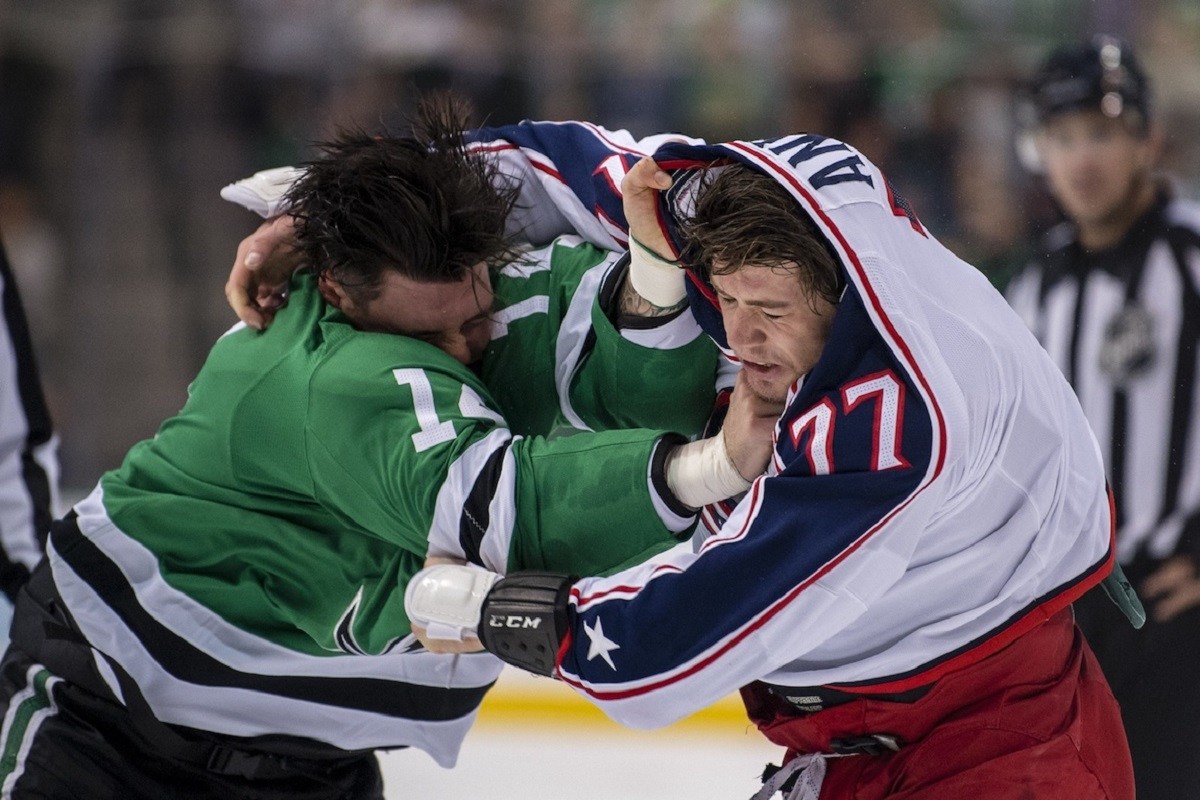 The Blue Jackets defeated the Stars 2-1 and beat them twice in the span of a week. The Jackets improved to 10-6-2, while the Stars slipped to 9-7-2. According to the South Point Casino in Las Vegas, the Blue Jackets are 20-1 favorites to win the Stanley Cup and the Stars are 30-1 favorites.
Benn vs. Anderson Fight
In the first period of the Columbus Blue Jackets and Dallas Stars game, Jamie Benn and Blue Jackets Josh Anderson fought in front of the Dallas Stars bench for approximately 15 seconds.
"That was a manly scrap!" said an excited Stars TV announcer Daryl Reaugh. "They tried to punch the numbers off each others' helmets. What a tilt!"
The Benn/Anderson tiff is one of the most entertaining hockey fight since earlier in the NHL season when the Predators and Jets rumbled in a line brawl.
This fight had origins a week earlier during a game in Columbus. Anderson blindsided Benn in the first period of that match up. The Blue Jackets would go on to win that game 4-1. The Blue Jackets used the momentum in that game would go on a 2-0-1 winning streak.
A week later, it was time for Benn to settle a score with Anderson. During their first shift, the two exchanged words, but no punches were thrown. They waited for a second shift. With the game tied 0-0 with under 13 minutes remaining, Benn and Anderson decided it was the proper time to throw down.
Benn vs. Thornton
The Stars captain, Benn, is no stranger to fisticuffs. Back in 2013, Benn and Joe Thornton of the San Jose Sharks dropped the gloves.
Two talented guys brawled that night, with Benn taking on the larger-sized Thornton. After Thornton jabbed Benn in the groin with his stick, Benn didn't back down. Benn dropped the gloves and took off his helmet. Thornton obliged and did the same.
"This is a dance!" shouted the announcer as the two shed unnecessary gear in preparation of a melee. "Chucking knuckles. Pretty good one. That sure invigorated both benches."
Anderson vs. Chara
Anderson never shies down from a hockey fight, especially when his opponents is bigger than him.
Last year, Anderson rumbled with Zdeno Chara, a behemoth defenseman from Slovakia who plays for the Boston Bruins. Zdeno took offense to Anderson's usual aggressive style. The Blue Jackets were up 2-0 in the second period when the 6'9″ Zdeno got away with a cheap shot in the corner against Anderson. No penalty was called, however, Anderson decided to settle the matter personally.
Zdeno dropped the gloves against Anderson and he quickly went after the bigger Zdeno.