While many watched in horror as Minnesota's Stefon Diggs scored a 61-yard touchdown as time expired to defeat the New Orleans Saints, 29-24, others were holding on to winning betting slips as others couldn't believe the bad beat they had just experienced.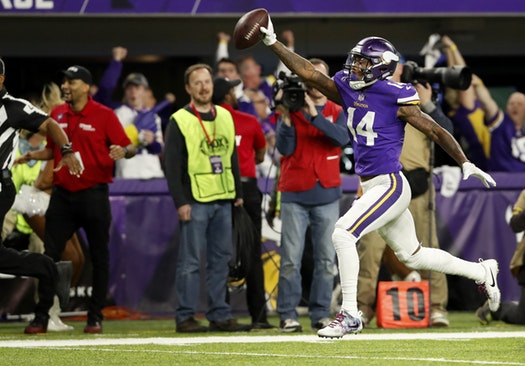 What was the difference between two sets of gamblers who picked the same team? It was those who placed their bets early that had the better chance to cash in their tickets.
When the NFC Divisional playoff game between Minnesota and New Orleans opened the line was set at 3 ˝. Those who thought Minnesota would win gobbled up those odds. The amount of money placed on the Vikings caused many of the sport books to move their line to four. That didn't dissuade bettors who kept throwing money on the home team.
Big Difference at Game Time
When Sunday's afternoon game time approached the line had jumped to five points and at some places 5 ˝. Money was already flowing over to the New Orleans side who thought that 4 or 4 ˝ was a good number. When the line went up a point that was enough to swing a bunch of last-minute money on the Saints.
It appeared early that those who had bet on the Vikings had made the right call. They were up 17-0 by halftime and quarterback Drew Brees couldn't seem to get the offense going.
By the end of the third quarter the momentum had shifted and the Saints were mounting a comeback. The team traded leads three times in the last three minutes of the game.
The Saints were up 24-23 with 25 seconds and those who had bet them with points and straight up looked like they were going to cash. Then the unthinkable happened and the Vikings scored a touchdown with no time in regulation to go ahead 29-24.
Gasps at Sports Books
Those who had bet early and only got 4 ˝ points or less on the Saints were walking away losers. Even those who had five points were going to have to settle for a push.
For Vikings bettors betting early meant the difference between winning or a tie. If you liked Minnesota and waited a little too long to put money down you got burned as well.
Of course more bettors would have ripped up their slips if the Vikings had actually converted the PAT kick. Instead they chose to take a knee and end the game, thus saving those who had 5 ˝ points and the Saints some money.
Regardless plenty of people lost money including two Las Vegas bettors who reportedly put down six-figure wagers, according to ESPN. Frank Kunovic, director of specialty games for Caesars Entertainment, told ESPN that it was one of the most incredible games from a betting standpoint he's ever seen.
"That will go down in the bookmaker hall of fame as one of the biggest swings ever in a game," he said. "The only thing better was if they kicked the PAT."