When umpires ejected Seattle Mariners relief pitcher Hector Santiago from a game on Sunday, it was a historic occasion: the first ejection under the new rules regarding foreign substances in Major League Baseball.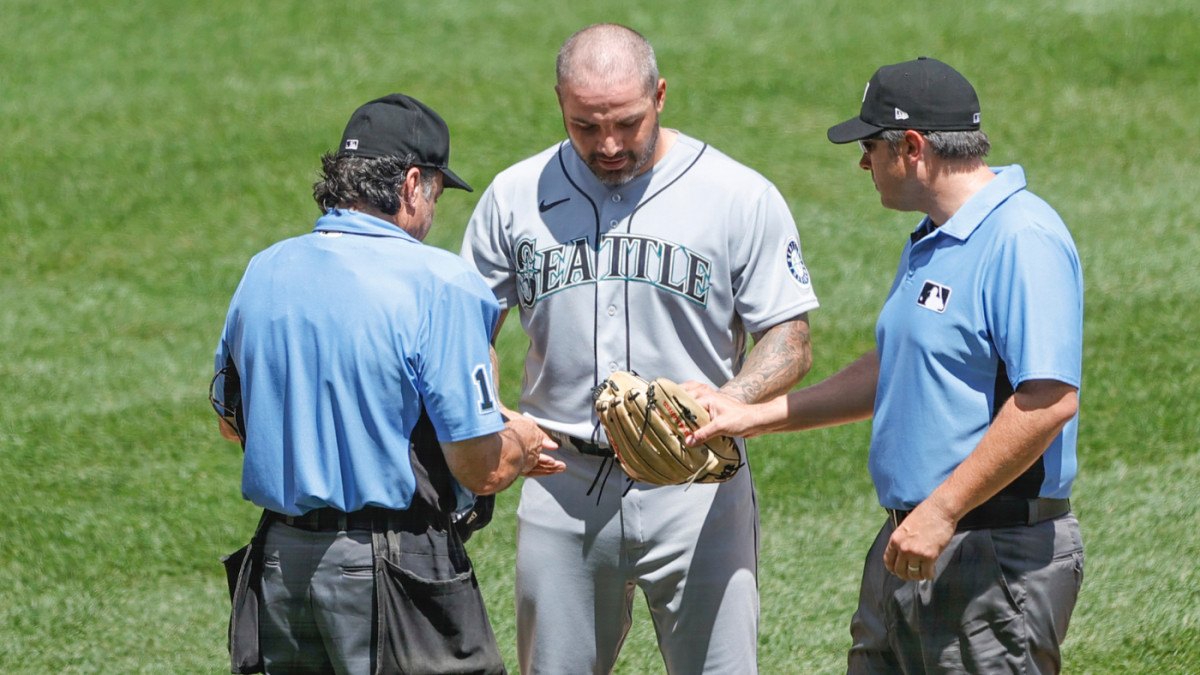 Umpires found a sticky substance on Santiago's glove, then ejected him from the game after a brief discussion.
Umpire crew unanimously agrees with ejection
Crew chief Tom Hallion said that the entire team of umpires agreed with the decision.
"What we do is we go around the whole glove, feeling for anything that would be sticky or something," Hallion told reporters after the game. "It was very noticeable, and then the rest of the crew inspected to make sure we were all in agreement. All four agreed that it was a sticky substance, and that's why he was ejected."
Santiago had already allowed two hits and two walks in the fifth inning, his third inning of work on the day. After Mariners manager Scott Servais pulled Santiago from the game, umpires performed their mandatory inspection.
Santiago has denied doing anything illegal. The pitcher says that he used only allowable substances on a hot and humid day.
"All I used was rosin," Santiago said after the game. "I used it on both sides, trying to keep that sweat from dripping down to the hands."
According to Santiago, umpires cited him for using rosin on his glove hand, not for anything on his pitching hand. "If we're not going to be able to use it on our hands, our arms, to keep that sweat from dripping down our hands, keep that slipperiness of the ball, let's just get it out completely," Santiago told reporters.
Santiago: Examination will show 'sweat and rosin'
Umpires handed Santiago's glove over to an MLB authenticator, who put it in a white plastic bag. Officials then sent it to New York for further evaluation. Santiago believes that further scrutiny will clear his name.
"It's just sweat and rosin," Santiago said. "They're going to inspect it, do all the science stuff behind it and it's going to end up sweat and rosin."
Santiago entered at the start of play on Sunday as the Mariners and White Sox continued a suspended game from Saturday. The Mariners went on to win 3-2. Chicago would win the second game of the doubleheader by a 7-5 score.
Santiago has pitched to a 2.65 ERA over 17 innings for the Mariners this season.
Seattle has surprised somewhat this year, putting up a 41-38 record as the season nears its midpoint. However, they still stand 7.5 games back of the Houston Astros in AL West standings, and bookmakers don't expect the Mariners to be a factor in the divisional race. FanDuel Sportsbook lists Seattle as a +5500 pick to win the AL West this season.
Meanwhile, the White Sox have taken control of the AL Central. Chicago (45-32) sits 2.5 games ahead of the Cleveland Indians for first place in the division. FanDuel sees the White Sox as an overwhelming -550 pick to win the AL Central, and a +700 choice to win the World Series.