The Dodgers are owners of eight straight NL West titles with nary a champagne spray tan to show for it. Now they've done the improbable and fought back from a 3-1 deficit to force the Braves to game seven en route to a third World Series berth in four seasons.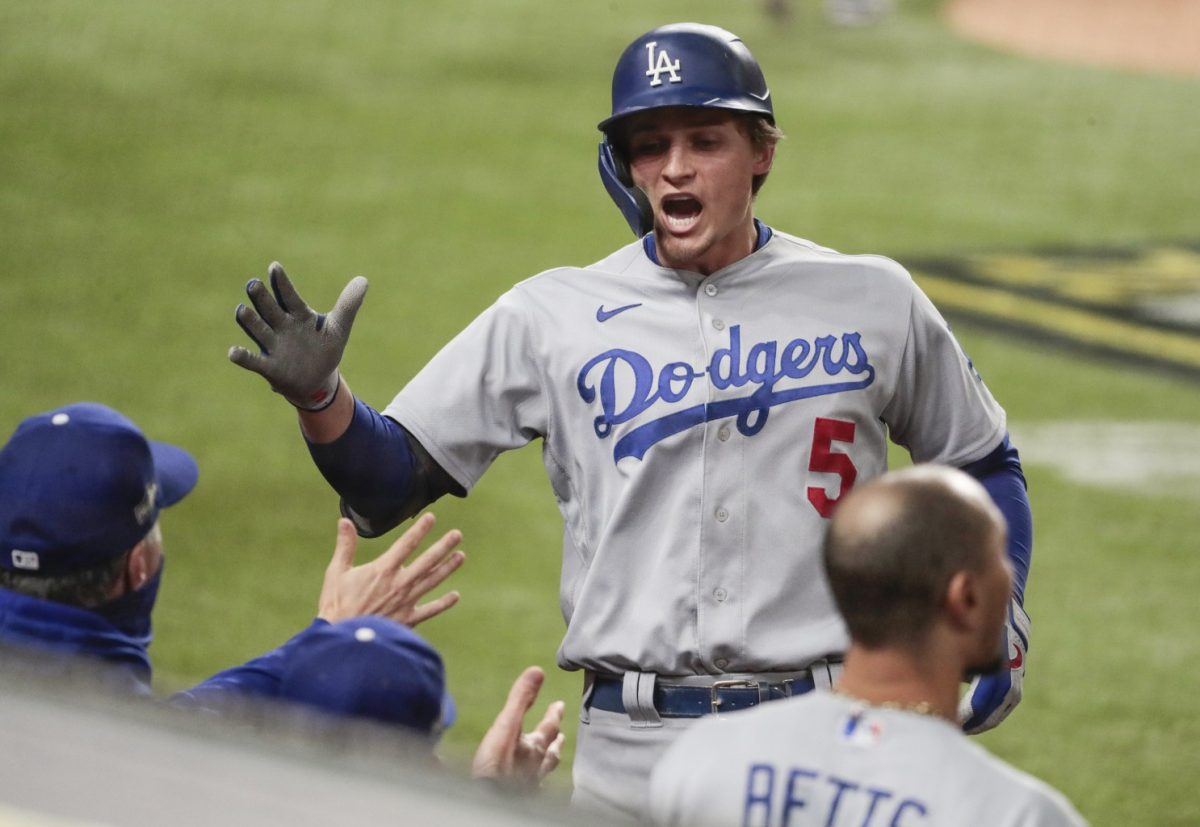 Down two-to-one to the Braves, a team laden with talent but still squarely in the upstart firmament, the Dodgers went with Clayton Kershaw, who to that point was having a stellar playoffs (1.93 ERA 14 IP, 3 ER, and 19 K in 2 postseason starts). He was poised to take advantage of some hot bats from a team that had put up 15 the previous evening.
Then came the Braves' six-run outburst in the sixth and a solid start from rookie Bryse Wilson who held a team that had put up 11 runs in a single inning the previous night to a single run through six
The Braves went on to win the tilt 10-2, beating all expectations at the plate and continuing this series' over-busting trend to inch within one victory of their first World Series berth in 21 years.
Offense Driven?
In Game 5, the momentum shifted back to the Dodgers' offense led by shortstop Corey Seager who hit a pair of home runs to cut the Braves' series lead by one.
Seager continued his inhumanly hot streak in game six, opening the first with a blast to bring his blistering totals to a .375 average, six HRs (a Dodgers' postseason record) 15 RBI so far this postseason.
Dodgers ace Walker Buehler came back from a dismal game one performance to pitch six scoreless, which led to a rare seamless save for closer Kenley Jansens and a series knotted at three.
For the first time since 2004, both the championship series went the distance with Monday's winner to take on the Tampa Bay Rays in the World Series, which will start Tuesday.
Fate Rests in Pitchers' Hands
The Dodgers have not announced their starter as of Sunday but have a trio of arms ready to go for game seven. The safe money will go to Julio Urias, who threw a 101-pitch gem in game three. Urias said he's prepared to go on short rest.
Other options are young guns Tony Gonsolin, who has a total of six MLB wins over a pair of seasons, had an 88-pitch start game two, and Brusdar Graterol, with two career victories in that same time frame, earned a slot in the Dodgers' rotation toward the end of this truncated season. Both would get the ball on normal rest.
The Braves' RHP Ian Anderson is a 22-year-old with just nine career starts, but three of those are outings in which he blanked opponents this postseason. He's got a 1.31 ERA and has allowed only a single home run over his last 48 innings. The Braves have a rested bullpen, and both teams should have whatever starter they go with on a short leash.
Bet the Over (8)?
This series has seen both teams match or beat the over five of the first six games (scoring a combined 57 runs up to game six.) A four-run total game six turned the focus back to pitching but look at least one of the teams to have an outburst against a relative unknown Monday at 8:15 pm ET from Globe Life Field in Texas. The Dodgers opened as a slight favorite (-139), and the o/u is 8.
As a postscript, it's a not-so-well-kept secret around Chavez Ravine that Dodgers manager Dave Roberts, whose current contract is through 2022, is playing game 7 for a chance at another season as skip and will pull out All-Star game-type maneuvers to get his squad a shot at a masks and ski goggle locker room celebration.
It's as safe a bet as any this postseason to play it straight with the favorite and the over.