Kevin Harvick held off Denny Hamlin down the stretch to win the Consumers Energy 400 at Michigan International Speedway on Sunday, completing a sweep of the two NASCAR races held at the track over the weekend.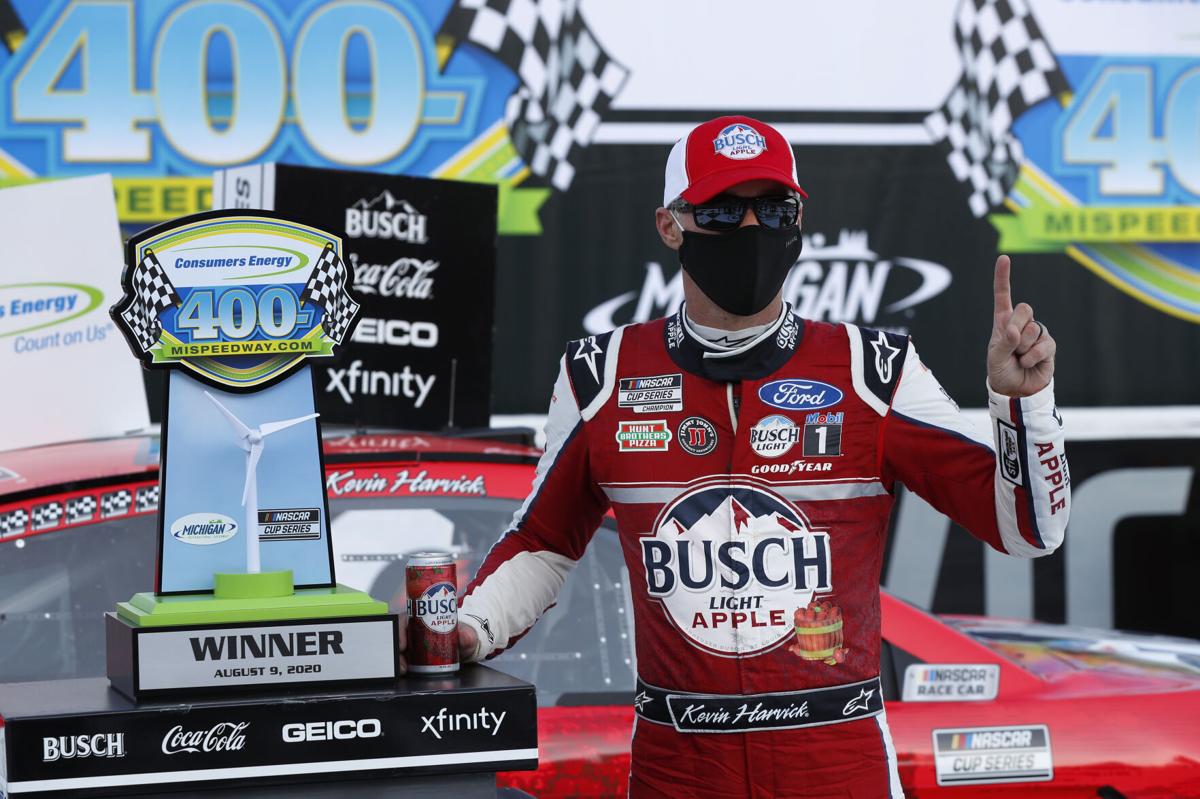 Harvick also won Saturday's FireKeepers Casino 400, beating out Brad Keselowski in overtime after several late restarts.
Harvick Holds off Hamlin in Final Lap Duel
The 44-year-old Harvick now leads the NASCAR Cup Series with six wins on the season. He's won four of the last five races held at Michigan International Speedway.
While Harvick won the second stage and held the lead uninterrupted for the final 30 laps, victory wasn't assured until the final moments. Hamlin pushed Harvick through the final lap, ultimately coming up .093 seconds short of chasing down the leader.
"That was a big challenge," Harvick said after the race. "When you look at my team, we've been together going on seven years now and you look at the confidence everyone has in each other, the details of the race cars, everything that goes into everything that we do, that's untouchable."
Harvick became the first driver to win NASCAR Cup Series races on back-to-back days since Richard Petty did so in 1971.
"It's been a long time since I've raced back-to-back days, let alone in the Cup car," Harvick said afterward. "I've never accomplished that, obviously, but we've done that a couple times this year, so I think for us it's worked out pretty well. We're hoping it goes the same way at Dover when we go there in a couple of weeks."
NASCAR has organized a compacted schedule in order to make up races that it had initially postponed due to the COVID-19 pandemic.
Playoff Picture Coming Into Focus
Hamlin expressed disappointment over his second-place finish.
"Once we finally got to second, I knew we had something for them," Hamlin said in a post-race interview. "I just got stalled there, he was tight and I was tight and we were better, that's for sure. But he just had the track position and could control the lanes there."
Harvick and Hamlin have dominated the 2020 NASCAR Cup Series season so far. Hamlin has won five races, putting him just one behind Harvick for the series lead. Only Keselowski (three) and Joey Logano (two) have also won multiple races this season.
William Hill lists Harvick (+240) and Hamlin (+300) as the two clear favorites to win the NASCAR Cup Championship this year, ahead of Keselowski (+750) and Chase Elliott (+750).
Martin Truex Jr. finished third on Sunday, with Kyle Busch and Joey Logano rounding out the top five.
The NASCAR Cup Series playoff race is heating up with just four races remaining before the postseason begins. Ten drivers have won a race and clinched a playoff spot. William Byron currently holds the final playoff position, sitting 26 points ahead of both Erik Jones and Jimmie Johnson.