With Kevin Harvick's victory at the Bass Pro Shops Night Race at Bristol Motor Speedway, he put more distance between himself and his competitors in the race for the NASCAR Cup Championship. The victory in Bristol marked Harvick's ninth win of the season.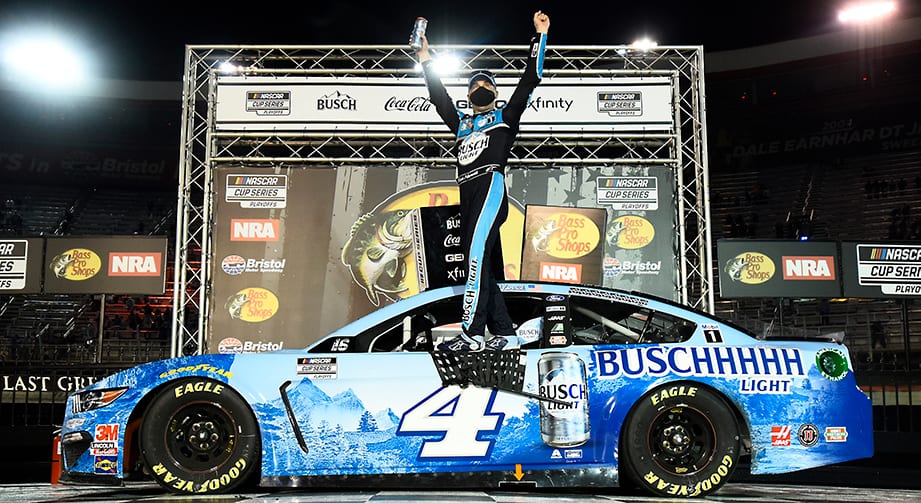 More importantly, the 44-year-old now has a strong lead going into the playoffs, and has seen his odds drop even further. He began the season at 6/1 to win the NASCAR Cup Championship, but his odds plummeted to 2/1 at the beginning of the playoffs in August.
---
NASCAR Cup Championship Odds
| | | |
| --- | --- | --- |
| | Odds Aug. 30 | Odds Sept. 22 |
| Kevin Harvick | +200 | +140 |
| Denny Hamlin | +300 | +350 |
| Martin Truex Jr. | +1000 | +800 |
| Joey Logano | +1000 | +1200 |
| Chase Elliott | +1200 | +1200 |
| Brad Keselowski | +1200 | +600 |
| Kyle Busch | +1200 | +1400 |
| Aric Almirola | +3000 | +6000 |
| Alex Bowman | +4000 | +6000 |
| Kurt Busch | +4000 | +6000 |
| Clint Bowyer | +8000 | +10000 |
| Austin Dillon | +30000 | +10000 |
Source: Westgate
---
Now, Harvick is at +140 to claim the championship, and told reporters many people are responsible for his success this year.
"It's been an unbelievable year on the racetrack," Harvick said. "I can't thank everybody at Stewart-Haas Racing enough."
The question now is, will Harvick blow the rest of the field away, or can anybody catch him in the stretch? Here's our look at some of the possible winners — and potential losers — heading into the next round of the NASCAR Cup Championship playoffs.
Winners
Kevin Harvick
After claiming his ninth win of the season on Saturday night, Harvick has a chance to make a little history and match Jimmie Johnson (2007) and Jeff Gordon (1996-98) as the only driver in the last 25 years to win 10 races in a season.
Kevin Harvick won for the third time in his Cup career at Bristol and ninth time this year. "A heck of a race," he said. pic.twitter.com/zmTtWrvsya

— Bob Pockrass (@bobpockrass) September 20, 2020
He also kept a firm grip on the No. 1 spot in the NASCAR Cup Championship standings, putting some distance between himself and second-place driver Denny Hamlin.
"I was so jacked up when I got in this race car to come here and just race and to be able to do that in front of people, that's the enthusiasm that you get is from the crowd," Harvick said. "I'm so excited for our team."
The Busch Brothers
While neither of the Busch brothers (Kyle and Kurt) have found the winner's circle this season, they have each managed to advance to the round of 12. Kyle is ranked No. 10, while Kurt has the last spot at No. 12.
If the two are going to advance to the field of eight, however, they have to jump a couple of drivers in the standings. Kurt Busch says the brothers are confident they can get the job done.
"All-in-all, we advanced, and that's what we expected to do," Busch said. "That is what we have to continue to do. We will do it through teamwork and execution."
Kyle Busch, who finished second at Bristol, made a valiant effort to win his first race of the season, but just couldn't get around Harvick. After the race, he had harsh words for Joey Logano whom he believes hindered his chances to secure a victory.
"[Joey Logano is] nobody's friend for a reason."

Kyle Busch wasn't happy with second at Bristol. His thoughts on Logano, lapped cars preventing a move and opening the second round at Las Vegas: pic.twitter.com/1uEnMLLAgK

— Bob Pockrass (@bobpockrass) September 20, 2020
Losers
Denny Hamlin
Hamlin finished 21st at Bristol Raceway, but managed to hold onto second place in the Cup Championship standings. He did, however, lose some ground to Harvick. Hamlin started the playoffs 10 points behind Harvick and, after three races, is now 19 points back.
Hamlin crashed at Bristol on Saturday night and missed a chance to stay close to Harvick. He told reporters the incident with teammate Martin Truex Jr. was unfortunate.
I don't believe in the word "luck" being used in racing but damn.. I'm ready for a reset.

— Denny Hamlin (@dennyhamlin) September 20, 2020
"We drove up to fifth, and I felt pretty good," Hamlin said. "We caught the lead within three seconds, so I was pretty happy about where we were going to be, and then we crashed."
Ryan Blaney
Of the four drivers who got knocked out of the race for the championship, Blaney held the highest position in the standings going into the playoffs. In the three races before the cutoff, Blaney finished 24th, 19th, and 13th.
He told reporters on Saturday it was a little shocking to get knocked out in the first round.
"I'm upset about it," Blaney said. "I don't want to be knocked out with seven races to go and not be able to run for a championship."