The Hard Knocks reality series returned to HBO for a new season featuring the Dallas Cowboys. The first episode of Hard Knocks began with quarterback Dak Prescott revealing his scars after recovering from a nasty ankle injury last season. Other highlights included Ezekiel Elliot poorly gift wrapping a birthday present, Jerry Jones eating a breakfast sandwich, special teams coach John Fassel explaining his vasectomy, and head coach Mike McCarthy busting out an Austin Power's reference — which flew over the heads of the Gen Z players in the locker room.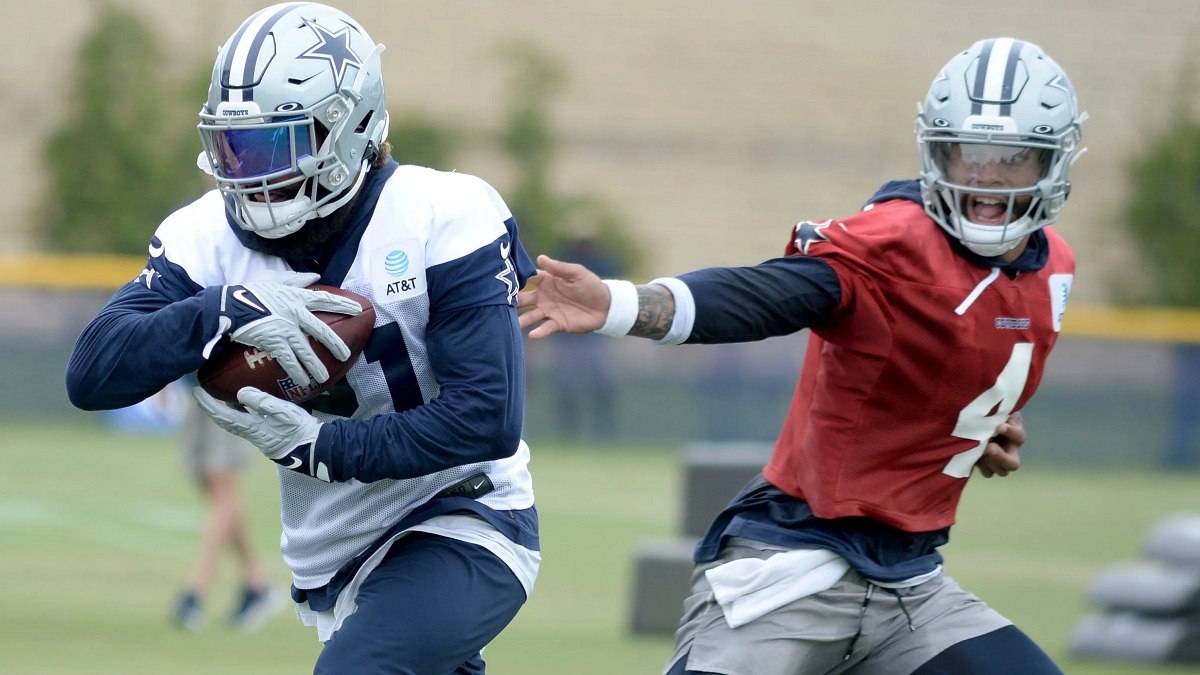 Last season, HBO followed two teams for the first time. The Los Angeles Rams and LA Chargers were sharing a brand new stadium, so the NFL wanted to highlight both teams as they prepared for the first season in the wake of COVID. This season, it's back to an old-school approach with HBO's cameras following just one team.
The Dallas Cowboys, dubbed America's team, haven't won a Super Bowl in 26 seasons, and billionaire team owner Jones is 78-years old and not getting any younger. The Cowboys are the most valuable franchise in American pro sports, but money hasn't been able to buy a championship. Time is ticking on whether or not this current squad can deliver Jones and the storied franchise one more Lombardi trophy before he rides off into the sunset.
Dak's scars and sore arm
The cold open for the new season of Hard Knocks begins with a shot of Prescott's surgically repaired ankle and a quick anecdote about the suicide of his brother. Pro athletes are thrust onto pedestals, especially NFL quarterbacks, but Prescott is also a human. He has family problems just like us, but those are internal scars aren't visible like the wishbone-like scar on the surface of his ankle.
"I love scars," said Prescott. "I got plenty of 'em."
Prescott suffered a compound fracture last October that ended his season prematurely. He survived multiple surgeries and rehabbed in the offseason. He said he's ready for a full-scale training camp, though the coaching and training staffs were concerned that he was overdoing it and practicing too hard. The staff tried to reel him back, but a defiant Prescott kicked the backup quarterback out of drills and took over himself.
After Prescott strained a muscle in his throwing arm, the team finally shut him down for a week. The team doctor consulted with the trainers from the Texas Rangers and New York Yankees because the injury was more akin to a baseball pitcher's injury. The baseball advisors suggested shutting down Prescott out of precaution, and the Cowboys agreed. Prescott wanted to practice through the injury, which is foolish, but demonstrated how badly he wants to get back on the field.
Jerry Jones' breakfast sandwich
What the heck was Jones eating when the team doctor called him up to inform him about Prescott's injury? During the meeting, Jones sipped coffee and unwrapped a fast-food breakfast sandwich with sausage, but the actual ingredients have become a source of debate on internet forums and on Twitter.
Jones sprinkling salt on his sandwich made the segment even funnier. I mean, who needs to add salt to a McSandwich that's already swimming in sodium?
Jerry Jones putting salt on a McGriddle. WTF lol #HardKnocks pic.twitter.com/EXEk8Vz8tb

— gifdsports (@gifdsports) August 11, 2021
McCarthy's mojo whiff
Like most members of Gen X, movie lines are a part of everyday vernacular. Head coach Mike McCarthy tried to inject some humor into a pep talk by using a clip from an Austin Powers flick. However, the younger players didn't get the "mojo" reference because many of them hadn't seen the franchise in which Mike Myers plays a spy from the 1960s who was frozen in suspended animation until the 1990s.
Despite the Austin Powers dud, McCarthy got the attention of the room when he laid out their goal: win Super Bowl 56.
"F–k last year," said McCarthy. "Charlie F–karound? He doesn't work here. High School Harry? Get his ass out the f–king door. This is about winning a world championship. Nothing else. Winning season? Not good enough. Playoffs? Not good enough. Getting to the conference championship game? Not good enough. This is about winning the Super Bowl."
McCarthy was fired from his job with the Green Bay Packers after he lost touch with the locker room and his relationship with the mercurial Aaron Rodgers deteriorated. After the cringy Austin Powers clip, it's pretty obvious the Cowboys don't have the right guy to lead them to the promised land.
I'm sorry, but the more I see of Mike McCarthy, the less impressive he is. Austin Powers??? Mojo Moments??? If I were a Cowboys player, I'd be muttering under my breath about this guy.

— Skip Bayless (@RealSkipBayless) August 11, 2021
Zeke Elliot: Great best friend, terrible gift wrapper
Elliot and Prescott have become best friends since meeting at the draft combine prior to their rookie seasons. The two stars are the primary weapons on the Cowboys, but they have a deep connection as besties instead of being adversaries in an alpha male-dominated world.
Elliot's birthday is a week before Prescott's and the quarterback gifted the running back a diamond watch. Elliot bought Prescott a swanky piece of luggage (Goyard worth $13,000!), but had no clue how to gift wrap it. Like most 20-somethings, Elliot turned to a YouTube tutorial on gift wrapping advice. Even with video assistance, Elliot struggled to complete the task. He might be a stud running back, but he'd never hack it as one of Santa Claus' elves.
Hard Knocks Cowboys episode 1: Odds and ends
Special teams coach John Fassel entertained and educated his squad on the simplicity of a vasectomy. Fassel spoke from first-hand experience to a group of special teams players. They were highly entertained by his run-in with a chatty surgeon which sounded more like a scene from The Larry David Show than from Hard Knocks.
Rookie linebacker Micah Parsons was the comic relief of the episode. The first-round pick out of Penn State lamented on the Cowboys' lack of snacks during practice, which apparently Penn State had no shortage of. Parsons impressed the vets with his speed and energy.
The Cowboys have four preseason games this year because they played the Pittsburgh Steelers at the Hall of Fame game in Canton, which was a part of the Hall of Fame ceremonies. The Steelers defeated the Cowboys 16-3, which marked the NFL's first preseason game in two seasons.