Hard Knocks Oakland Raiders Episode 2 featured a raw glimpse of Antonio Brown's cracked feet, local rookie WR Keelan Doss, got to witness the sheer toughness of rookie DE Maxx "Mad Max" Crosby, who broke his hand in the first preseason game, but returned to action against the LA Rams despite the injury that would later require surgery.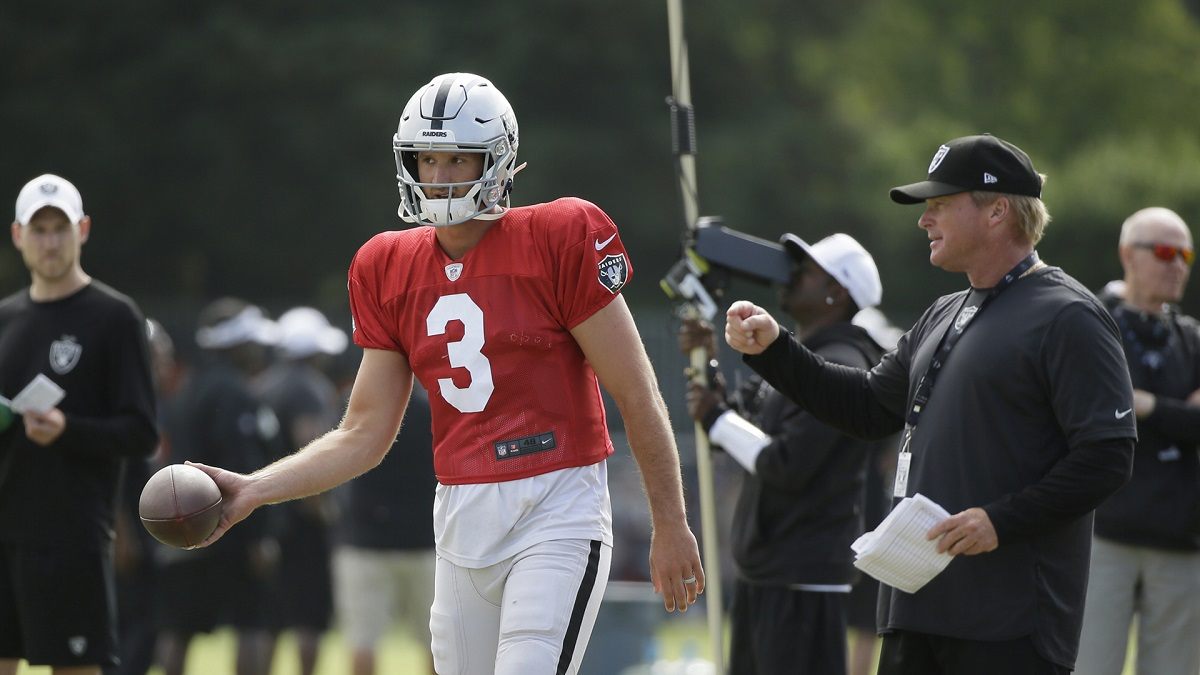 The Oakland Raiders squared off against the NFC Champion LA Rams in dual scrimmages plus the first preseason game.
Raiders coach Jon Gruden gave Sean McVay his first job in the NFL. McVay didn't squander the opportunity and he's on am mission to win the Super Bowl this year.
Gruden used the Rams as an example to motivate his own team. The Rams went from last-to-first and McVay turned around the franchise into a Super Bowl contender.
"We're capable of being a great football team," Gruden said in a night meeting. "It's time for us to wake up as a football team."
The Raiders won their first preseason game 14-3. Then again, the Rams do not play any starters in the preseason opting to rest their top players and preserve the hits for the regular season.
AB's Feet and Head
In Episode 2 of Hard Knocks, HBO cameras revealed close ups of AB's feet. Antonio Brown told his bad beat story about his feet burning up after a cryogenic session during a vacation in Paris. The look on disgust on Gruden's face is priceless when he's informed about AB's progress.
"I got circumcised on my feet," Brown said. "Hopefully my feet born again and I frickin run faster. Feel sorry for me later."
Meanwhile, if the feet are not bad news enough, Brown decided he wants to continue to wear his old helmet, even though it's not approved by the NFL. It's not even the second week of training camp, and Antonino Brown is involved in another distraction and grievance with the league.
Peeling back the curtain on @AB84's peeling feet.#HardsKnocks is streaming now on HBO. pic.twitter.com/pViQL7gBuY

— NFL Films (@NFLFilms) August 14, 2019
Backup QBs: Glennon and Peterman
Sometimes it takes one drive to get out of the head coach's doghouse. Mike Glennon and Nathan Peterman are competing for a backup role with the Raiders. Glennon is currently #2. The quiet 6-foot-6 backup led the Raiders to a scoring drive against the Rams. the At that moment, Gruden joked, "I like Glennon now."
Gruden took heat for taking a shine to Peterman, who made several lowlight reels with the Buffalo Bills last season. Peterman started the second half of the first preseason game. He threw a short TD strike to rookie wideout Keelan Doss.
Rookie Watch: Broken Hand and Local Kid
Raiders wideout Keelan Doss took advantage with AB out. Doss impressed Coach Gruden with several big plays in practice. The local product played high school ball in Alameda. He went undrafted out of UC-Davis, but now has a chance to make the team.
Even if he doesn't make the cut, Doss caught a touchdown in front of friends and family during the first preseason game in Oakland. So long as Doss keeps improving and catching balls from Derek Carr, it looks like a roster spot is his to lose.
"I love Keelan," said Carr. "We saw him make some spectacular catches."
DE Maxx Crosby impressed coaches and teammates with a rendition of T-Pain during Rookie Karaoke.
The kid from Eastern Michigan played more like a Big Ten standout, which is why the Raiders took a flier on Mad Maxx in the fourth round.
Mad Maxx made a couple of tackles against the Rams in the first preseason game. However, he broke his hand after failing to punch a ball out during a gang-tackle. Despite the pain and injury, Mad Maxx asked the med staff to give him a hard cast so he could return to the game.
Mad Maxx Crosby had surgery on his hand this week. He's expected to miss 6 to 8 weeks. If it's up to Mad Maxx, he'll play next week.
Chuckie Quotes, Ep. 2
Hard Knocks Episode 2 had no shortage of Gruden golden nuggets.
"I want better execution, are we clear on that? I want better f—–g execution."
"It's time to stick your foot up someone's ass."
"The NFC F——g Rams are coming this week."
"Doss, I'm more excited to see you play than see my wife. I haven't seen her in two weeks."
"Stay away from the quarterback. Protect the merchandise, man."
"How do you screw up a snap count?"
"I love ya, but I'm not f—-n gonna let you run the ball into unblockable looks."
"Is this Brent Freakin Musburger?"
"Let's chew these fat f—s up."
"I gotta quit cussin'."
Take a look at other recaps including Hard Knocks Episode 1.