The only thing standing between Greatest Honour and keeping Spectacular Bid company in the history books is one of the best Kentucky Derby preps on the calendar – Saturday's Grade 1 Florida Derby at Gulfstream Park.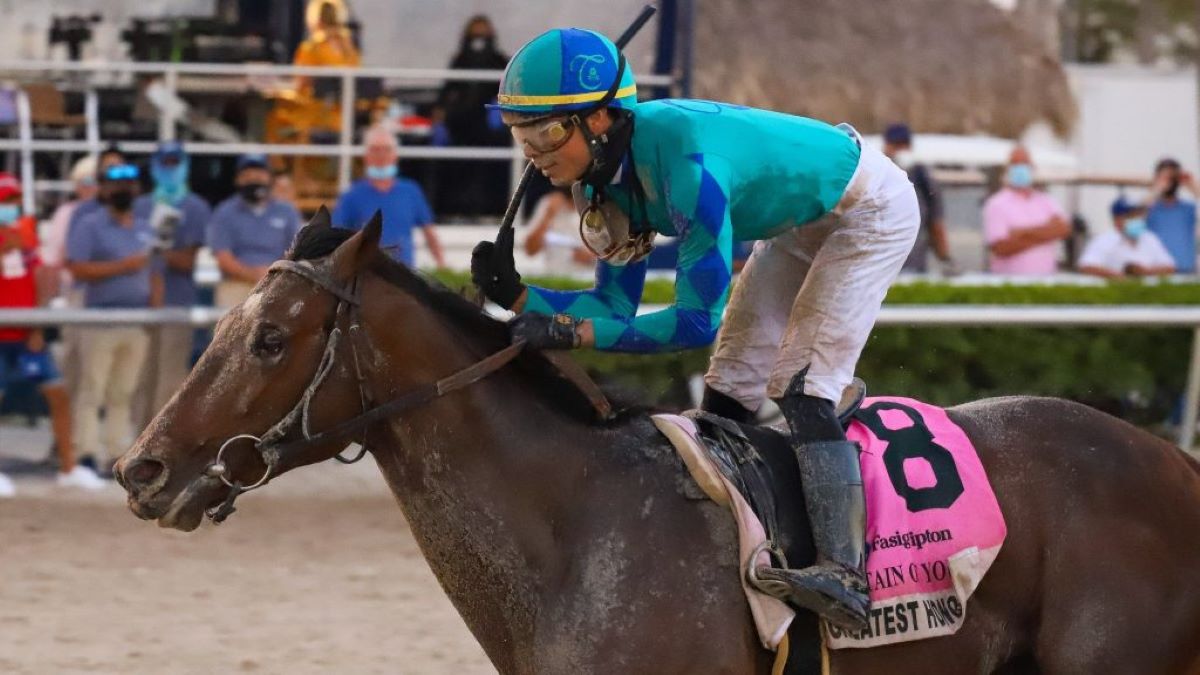 Well, that – and the little matter of getting past 10 other horses in the 1 1/8-mile Florida Derby. That's one of 10 stakes on Gulfstream Park's Championship Meet closing weekend. This comes with a mandatory payout of the Rainbow 6 pool, which should crack seven figures if nobody solves it Friday.
The Florida Derby, meanwhile, also comes with 100-40-20-10 Derby qualifying points to its first four finishers. This comes with a guaranteed spot in the Derby for the top two finishers.
But back to Greatest Honour and his pursuit of history. Yes, he has to get past 10 others here. Along with that, there's the little matter of winning the Kentucky Derby. Which Spectacular Bid did in 1979 – after he swept the three Gulfstream Park Derby preps that year.
Greatest Honour 2-for-2 in Gulfstream Derby preps
Greatest Honour won the first two this year: the Grade 3 Holy Bull and the Grade 2 Fountain of Youth. Should he finish the trifecta with the Florida Derby, Greatest Honour would be the first to sweep all three races.
When Spectacular Bid swept the South Florida Derby preps in 1979, he won the then-Grade 3 Fountain of Youth, the Grade 1 Florida Derby, then the Grade 1 Flamingo Stakes at Hialeah Park. For good measure, Spectacular Bid won the Blue Grass the week before the '79 Derby.
And there's more illustrious company to keep in a Derby prep that produced 60 Triple Crown race winners. The Florida Derby sent seven of its winners to the Derby title this century, including two of the last five Florida Derby winners: Nyquist (2016) and Always Dreaming (2017). Of course, there's 2019 Florida Derby winner Maximum Security, who crossed the wire first in the 2019 Derby, but was taken down for interference.
You want to join this Florida Derby club
The Florida Derby winner's roll reads like its own Hall of Fame wing: Nashua, Tim Tam, Northern Dancer, Swale, Unbridled, Thunder Gulch, Barbaro. And of course, Spectacular Bid. All went on to win the Kentucky Derby.
One of this century's Derby winners was Orb (2013). His name returned to the forefront because like Greatest Honour, Hall of Famer Shug McGaughey trained him. McGaughey hasn't been shy this winter about referring to Orb's path as his blueprint for Greatest Honour.
"Orb came to hand pretty quick," McGaughey said on a National Thoroughbred Racing Association conference call earlier this week. "Once he broke his maiden, there were still some questions marks with me about how good he was and then he won that allowance race, which I thought was going to be a difficult task. And then, he won the Fountain of Youth, when we're backing him up … and he was able to win the Florida Derby and the Kentucky Derby. And I think with Greatest Honour, I think that still, he's got thing to learn. I think this is going to be his friend once we get him stretched out (farther) with his pedigree and style of running."
Savvy vet McGaughey takes the long road
McGaughey has plenty of reason for Florida Derby optimism. Famous for being very picky on his Derby choices, McGaughey knew Greatest Honour needed reps and needed distance. He laid out his path on the Derby trail understanding that as distances increased, so did Greatest Honour's odds of winning.
Watching Greatest Honor romp to a 5 ¾-length victory in the Holy Bull, then back it up with a gritty, harder-than-it-looked 1 ½-length rally in the Fountain of Youth validated this approach. In the Fountain of Youth, Greatest Honour came back from 8 ½ lengths back with five-sixteenths of a mile to go.
"Well, I got a lot of confidence in him," McGaughey said. "I mean these races will get more difficult as it goes along and I think he can overcome that kind of stuff (trouble). And I think with him winning here, going a mile-and-16th over this, over a speed-favoring racetrack with the short stretch, that says a lot about him."
Known Agenda an unknown quantity here
It will say even more about the 6/5 favorite if he can handle three primary threats to his chapter in the history books. The first is Todd Pletcher's enigmatic Known Agenda (5/1). He comes in off an 11-length dismembering of a Gulfstream Park allowance optional claimer field. He also defeated Greatest Honour over nine furlongs in an Aqueduct maiden race last fall.
In between, however, Known Agenda finished third in a weak Remsen Stakes field. Then, he placed fifth as the 3/2 favorite in the Sam F. Davis at Tampa Bay Downs in early February.
Grade 1 Florida Derby/Gulfstream Park
Morning Line (Jockey/Trainer)
Nova Rags, 12/1 (Junior Alvarado/Bill Mott)
Quantum Leap, 20/1 (Miguel Angel Vasquez/Ian Wilkes)
Jirafales, 30/1 (Edgard Zayas/Gustavo Delgado)
Southern Passage, 30/1 (Corey Lanerie/Dale Romans)
Known Agenda, 5/1 (Irad Ortiz Jr./Todd Pletcher)
Sigiloso, 30/1 (Leonel Reyes/Antonio Sano)
Greatest Honour, 6/5 (Jose Ortiz/Shug McGaughey)
Soup and Sandwich, 20/1 (John Velazquez/Mark Casse)
Collaborate, 6/1 (Tyler Gaffalione/Saffie Joseph Jr.
Spielberg, 5/1 (Javier Castellano/Bob Baffert)
Papetu, 15/1 (Emisael Jaramillo/Antonio Sano)
Then, there's Collaborate (6/1). This pace-setting son of Into Mischief defines "lightly raced." This is only his third start. But it's his first since wreaking 12 ½-length havoc in a one-turn mile last month. His speed and potential cancel out his inexperience – provided he can bring that speed the extra furlong.
"We're a little behind schedule, so we're asking him to do something that is going to be a tall task. But he seems like he has that ability to overcome it," trainer Saffie Joseph Jr. said on that NTRA call. "And the first time again – when he got beat – in hindsight, that was a blessing in disguise, because he got a lot of education from that."
Here comes Spielberg again
The final contender is Spielberg (5/1), who comes in from California attempting to duplicate the carpetbagging feats of Bob Baffert stablemate Concert Tour and Hot Rod Charlie. Concert Tour went into Oaklawn Park and won the Rebel Stakes two weeks ago. Hot Rod Charlie parachuted in and took the Louisiana Derby last week.
For Spielberg to extend the trend, he'll have to break his trend of hot-cold races. Last time out, he finished a strong second to Essential Quality in the Southwest Stakes. Before then, he was a dismal fourth in the Robert B. Lewis. His 90 Beyer breaking poorly in the Oaklawn slop illustrates the speed exists. Whether the consistency follows, however, remains another story.
The pick: Collaborate. He's tied for the highest Beyer Speed Figure in the field (90) and nine of the last 15 Florida Derby winners clocked a 99 or better Beyer. By comparison, Greatest Honour registered 89's in his last two races. Get Greatest Honour on your tickets somewhere, but in the meantime, we'll go for speed, potential and value ahead of chalk and experience on a speed-favoring track.