The Golden State Warriors defeated the Houston Rockets 101-92 in Game 7 of the Western Conference finals on Monday, advancing to face the Cleveland Cavaliers in the NBA Finals for the fourth consecutive season.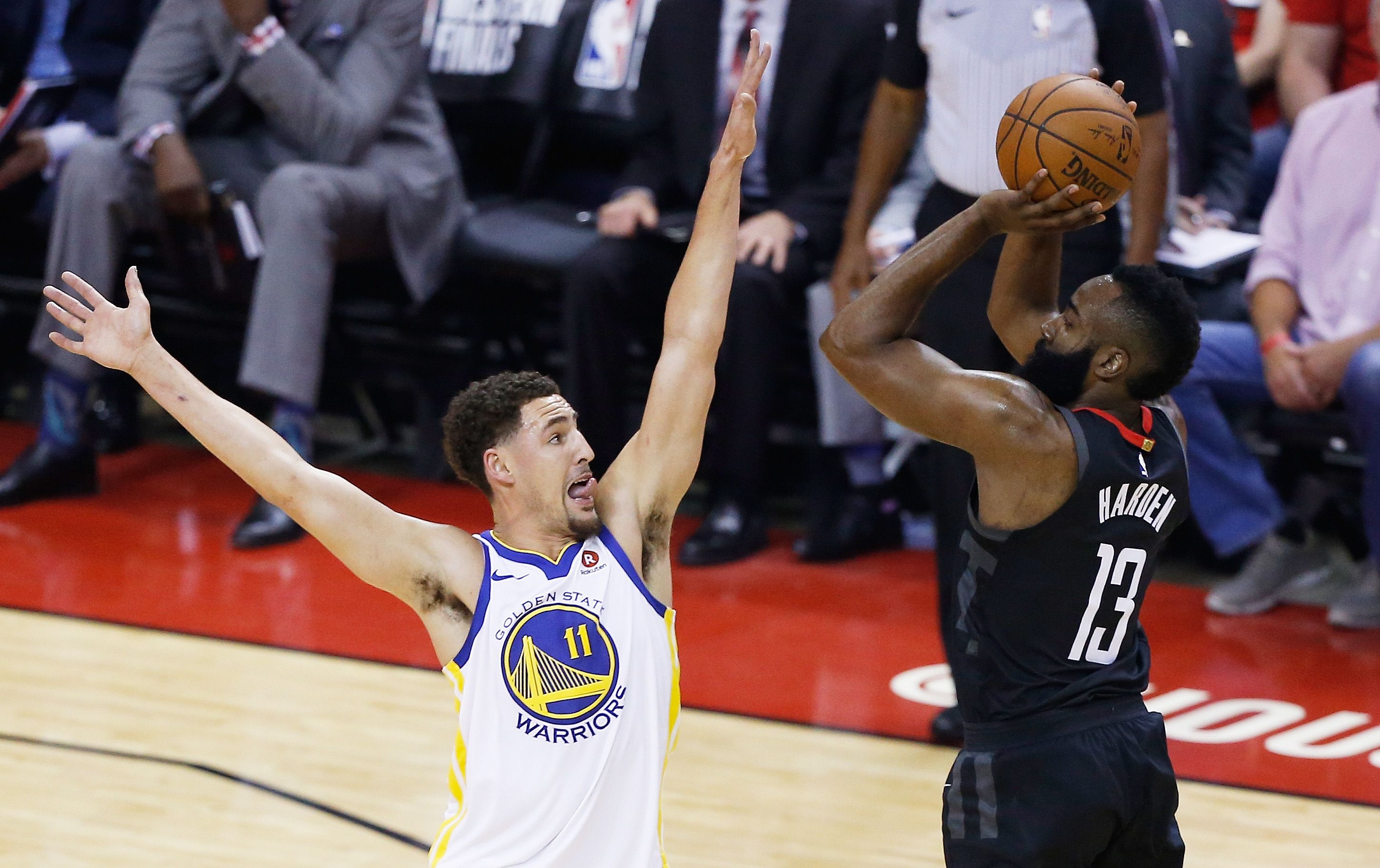 The Warriors staged yet another third-quarter surge to erase an 11-point halftime deficit, the largest halftime comeback for a road team in a playoff Game 7 in NBA history.
Kevin Durant led Golden State in scoring with 34 points, while Stephen Curry nearly contributed a triple double, scoring 27 points along with 10 assists and nine rebounds.
Rockets Fail to Launch from Deep
In a game where both team took nearly half of their shots from 3-point range, the winner was always likely the team that got hot at the right time. But while the Warriors certainly shot the ball well – they converted at a 41 percent clip from behind the arc – the story of the game ended up being Houston's historic struggle from deep.
The Rockets ended up shooting just 7-for-44, or 16 percent, on three-pointers. That included a record-setting streak where the team missed 27 straight from downtown, the longest run of futility from behind the arc ever seen in an NBA postseason game.
"I thought we had good looks," Houston coach Mike D'Antoni said after the game. "Obviously not every one was good. Neither was theirs. They just made a higher percentage."
In the aftermath of the loss, some pundits pointing the finger at Houston's system, which relies extensively on 3-point shooting and eschews mid-range shots. But that line of thinking ignores how successful the Rockets have been all season, and just how unlikely their terrible Game 7 shooting performance was.
During the regular season, the worst the Rockets shot from 3-point range was 7-for-31 (23 percent) against the San Antonio Spurs on April 1. Even that poor of a performance would have seen a few more shots drop for Houston on Monday night.
Then there was the 0-for-27 streak, which is simply hard to fathom. Many different mathematical approaches have been taken to describe just how unlikely it was for a team that shoots so well to fail to hit a single 3-pointer for so long, and they all come up with big numbers. Chris Herring of FiveThirtyEight.com estimated the odds of each individual shot, and came up with a 1-in-72,000 chance that none of them would go down.
Golden State vs. Cleveland, Again!
Given those numbers, Golden State understands how fortunate they were to get through this series and get a shot at defending their championship.
"This is a part of our story we haven't been through before," Curry said following the win. "Our backs against the wall, having to win two games to stay alive. Houston challenged us down to the fourth quarter of Game 7…we had to work for it."
The Warriors will now face off against LeBron James and the Cavaliers for the fourth consecutive year. Golden State has won two of those three meetings, and oddsmakers are confident that they'll add a third title this year.
At William Hill, the Warriors are an overwhelming 1/10 favorite heading into the NBA Finals. Those who believe LeBron and Cleveland have what it takes to pull the upset can get 13/2 odds on the Cavaliers winning the series.