Glover Teixeira proved that he's still a legitimate light heavyweight contender on Wednesday as the 40-year-old defeated Anthony Smith by TKO in the fifth round of their main event scrap at a UFC Fight Night event in Jacksonville, Florida.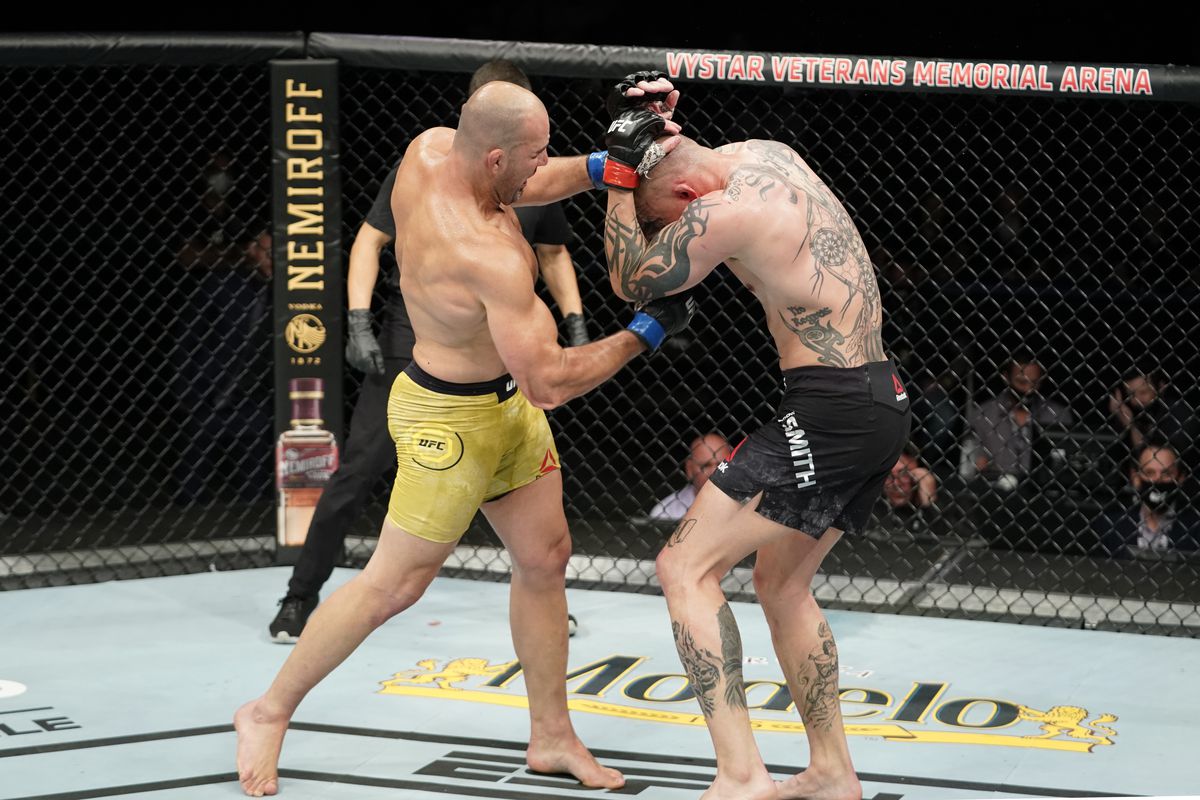 Teixeira (31-7) battered Smith (32-15) over the final three rounds, dominating the back half of a fight that many thought should have been stopped far sooner.
Teixeira Dominant Through Final Three Rounds
Referee Jason Herzog appeared to come close to waving off the fight in the third round after Teixeira landed a head kick followed by an uppercut that sent Smith to the floor. Herzog, instead, gave Smith – who lived up to his "Lionheart" nickname – the opportunity to defend himself and get out of the round. Smith survived, and the bout continued.
Teixeira continued the onslaught in the fourth round, but a bloody Smith again survived to the final bell. Before the fifth, Smith told his corner that his teeth were falling out. Still, Smith answered the fifth-round bell. Herzog finally stopped the action just over a minute into the final round after Teixeira mounted Smith on the ground and landed several punches from the dominant position.
Smith entered the fight as a -190 favorite, according to PointsBet.
Afterward, veteran UFC fighters and commentators Paul Felder and Daniel Cormier both argued that Smith's corner should have stopped the fight earlier.
"When your fighter starts complaining about teeth and things like that, he's giving you that 'Listen, I don't want to go back out there, but I'm not going to quit because I'm a warrior.'"@felderpaul and @dc_mma felt Anthony Smith's corner should have stopped the fight #UFCJax pic.twitter.com/5JCHlbFCP7

— ESPN MMA (@espnmma) May 14, 2020
"It wasn't stopped by the ref because Anthony did his job and survived," Felder said. "But between rounds when your fighter starts complaining about teeth and things like that, he's giving you that he doesn't want to go back out there but he won't quit because he's a warrior."
UFC president Dana White also expressed surprise that the fight lasted into the fifth round.
Dana White said he was shocked Anthony Smith came out for the 5th round. He also added that he was handing the ref his teeth (which was put in his pocket) #UFCJax pic.twitter.com/QeHBboAccj

— Helen Yee (@HelenYeeSports) May 14, 2020
Lionheart Defends Decisions by Referee, Corner
After the fight, Smith told ESPN's Ariel Helwani that he didn't blame anyone for allowing the fight to continue.
"I'm good with the decisions the referee and my corner made," Smith told Helwani. "When the ref made it clear he needed to see something or he was gonna stop it, I did what I had to do to stay in the fight. I come out of battle with my shield or I come out on it. That's my rule. Period."
Smith's coach, Marc Montoya, said there was confusion over Smith's comments about his teeth, and Smith had previously lost his veneers – rather than any actual teeth – during previous fights.
Smith later texted Helwani to confirm that he had suffered several injuries during the fight, including a broken nose, broken orbital bone, and two missing teeth.
The UFC Fight Night card also featured an impressive performance by lightweight Drew Dober, who earned a second-round TKO victory over No. 15 contender Alexander Hernandez to earn a Performance of the Night bonus along with Teixeira. Fight of the Night honors went to the preliminary clash between Brian Kelleher and Hunter Arure, in which Kelleher came back to win via knockout after being put on his back foot in the first round.