The New York Yankees lived up to their Bronx Bombers moniker thanks to a grand slam from Gio Urshela that put the Yanks back into contention after falling behind 4-1. The back-and-forth AL Wild Card Series game lasted nearly five hours before Cleveland blew a ninth-inning lead. The Yankees clawed back to win Game 2, knocking the Indians out of the postseason.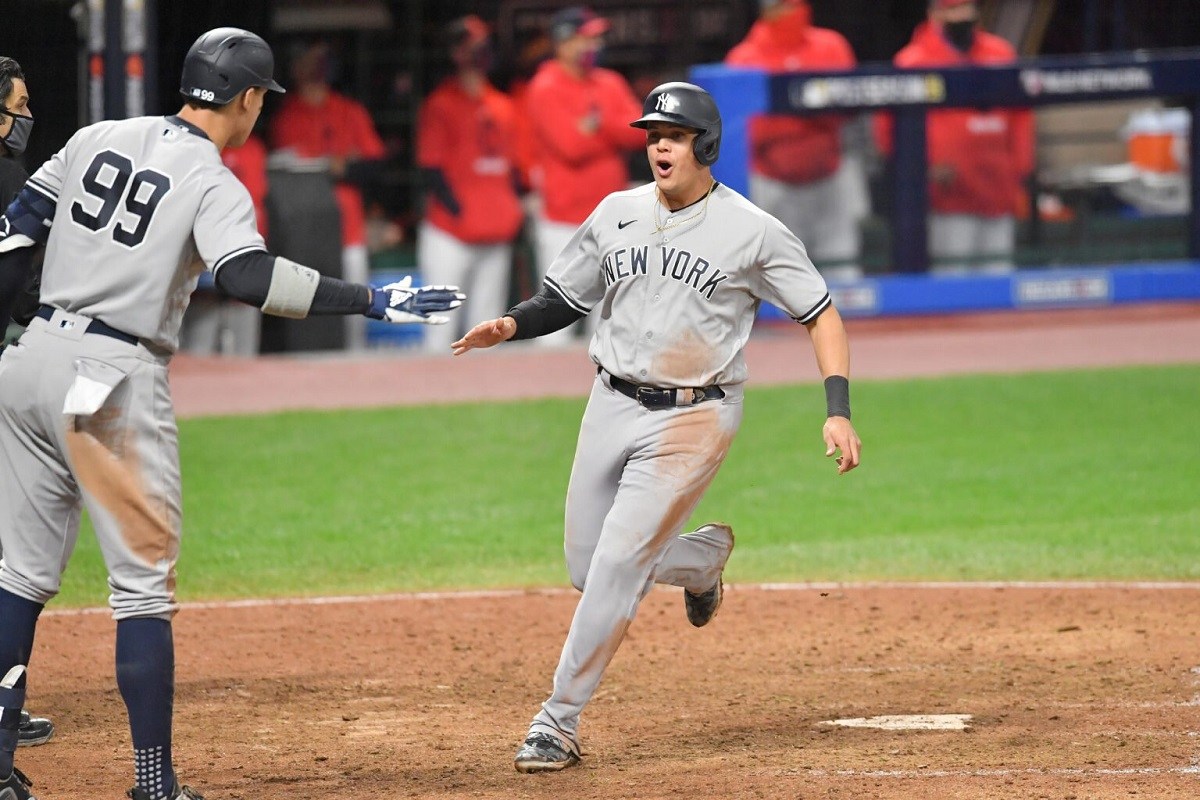 The Bronx Bombers scored 22 runs in the two-game series. The Yankees won the opener with stellar pitching from Gerrit Cole and timely hitting that racked up a dozen runs in a 12-3 thumping.
Everything went right in Game 1, whereas everything that could possibly go wrong did go wrong in Game 2, especially with the bullpen.
There were five lead changes or ties throughout the game. The Yankees rallied back from down 4-1 early on, and down 9-8 late in the game. The Indians also rallied back after falling behind 6-4, and down 8-6 heading into the seventh inning.
"That game was a lot of fun to be a part of," said Yankees manager Aaron Boone. "I'm 47 years old. I've watched a lot of baseball and watched a lot of my dad's playoff games, been in some really big games, and I don't know how you top that one."
"One of the best games I've ever played in my life," said Urshela, referencing his grand slam.
The Yanks held on to win 10-9 with two runs in the top of the ninth to complete the comeback.
Bronx Bombers and Gio Salami
Giancarlo Stanton and Gary Sanchez both hit home runs in Game 2. Stanton hit home runs in consecutive at-bats spread out over Game 1 and Game 2. He hit a garbage-time homer at the end of Game 1's blowout. In Game 2, Stanton smoked a Carasco fastball 420 feet.
Boone benched the slumping Sanchez in Game 1 and opted for Higgy to catch Cole instead. Sanchez responded with a huge blast. If the Yanks want to win the World Series, they'll need the Kraken to snap out of his slump. Perhaps this was the jolt he needed.
Right now, everyone is talking about the grand slam by Gio Urshela. If you ever want to become immortalized in pinstripes, just hit a timely home run in the postseason.
"It seems like Gio hits the ball hard every time up," said DJ LeMahieu, who won the AL batting title. "He's been big for us all year."
Just ask "Captain Clutch" Chris Chambliss in 1976, "Mr. October" Reggie Jackson in 1977, Bucky "F-ckin" Dent in 1978, "Mr. November" Derek Jeter in 2001, or Aaron "F-cking" Boone in 2003. You can add Gio Urshela, aka "Gio Salami", to the roster of the former Yankees who connected on history-denting, postseason home runs.
With Cleveland ahead 4-1, Sandy Alomar, Jr. brought in his top reliever in the fourth inning to kill a Yankees' bases-loaded rally. Instead of his reliable fireman putting out the fire, Urshela took James Karinchak yard for a grand slam. The Yankees took a 5-4 lead.
GIO SLAM FOR THE LEAD. pic.twitter.com/j0ghUl6yfx

— MLB (@MLB) October 1, 2020
Gold Glove Gio
Urshela also excelled on the field. The third baseman made a game-saving stab in the eighth inning to start a double play and kill a Cleveland rally.
"He saved the game there," said Yankees' closer Aroldis Chapman. "If the ball goes by him, at least one run comes in. It was an amazing play."
The top-seeded Tampa Bay Rays swept the Toronto Blue Jays. The Yankees will meet Tampa in a best-of-five series starting Monday. The Yankees are now 7/2 odds to win the World Series, according to an update from DraftKings.
What a play. 😱

The @Yankees limit the damage. pic.twitter.com/VyxWcgbM2M

— MLB (@MLB) October 1, 2020