New York Yankee fans gave a loud Bronx cheer to Giancarlo Stanton in his home debut after the slugger struck out five times on Tuesday.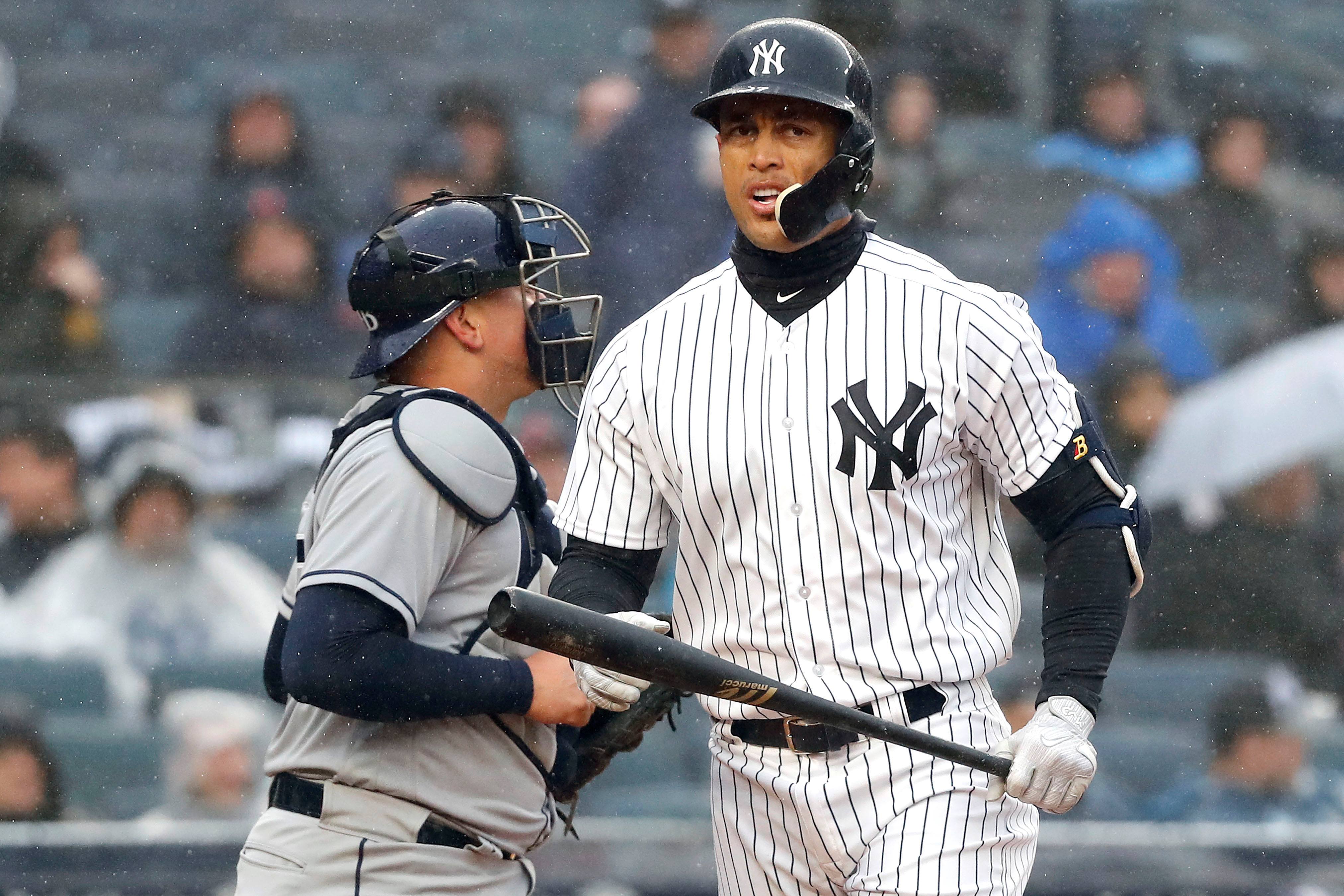 He had more whiffs in that one game than he had in his previous four. It was an indication there will be no honeymoon period for last year's National League MVP. But the 28-year-old says he doesn't expect preferential treatment.
"You put up a performance like that, you should get some boos," Stanton said. "I was awful today."
Teammate Aaron Judge, who was the 2017 American League Rookie of the Year, was impressed how Stanton handled it.
"It's no big deal. He knows that," Judge said. "You've just got to go out there and do your job the next day. If you don't have it one day, you can't complain, you can't mope — which he's not. He knows how it is. He didn't have his best stuff today, so he's going to keep working and get them tomorrow."
Redemption Comes Quick
Which is exactly what Stanton did. Less than 24 hours after his 0-5 performance, he sent a pitch from Tampa Bay's Blake Snell deep into the left field stands. The boos of the previous evening were forgotten as he received a standing ovation while trotting around the bases.
It was Stanton's third home run in a week. At that pace he would be on track for 88 homers during the season. That probably won't happen, but the people who bet on the over of 39.5 dingers are feeling better this week.
When the odds were released by the Westgate Las Vegas SuperBook, the sharps ran to the window, driving the O/U up to 43.
Punters also bet heavy on Stanton to win the home run title for the second consecutive year. He began in January as a +500 favorite to capture the title, but by Opening Day he was bet all the way down to +250.
The Yankees entered Spring Training as the 5/1 favorite to win the World Series. At the start of the season defending champion Houston claimed the top spot at 11/2.
Great Expectations?
It's not only gamblers who are demanding production from Stanton. The Yankees traded for him in the offseason to bolster their offense and make a run at a World Series. His former team, the Miami Marlins, was all too willing to get rid of his $295 million salary. The Yankees took on all but $30 million of it by giving away Starlin Castro and a couple prospects.
What they got was someone to compliment Judge and give them the first power-hitting duo since Roger Maris and Mickey Mantle. Those two lead hold the major-league record with 115 homers in a season. If Stanton and Judge produce similar numbers from last year they could break that record.
First Stanton has to adjust to the non-forgiving fans, who expect every year to be a pennant-winning season and can be brutal to players. Manager Aaron Boone told reporters before Wednesday's game that he believes Stanton will fit in just fine.
"He and I have had a handful of conversations since he came here," Boone said. "Giancarlo's a smart guy. He absolutely knows what he signed up for and I think it's at a place in his career where he's about winning."