When you watch Saturday's Breeders' Cup Turf Sprint and hear the name Gear Jockey, you need to understand the grinding wheels of opportunity-meets-preparation that it took to bring him to the Del Mar starting gate.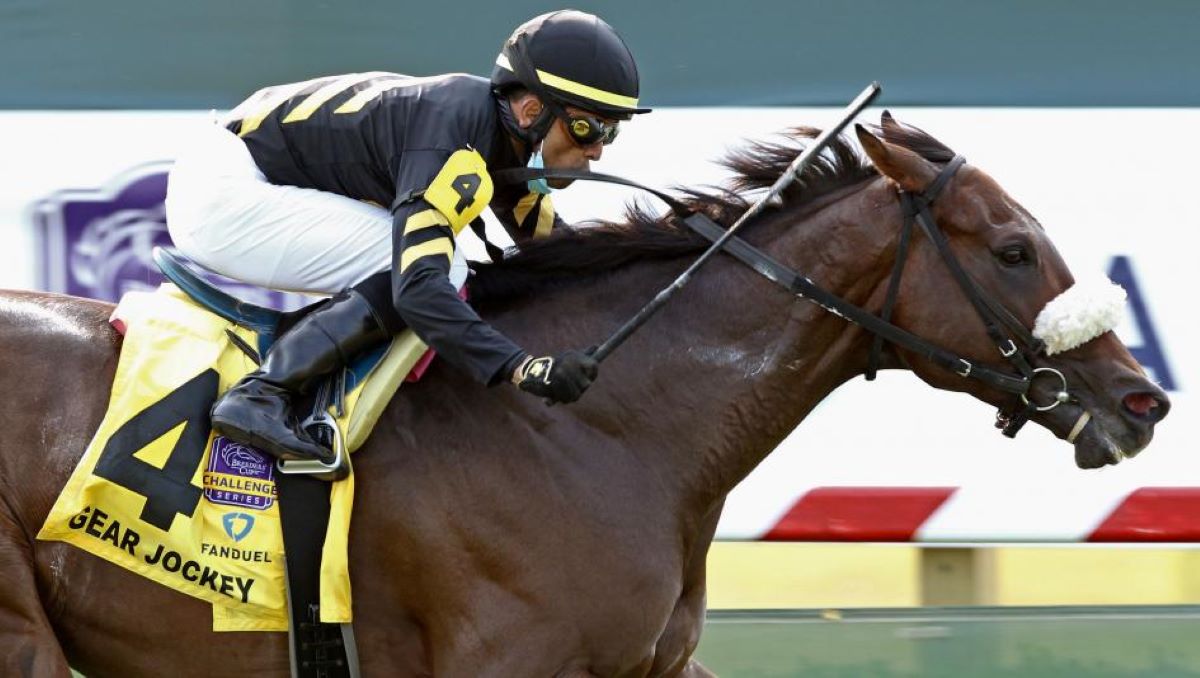 Gear Jockey needed a scratch to get him into the Turf Sprint at Kentucky Downs. That oversubscribed race didn't have room for him at the outset. Once he was in, Gear Jockey made room for himself in the Breeders' Cup Turf Sprint, winning the Grade 3 six-furlong race by 2 1/2 lengths over Diamond Oops.
Of such fortuitous moments are careers made — or unmade. The victory — complete with 105 Beyer Speed Figure — got the 4-year-old son of Twirling Candy into the Breeders' Cup courtesy of that race's "Win and You're In" designation.
"We were the first one on the also-eligible list and one of the horses had a travel issue and couldn't make the race, so we drew in," trainer Rusty Arnold told the Breeders' Cup notes team.
Gear Jockey did this Breeders' Cup thing before
And here is Gear Jockey, back for another Breeders' Cup. Two years ago at Santa Anita Park, even before he broke his maiden, Gear Jockey finished third by a length in the Juvenile Turf at 67/1. That promising finish prompted Arnold to put Gear Jockey on the Kentucky Derby trail.
His eighth-place finish by 19 1/4 lengths in last year's Grade 2 Fountain of Youth prompted Arnold to shift Gear Jockey in another direction. But we're getting ahead of ourselves here.
After that February 2020 race, Gear Jockey suffered a minor leg fracture that sent him to the sidelines for more than seven months. He returned in early October in time to finish third in a Keeneland maiden special weight.
He opened his career 0-for-8
Note the keyword here: maiden. That was Gear Jockey's seventh career race and he'd yet to find the winner's circle. There would be an eighth, on New Year's Day, before he finally broke through 20 days later in a one-mile maiden special weight at Gulfstream Park.
That came on the turf. Next time out, Gear Jockey finished third in a Gulfstream Park Grade 3 at 1 1/16 miles, clocking his career-best 112 Equibase Speed Figure. An allowance victory at Keeneland followed got Arnold's own gears turning.
"He was just not finishing his races and I talked with (owner Calumet Farm General Manager) Eddie Kane and said, 'Let's try sprinting him,'" Arnold said.
From decent router to star sprinter, just like that
Of such moments are careers made, and Gear Jockey found his gear. After getting a fourth in a mile turf race on the Kentucky Derby undercard out of the way, Gear Jockey became a turf sprinter.
He hasn't missed the board in three races, starting with a 1 1/2-length, five-furlong allowance score at Saratoga in July. A third in the Grade 3 Troy Stakes by only 1 1/2 lengths followed a month later.
Then came Gear Jockey's Kentucky Downs breakthrough at 5.70/1. Those odds aren't far off the 5/1 morning line Jon White put on him for the Breeders' Cup Turf Sprint. Golden Pal, last year's Juvenile Turf Sprint winner, is your 7/2 favorite.
It's hard to believe that an accomplished horseman like Arnold is 0-for-14 in the Breeders' Cup. He's tied for second with Bill Mott for most Keeneland victories (288), but shifting gears with Gear Jockey may turn the wheels in the right direction.