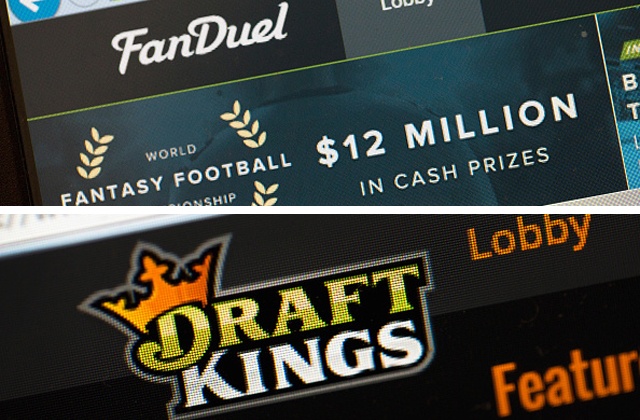 Gaming research firm Juniper is becoming known for making what seems to be outlandish predictions on interactive gaming revenue, but only time will tell whether the UK-based technology company is correct in its forecasts.
Juniper Research's latest report claims that annual daily fantasy sports (DFS) wagers will reach $5.3 billion by 2021. That's more than double the $2.6 billion Eilers & Krejcik Gaming says will be wagered on the internet contests this year.
The recent announcement from DraftKings and FanDuel that the two DFS giants are planning to merge is good for future revenues. Juniper believes the consolidation of the two companies that control upwards of 90 percent of the DFS market will create strong growth.
Juniper is also under the impression that DraftKings and FanDuel will be able to successfully infiltrate Europe, Australia, and Latin America. The vast majority of DFS revenues are presently generated in the US.
"Currently North America dominates the industry with US regulatory loopholes denoting the activity a 'game of skill,' rather than gambling. Nonetheless, with several smaller players in operation globally, and an initial foray into the UK by the industry leaders, West Europe will become the next major market over the coming five years," Juniper predicts.
In previous white papers, Juniper forecasted that virtual reality gambling will reach $520 million over the next five years, and total online bets will surpass $1 trillion annually by 2021.
Betting Against Sports Betting
Though Juniper believes the UK and Australia is poised to get in on the DFS game, legalized sports betting in those areas might make DFS contests less attractive to gamblers.
DFS emerged in the US out of necessity through a legal loophole in the Unlawful Internet Gambling Enforcement Act of 2006 (UIGEA) that allowed for traditional fantasy sports leagues to operate online. In the UK and Australia, two countries where sports betting is nearly a national pastime, a need for DFS is seemingly lacking.
The Fantasy Sports Trade Association (FSTA) claims 57.4 million people have participated in a DFS contest in North America.
The total DFS market pales in comparison to the US' underground sports betting networks. Americans wager an estimated $150 billion annually on sports, which is why there's a growing movement to overturn the nation's federal ban.
New Jersey and five other states are currently appealing to the US Supreme Court to overturn the Professional and Amateur Sports Protection Act of 1992 (PASPA). Though that's a notion that comes with rather poor odds, if PASPA is revoked and states are allowed to legalize sports betting, DFS will presumably suffer.
Marketing Makeover
Juniper concedes that for the bottom lines of the merged DraftKings and FanDuel company to grow, the unified platform must cease running overlays. Guaranteed prize pools that fall short due to failing to attract the minimum required number of entries has at times forced DFS platforms to lose money on contests.
"Pay-outs on guaranteed prize pools, sometimes worth millions of dollars, significantly constrain providers that may already have invested heavily in high-profile advertising campaigns," Juniper states.
DFS companies will also need to repair its somewhat damaged image in the US. Reports have surfaced over the last year that only the top players on DraftKings and FanDuel actually make money on daily fantasy sports.
Sports and gaming consulting firm McKinsey & Co. found last year that the top one percent of DFS players paid 40 percent of the total contest entry fees, but gained 91 percent of the payouts.