"Casino," a film by Martin Scorsese about the rise and fall of the mafia's stranglehold on Las Vegas recently celebrated the 25th anniversary of its release in November of 1995. Starring Robert DeNiro and Sharon Stone, "Casino" is one of the best films ever made about Las Vegas and the first 45 minutes of the film is both an homage to Sin City, and vintage Scorsese.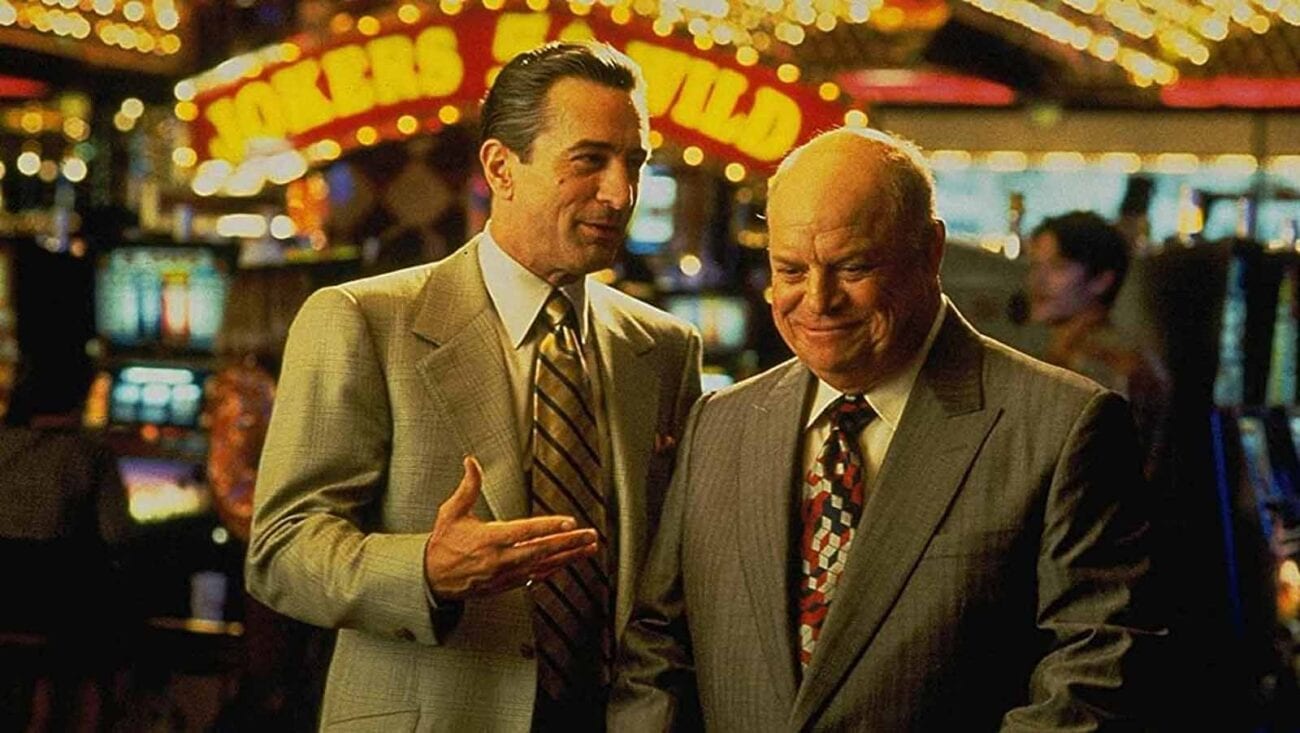 "Casino" is often referred to "Goodfellas in Vegas," and there's certainly an element of truth to that assessment. Like every one of Scorsese's films, he's telling multiple stories at once while making a social commentary about American greed and violence.
---
Release: November 1995
Produced by: Barbara De Fina
Written by: Nicholas Pileggi and Martin Scorsese
Directed by: Martin Scorsese
Distributed by: Universal Pictures
---
On the surface, "Casino" is a gangster flick set in Vegas, but it's also a tragic love story that inevitably leads to the downfall of a gambling empire. "Casino" is both a love letter and a cautionary tale about the mafia's involvement in Las Vegas before corporations took over in the 1980s, turning it into adult Disneyworld.
Scorsese made "Casino" with a budget between $40 million and $50 million, and it earned $116 million at the box office.
Based on a True Story
Scorsese's film is directly inspired and based on "Casino: Love and Honor in Las Vegas," a non-fiction book written by Nicholas Pileggi, which focuses on the mafia as silent partners in Las Vegas casinos in the 1970s and early 1980s. Pileggi tells the story of Chicago bookmaker, Frank "Lefty" Rosenthal, who was tapped by mafia bosses to run the Stardust Casino in Las Vegas. Lefty's childhood friend, Anthony Spilotro, is also sent to Vegas to watch Lefty's back and provide security for the Stardust. In Sin City, Spilotro and his crew quickly rose to power as Las Vegas' most-notorious crime figures.
Scorsese and Pileggi co-authored the screenplay for "Casino," but changed the names of all the main figures involved. Lefty Rosenthal becomes Ace Rothstein in the film, while Tony Spilotro becomes Nicky Santoro.
Ace Goes to Vegas
"Casino" starts in 1973. The Teamsters union, which has deep connections to the Chicago mafia, loans $62.7 million to real estate developer Philip Green (Kevin Pollack) to open a new casino in Las Vegas called the Tangiers.
The Italian mafia bosses send a Jewish bookmaker and gambler, Sam "Ace" Rothstein (Robert DeNiro), to manage the Tangiers. After running into problems as a sports bettor and bookie, Ace is thrilled to operate in Las Vegas where gambling and bookmaking is legal.
"I was given paradise on Earth," said Ace in a voiceover. "Las Vegas washes away your sins, like a morality car wash."
Ace micromanages the Tangiers, which becomes highly profitable. Meanwhile, the mafia secretly takes their cut by skimming profits from the count room.
"In the casino, the cardinal rule is to keep them playing and keep them coming back. The longer they play, the more they lose. In the end, we get it all."
While gamblers flock to Las Vegas, criminals and cheaters are also drawn to Sin City for a quick score.
"Since the players are trying to beat the casinos, the dealers are watching the players," said Ace. "The boxmen are watching the dealers. The floormen are watching the boxmen. The pit bosses are watching the floormen. The shift bosses are watching the pit bosses. The casino manager is watching the shift bosses. I'm watching the casino manager, and the eye in the sky is watching them all."
When Ace catches a cheater, security enacts swift and violent "cheaters' justice" in the backroom to deter future cheaters.
Nicky and Ginger
The mob also sends enforcer Nicky Santoro (Joe Pesci) to keep an eye on Ace and the casino. Most importantly, Santoro ensures the mob can "skim" the profits without any impediments. He's also a deterrent if mobsters from other cities try to cheat or muscle their way in on the Tangiers.
As Nicky succinctly puts it, "There's a lot of holes in the desert, and lot of problems buried in those holes."
Nicky expands his empire in the shadows of Las Vegas, partaking in criminal activities ranging from loansharking to high-end robberies.
At the heart of "Casino" is a tragic love story between two star-crossed lovers. Ace falls in love with a high-class prostitute and hustler named Ginger McKenna (Sharon Stone).
"Ginger had the hustlers' code," explained Ace. "She knew how to take care of people. And that's what Vegas is all about. It's kick-back city."
Ginger admitted that she'd never truly love Ace, he thinks otherwise and proceeds with the nuptials. Ginger loves the lavish lifestyle with money, clothes, jewelry, and drugs.
"For a girl like Ginger, love cost a lot of money," added Ace.
The more that Ace tried to domesticate Ginger, the further they grew apart.
Ginger's ex-boyfriend/pimp Lester (James Woods) is a low-rent golf hustler from LA who weaves in and out of Ginger's life, mostly when he's broke and needs money. When Ginger unsuccessfully tries to run away with Lester, she eventually drifts toward Nicky to protect her.
Ace finally gives up on Ginger after she robbed his "kidnapping" money — a stash of more than $1 million in a safe deposit box at a bank in Los Angeles.
The Fall, Goodbye Vegas
As the 1970s bleed into the 1980s, cocaine abuse accelerates the lunacy. Ginger grows more uncontrollable. Nicky's crew gets sloppier, which draws more attention from both authorities and the press.
Ace loses his edge as well, due to his increasing marital problems. He runs into issues with state officials and they deny him a gaming license. Ace hits the airwaves to express his grievances. His media blitz irks the bosses back home, who were also growing increasingly concerned about Nicky's cowboy antics. When the monthly "skim" from the Tangiers is reduced from $700,000 at its peak to just a few thousand dollars, the bosses decide it's time to liquidate their problems.
Nicky and his brother are inevitably whacked in a cornfield somewhere between Vegas and Kansas City.
The mafia also attempts to kill Ace by blowing up his car. However, he catches a lucky break and survives the bombing. Ace realizes his luck in Vegas — in love, life, and with gambling — has run out. He "retires" from the gaming business and relocates to San Diego, where he returns to handicapping horse races and betting on sports.
Casino ends with a bittersweet soliloquy from Ace over a montage of the modern-day Las Vegas run by beancounters and corporations.
120 Characters and 7,000 Extras
Scorsese likes to cast actors he's worked with on previous projects, so it wasn't a shock to see both Joe Pesci and Robert DeNiro return to the screen together.
Scorsese included many old-school Vegas entertainers in "Casino," including comedian Don Rickles in a straight role as casino manager Billy Sherbert.
Performers such as Frankie Avalon and Jerry Vale appear in "Casino" as themselves. Long-time Las Vegas Mayor, and former mob lawyer, Oscar Goodman also makes a cameo. Dick Smothers from the Smothers Brothers plays a crooked state senator.
---
Sam 'Ace' Rothstein (Robert DeNiro)
Nicky Santoro (Joe Pesci)
Ginger McKenna (Sharon Stone)
Billy Sherbert (Don Rickles)
Philip Green (Kevin Pollack)
Lester Diamond (James Woods)
Andy Stone (Alan King)
Frank Marino (Frank Vincent)
Senator (Dick Smothers)
Remo Gaggi (Pasquale Cajano)
Oscar Goodman (as Himself)
Frankie Avalon (as Himself)
Jerry Vale (as Himself)
---
"Casino" earned multiple Academy Awards nominations. Sharon Stone earned an Oscar nomination for best actress, but she lost out to Susan Sarandon ("Dead Man Walking"). Stone did win the Golden Globe for her portrayal of Ginger McKenna. Cinephiles often highlight "Casino" as Stone's greatest on-screen performance.
Scorsese was snubbed at the Oscars, but he earned a nomination for best directing at the Golden Globes.
The costume and wardrobe budget for this film exceeded $1 million.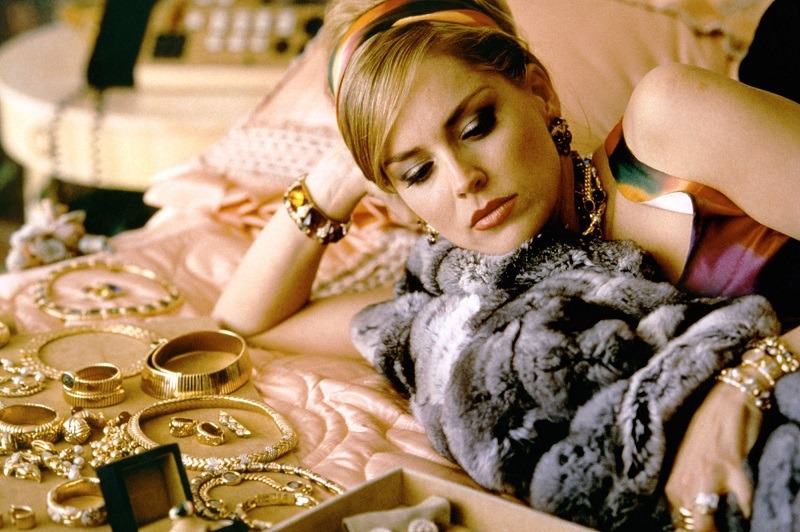 Easter Eggs and Did You Know?
Scorsese often casts his parents in his films. Catherine Scorsese is best known for her cameo in "Goodfellas" as Joe Pesci's mother. In "Casino," she plays Piscano's mother. It's her final film role before she passed away in 1997.
The legendary Saul Bass created the opening credits for "Casino," in addition to "Goodfellas."
The fictional Tangiers Casino is based on the Stardust Casino, which Lefty Rosenthal managed in the 1970s.
Exteriors for the Tangiers were filmed outside the old Las Vegas Hilton and the Flamingo. Interiors of the Tangiers were filmed inside the Riviera Casino between 2 am and 10 am. Scorsese cast real dealers, pit bosses, and floor managers to create an air of authenticity for the gambling scenes.
The famous money count scene was filmed on a soundstage in Hollywood. Nevada gaming laws wouldn't allow a film crew inside a real counting room.
Sharon Stone won the role of Ginger, but Scorsese considered other actresses, including Madonna, Nicole Kidman, Uma Thurman, Melanie Griffith, Michelle Pfeiffer, and Rene Russo.
Scorsese knew that the MPAA would flag his gratuitous usage of the f-bomb (over 420 times) and other violent scenes. He included the "head in the vice" scene and intended to sacrifice it to the ratings board in order to keep the rest of his film intact. Surprisingly, it didn't get flagged. The vice scene is a true story that appeared in Pileggi's book when Tony Spilotro tortured someone using a vice to extract information.
More Sports and Gambling Movies
OG has also written about some of your other favorite sports films ad gambling movies, including:
If you are looking for "Casino" on streaming services, it's currently not available for free. However, you can rent it on various platforms, including Amazon and Apple.