Many eyes on Saturday will be on one-eyed Mighty Heart, focused to see if the small 3-year-old can run to his name and become the first Canadian Triple Crown winner in 17 years.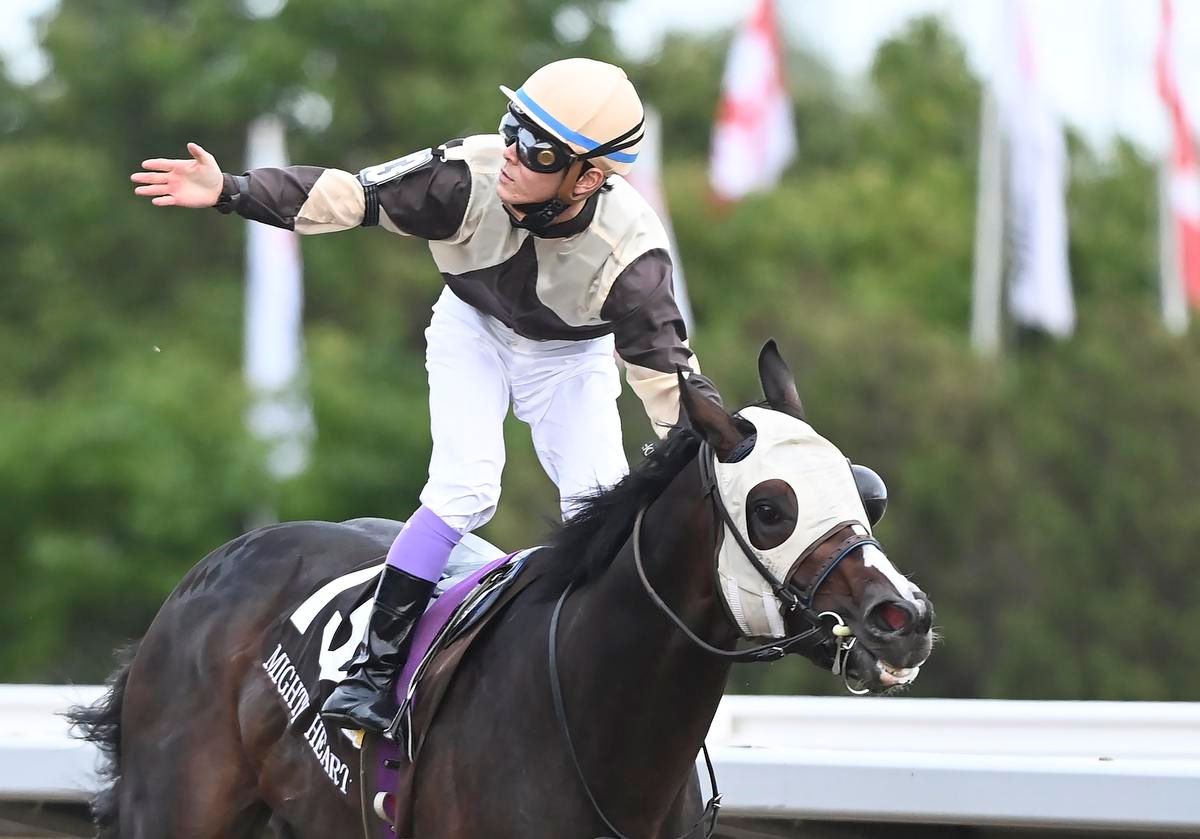 Mighty Heart, your even-money favorite, headlines Saturday's Breeders' Stakes from Woodbine Racetrack outside Toronto. The 1 ½-mile test on Woodbine's E.P. Taylor Turf Course is the longest leg of Canada's Triple Crown. Unlike the American Triple Crown, run on a single surface (dirt), Canada's Triple Crown puts horses to a tri-surface test.
To date, Mighty Heart passed the first two legs of that test. At 13/1, he took apart his competitors by 7 ½ lengths in the 1 ¼-mile Queen's Plate over Woodbine's synthetic Tapeta track on Sept. 12. Seventeen days later, Mighty Heart conquered his foes over Fort Erie's dirt course, capturing the 1 3/16-mile Prince of Wales.
The final test, not surprisingly, is the toughest. Mighty Heart shouldn't have issue with the 12-furlong distance. The turf? Well, that's the biggest question surrounding the one-eyed son of Dramedy, who lost his eye in a paddock accident when he was two weeks old. Can he become the first horse since Wando in 2003 to sweep Canada's 3-year-old Classics?
Find the Answer Growing in the Grass
The answer is in the proverbial dirt – actually, it's in the turf.
When Mighty Heart last touched turf in a race, it didn't go well. Back in March, he finished 11th at Fair Grounds, and trainer Josie Carroll said it wasn't because of the surface, but because of kickback into his face. Carroll told reporters at a Breeders' Stakes media day this week that Mighty Heart didn't adapt to the dirt and sod hitting his blind side.
He reacted by veering outside to avoid the kickback, completely missing the first turn. Carroll, in turn, reacted by putting blinkers with a cup around his eye socket.
This Simple Fix Kept Mighty Heart's Eye on the Prize
That apparently did the trick. His Equibase Speed Figures shot up 19 points (from a 69 to an 88) in his next race, which Mighty Heart won. After breaking his maiden in that July race, he finished third in an allowance at Woodbine, boosting his Equibase to a 96. He recorded the same 96 Equibase in both Triple Crown races.
"I can't tell you how he's going to handle a yielding turf," Carroll told Woodbine earlier this week. "In North America, we very seldom get the chance to run on very soft turf. I believe he'll handle the grass. … Pedigree-wise, we have every reason to think he'll handle (the 1 ½-mile distance), but until a horse does that, you really don't know. It's a very, very challenging thing to be asking him to do right now. This horse has run two hard races, and now you're asking him to go a mile and a half on a possibly tiring course. Hopefully, he's up to the challenge."
Breeder-owner Larry Cordes proved he's up to the challenge of owning a Triple Crown contender. The electrical machinery magnate is relishing his role as the poster boy for small owners, giving interview after interview. Think of him as a True North version of Jack Knowlton, the managing partner of Sackatoga Stables, which owns Belmont Stakes and Travers Stakes champion Tiz the Law.
"In this time of COVID, this is a boost to people," Cordes said this week. "The phone calls I get from the West Coast to the East Coast of Canada, my girlfriend and I have had multiple dozens of calls … people are just so excited. I feel the same thing. It just puts the excitement in me."
Will Belichick Spoil His Stablemate's Triple Crown?
If an exciting challenge to Mighty Heart's Triple Crown hopes exists, he doesn't have to look far with his one good eye to see it. That would be Mighty Heart's stablemate, Belichick (7/2), who finished second to Mighty Heart in the Queen's Plate. Also trained by Carroll, Belichick remains a maiden, one with two seconds and a third in three starts.
But, Belichick is a maiden with speed. He's one of only three horses with a Brisnet speed figure above 90 in their last race. Mighty Heart and Clayton are the other two.
The other intriguing contender is English Conqueror (12/1), who proved himself on the turf by breaking his maiden last out. While his last-out speed figures won't conquer attention (82 Brisnet), his late pace ranking of 102 is the best of the 12-horse field.
Number two in that category? The horse who makes up for his one eye with an abundance of guts and an overabundance of one other key organ.
"There's something in racing we call heart, and horses with heart are what you're looking for," Carroll said about Mighty Heart. "More so sometimes than horses with talent."