The Maryland Terrapins are 6.5-point home dog on Friday night against the #12 Penn State Nittany Lions, who are seeking to stay undefeated and improve to 4-0.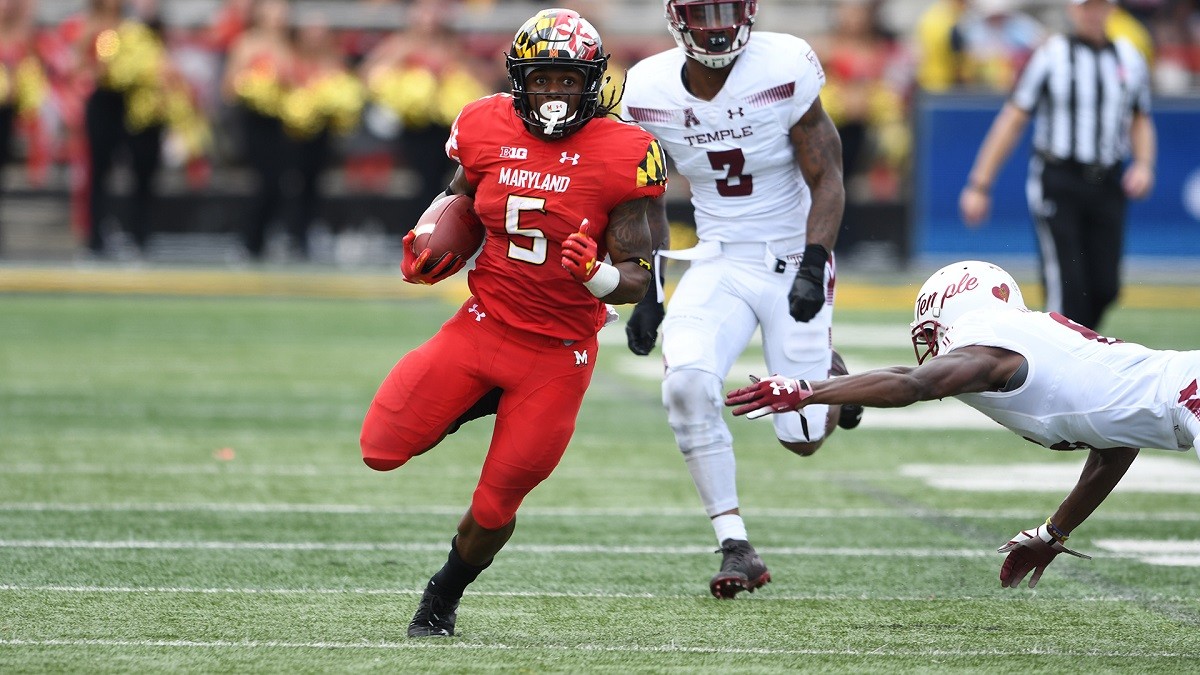 In this Big Ten battle, Terrapins are hoping they can fend off Penn State and avoid sinking to a 2-2 record.
#12 Penn State (3-0) at Maryland (2-1)
Kickoff: 5pm PT
Location: Maryland Stadium in College Park, MD
Point Spread: Penn State -6.5
Over/Under: 61.5
Money Line: PSU -232 / MD +199
Penn State beating Maryland would keep them on a path toward a spot in the Top 10. A loss could send them to the back end of the Top 25 AP Poll.
Penn State would love to become the third Big Ten team in the Top 10 along with #5 Ohio State and #8 Wisconsin. Notre Dame and Texas are the only teams with one loss that are ahead of Penn State in the latest AP Top 25 Poll.
Undefeated Iowa is also lingering in the Top 15 with Penn State.
Penn State and Maryland: Home Turtle Alert
Maryland defeated Howard 79-0 in the opening game of the season, but everyone anticipated a blowout. The Terrapins quickly made a name for themselves with a 63-20 old-fashioned butt-whipping over #21 Syracuse. We now know that Syracuse is not as good as prognosticators originally thought.
Two weeks ago, Temple stunned #21 Maryland 20-17 after a sensational goal line stand. The loss sent Maryland out of the Top 25.
"I'm disappointed in our ability to run the ball inside the goal line area," said Maryland coach Michael Locksley. "Any team that I coach, we're going to be a team that has to have the ability to punch it in."
Maryland QB Josh Jackson (183 yards, 1 TD) got outplayed by Temple QB Anthony Russo (277 yards, 3 TD). Maryland RB Anthony McFarland, Jr. rushed for 132 yards and a touchdown but couldn't find the end zone when it couldn't the most.
For this season, McFarland has 5 touchdowns. In his last two games, he averaged 5.3 yards per carry.
Maryland is fresh off a bye week, so they have no excuse not to be prepared and rest for this Big Ten slugfest. Penn State is a favorite against Maryland, who are a home dog by almost a touchdown.
Tough Cats
Penn State's defense allowed 30 points through three games. Opponents average only 10 points per game against their D. Aside from a garbage time touchdown scored in a 79-7 blowout against Idaho, PSU's D allowed zero points in the fourth quarter this season against Buffalo and Pitt.
Penn State faces Maryland in their first Big Ten conference game. Their next four games including three ranked opponents including
PSU is historically known for their strong running backs like Saquon Barkley and Miles Sanders, but it's RB by committee this year. Sophomore RB Journey Brown rushed for 109 yards on 10 carries against Idaho. Freshman Noah Cain is the one who gets the ball in the red zone. Cain has four touchdowns along with averaging 5.4 yards per carry.