Rafael Nadal got the best of his rival Roger Federer in windy conditions at the French Open semifinals on Friday, braving windy conditions to score a 6-3, 6-4, 6-2 victory at Roland Garros.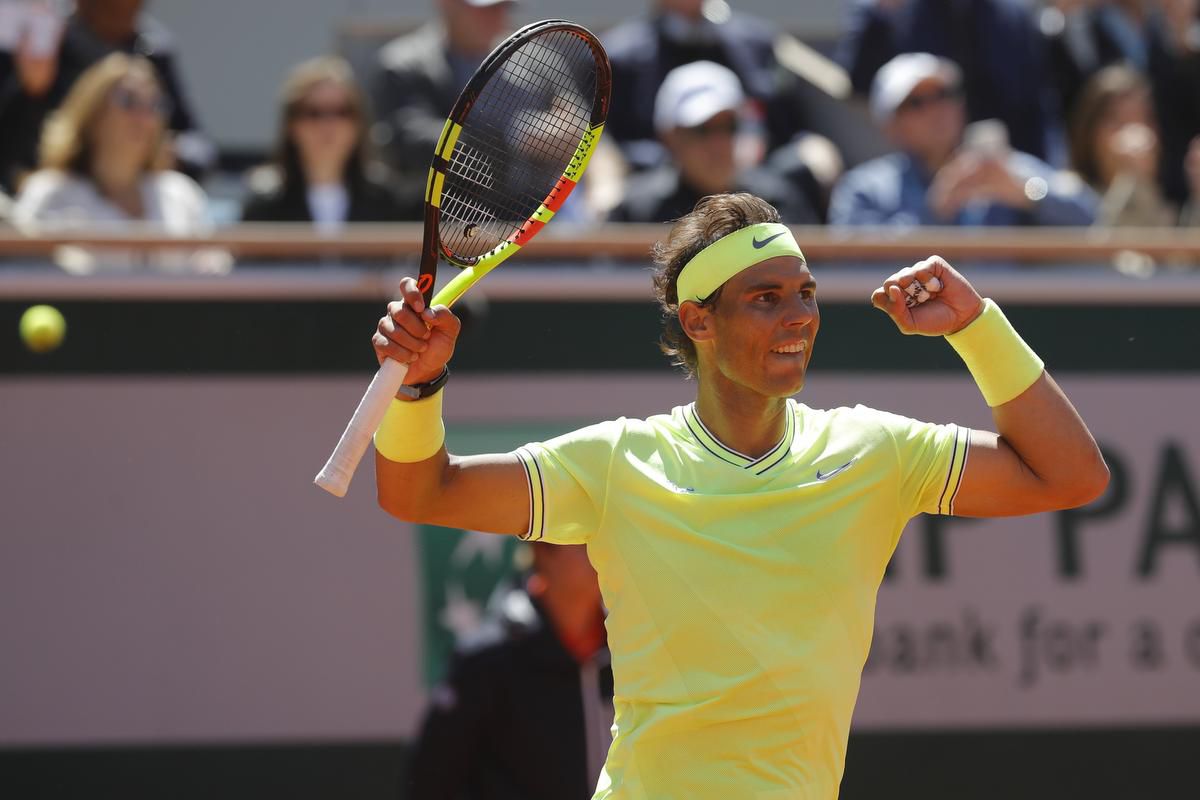 Nadal will move on to play either Novak Djokovic or Dominic Thiem in the final.
Djokovic vs. Thiem Suspended Due to Rain
Nadal's opponent isn't known yet, because the other semifinal was halted for rain in the third set with Thiem leading the top-seeded Djokovic 6-2, 3-6, 3-1. The two men will come back Saturday morning to complete their match, with the winner facing Nadal on Sunday. The match is still very much up for grabs, with FanDuel Sportsbook making Thiem a -140 favorite over Djokovic (+110) in the sportsbook's live odds following the suspension of play.
That will leave Nadal with the advantage of being far more rested than his opponent, whomever that turns out to be. The 11-time French Open champion had little trouble dispatching Federer, running his career record at Roland Garros to an incredible 92-2. Nadal has never lost either a semifinal or a final at the French Open in his career.
The Spaniard is also 6-0 in his career against Federer at the French Open. The win snapped a five-match winning streak for Federer over Nadal, though all of those victories had come on hard courts.
"He makes you feel uncomfortable the way he defends the court and plays on clay," Federer said after the match. "There is nobody who even plays remotely close to him. I don't even know who I need to go search for, to go practice with somebody who plays like him."
Reaching the semifinals may still be considered a success for Federer, who hadn't even entered the French Open since 2015. This is the first year since then that the 20-time Grand Slam champion has decided to play through the clay court season.
Nadal will be heavily favored in the final no matter who his opponent is. FanDuel has him listed as a -310 favorite to win the tournament for a record 12th time, with both Thiem and Djokovic listed at +500.
Barty Faces Vondrousova in Women's Final
The women's final is already set, after Ashleigh Barty and Marketa Vondrousova won their respective semifinal matches on Friday.
The eighth-seeded Barty appeared to be in control against unseeded 17-year-old Amanda Anisimova early her semifinal, leading 5-0 in the first set after just 12 minutes. Yet Anisimova came back to win the set in a tiebreak, as well as the first three games of the second set before Barty regained her form to ultimately win 6-7 (4-7), 6-3, 6-3.
"I played some really good tennis. I played some pretty awful tennis," Barty said after the match. "I'm just proud of myself the way I was able to fight and scrap and hang in there and find a way."
The 19-year-old Vondrousova had only a slightly easier time beating No. 26 seed Johanna Konta, winning 7-5, 7-6 (7-2) to advance to the final. Vondrousova has yet to lose a set in the tournament.
"Best week of my life so far," Vondrousova said in her post-match comments. "I'm just very happy with everything."
While Vondrousova has been on fire so far at the French Open, the more experienced Barty is favored in Saturday's final. FanDuel has Barty listed at -156 to win the major, with Vondrousova posted as a +132 underdog.