Francis Ngannou spoiled Cain Velasquez's return to the UFC Octagon on Sunday night, finishing the former heavyweight champion in just 26 seconds.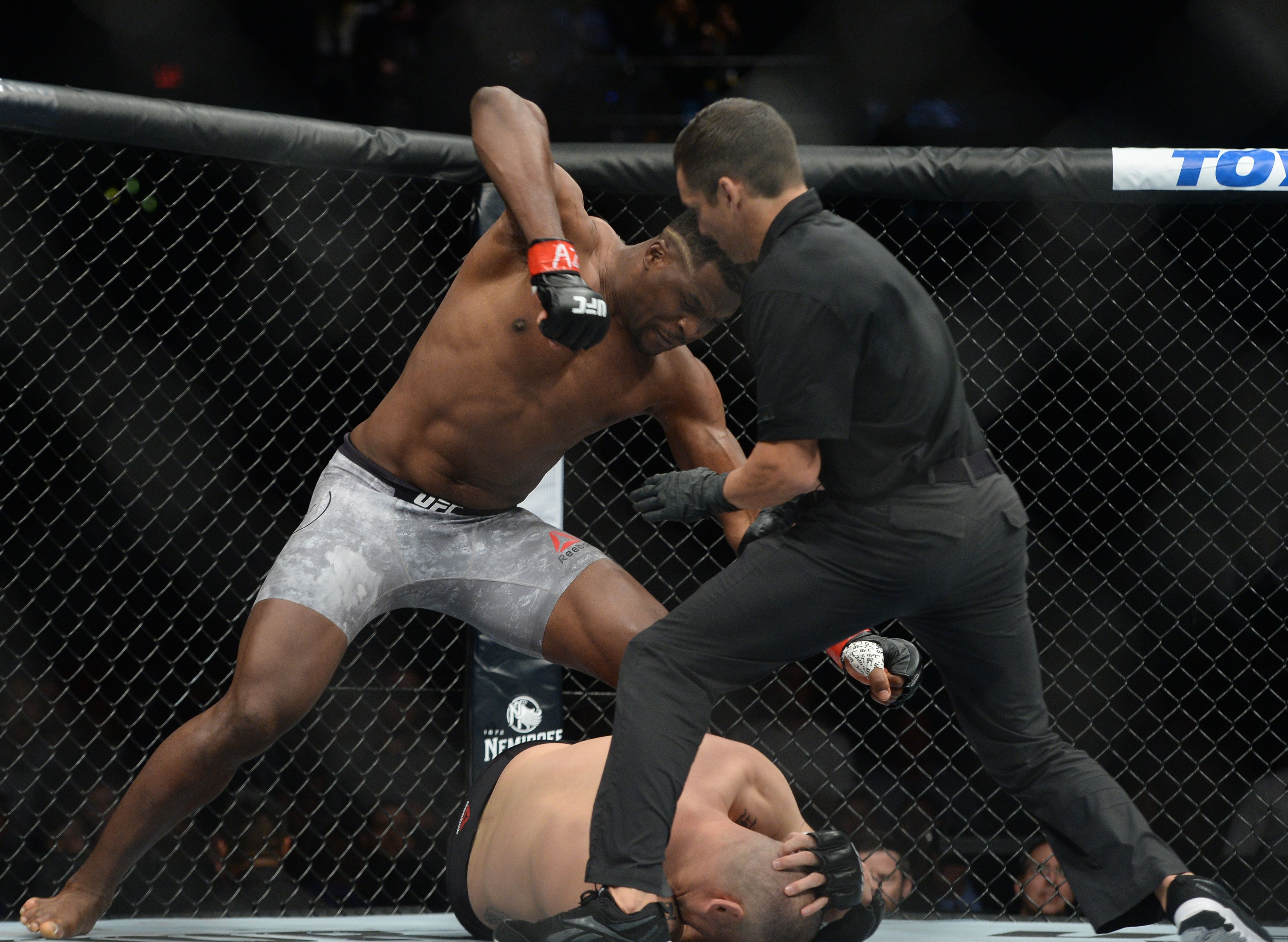 Ngannou (13-3), currently ranked as the No. 3 contender in the UFC heavyweight division, landed a flurry of punches early on against the 36-year-old Velasquez before the former champ's knee buckled.
Hurt or Not, Velasquez Fall Ends Fight
That sent Velasquez to the ground, giving Ngannou an opportunity to pounce. After the Cameroonian fighter landed two more hammer punches on the grounded Velasquez, the referee stepped in to stop the fight.
"I tried to take another step, and my knee just gave out on me," Velasquez said after the fight. "I came in 100 percent, and to have this freak accident, I can't even believe it."
According to Velasquez (14-3), he hadn't been hurt by any of the punches thrown by Ngannou to that point.
Nobody disputes that something caused Velasquez to crumple unnaturally. But Ngannou does take issue with the claim that he hadn't caused damage in the opening seconds of the fight.
"The knee buckled after I hit him," Ngannou said after the bout. "Right away, I couldn't feel it because I've thrown a bunch of punches, but when he fell, I knew that I hurt him."
WOW!@Francis_Ngannou gets it done in Arizona! #UFCPhoenix pic.twitter.com/xGF4ziuAZA

— UFC (@ufc) February 18, 2019
In his post-fight interview, even Velasquez seemed to acknowledge that his strategy coming into the fight was faulty.
"I stood a little too close too early," Velasquez said. "That's when he's dangerous. That's how it happened. What are you going to do?"
Ngannou Back in Title Picture
While the result is a bitter disappointment for Velasquez, it could once again position Ngannou for a run at the heavyweight title. The 32-year-old is bouncing back from a difficult 2018 that saw him lose decisions to both Stipe Miocic and Derrick Lewis, the two men who are currently ranked between Ngannou and divisional champion Daniel Cormier.
As for Velasquez, his future plans are unknown. This was his first fight since 2016, and it isn't clear where he would currently stand in the UFC's heavyweight pecking order. But the former champion says that he does plan to continue his MMA career.
"[I'll be back] as soon as I'm all good," Velasquez said. "I can give you guys more and you know I can give you guys more. I'm truly sorry for this."
Felder Kicks His Way to Decision Win
In the co-main event, Paul Felder (16-4) scored an impressive decision win over No. 10 lightweight contender James Vick (13-3). Felder took control of the fight in the third and final round with a series of leg kicks that left Vick limping and unable to effectively attack Felder or get the fight to the ground.
Two judges gave the fight to Felder by a 29-28 margin, while the third gave him all three rounds in scoring the bout 30-27.
"I was told during the fighter meetings this week that I'm not intelligent enough, that I'm not well-rounded enough to win a decision," Felder said in his post-fight interview. "[The lightweight division] better look out, because no matter how you want to get it, you're gonna get it."