France upset Team USA and snapped USA's 58-game winning streak in major international competition in a 89-79 victory over the Americans in the quarterfinals of the 2019 FIBA World Cup.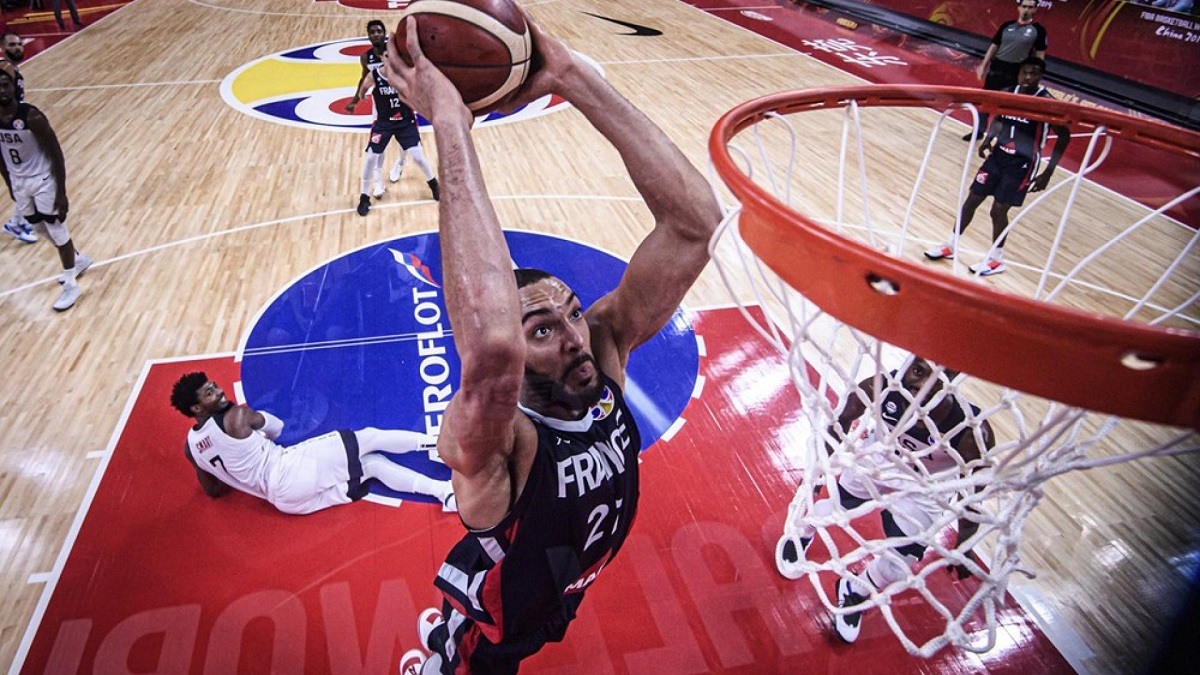 French NBA stars, Evan Fournier and Rudy Gobert, combined for 43 points in the upset victory in China. Fournier led France with 22 points, while Gobert added 21 points and 16 rebounds. Frank Ntilikina added 11 points.
France thwarted Team USA's attempt at winning a third consecutive FIBA World Cup.
USA's last loss in major competition occurred back in 2006.
Thin Ranks
This current crop of Americans was considered one of the weakest since the inception of the Dream Team in 1992. Many of the top pros were either injured or removed themselves from consideration after a lengthy playoff run. Many other former Team USA players sat out this summer for personal reasons.
Without the best of the best, Gregg Popovich headed into training camp with thin ranks. Pops welcomed the challenged and felt he could whip this team into shape in less than two months. If anything, Team USA represented many top young players and a bunch of up-and-coming stars with lack of experience as their only drawback.
Before the FIBA World Cup began, Team USA lost an exhibition game to Australia during scrimmages in Australia leading up to the World Cup.
Once the World Cup began, it was apparent that USA was not a dominant team and prone for a potential upset. Turkey gave them a scare in opening round group action. Team USA pulled away to a 1-point victory in overtime.
However, once the Americans lost starting guard Jayson Tatum to an ankle injury, the entire tournament was wide open.
France 89, USA 79
France rallied from behind and pulled off a stunning upset over Team USA. Tatum did not play in the quarterfinals. Instead, Donovan Mitchell picked up the slack with 29 points to lead all scorers.
Marcus Smart dropped 11 points and Kemba Walker added 10. They were the only other players to score in double digits for Team USA. Walker had a bad night from the floor hitting only 2-for-9 including four missed three-point attempts.
"It's the best French team I've seen because they pay on both ends of the court," said Popovich. "They play at the defensive end, very physical. Individually play well, good as a group. They fit together really well. All the parts fit. They're deep."
The Americans struggled at the free throw line shooting 14-for-21 compared to 21-for-25 for France. USA also struggled from downtown connecting on only 7-for-20 from three-point range.
France New Favorites
Serbia came into the 2019 FIBA World Cup as the second highest favorite on the board. With the Americans looking beatable the early stages of the World Cup, Serbia's odds improved to 3/2 overall.
Currently, both France and Spain have similar odds in European sportsbooks at 2/1 odds. The Aussies are 3/1 odds to prevail, but they have to face a hot Argentina team that is fresh off their own upset over Nikola Jokic and Serbia.
2019 FIBA WORLD CUP ODDS:
France 2/1
Spain 2/1
Australia 3/1
Argentina 6/1
It seemed like Serbia and Team USA might meet in the semifinals. Alas, France upset Team USA to advance. On Tuesday, Argentina picked off Serbia in the quarterfinals 97-87. Argentina will now face France in the semifinals.
"We came here to win gold," said Rudy Gobert of France, who plays for the Utah Jazz. "We knew it wasn't going to be easy. A lot of people counted us out, but we got the win. It doesn't mean anything if you don't win in the end."
On the other side of the bracket, Spain faces Australia. The Aussies defeated the Czech Republic 82-70 on Wednesday. Patty Mills led all scorers with 24 points.
The semifinals begin on Friday, September 13 in China. The FIBA World Cup championship game occurs on Sunday, September 15.