With all the upsets in the AP Top 25, it was not surprising to see a mass amount of movements in the latest college football poll. Four of the top 10 teams – No. 2 Georgia, No. 6 West Virginia, No. 7 Washington, and No. 8 Penn State – all were beaten, and three of them dropped out of the top 10.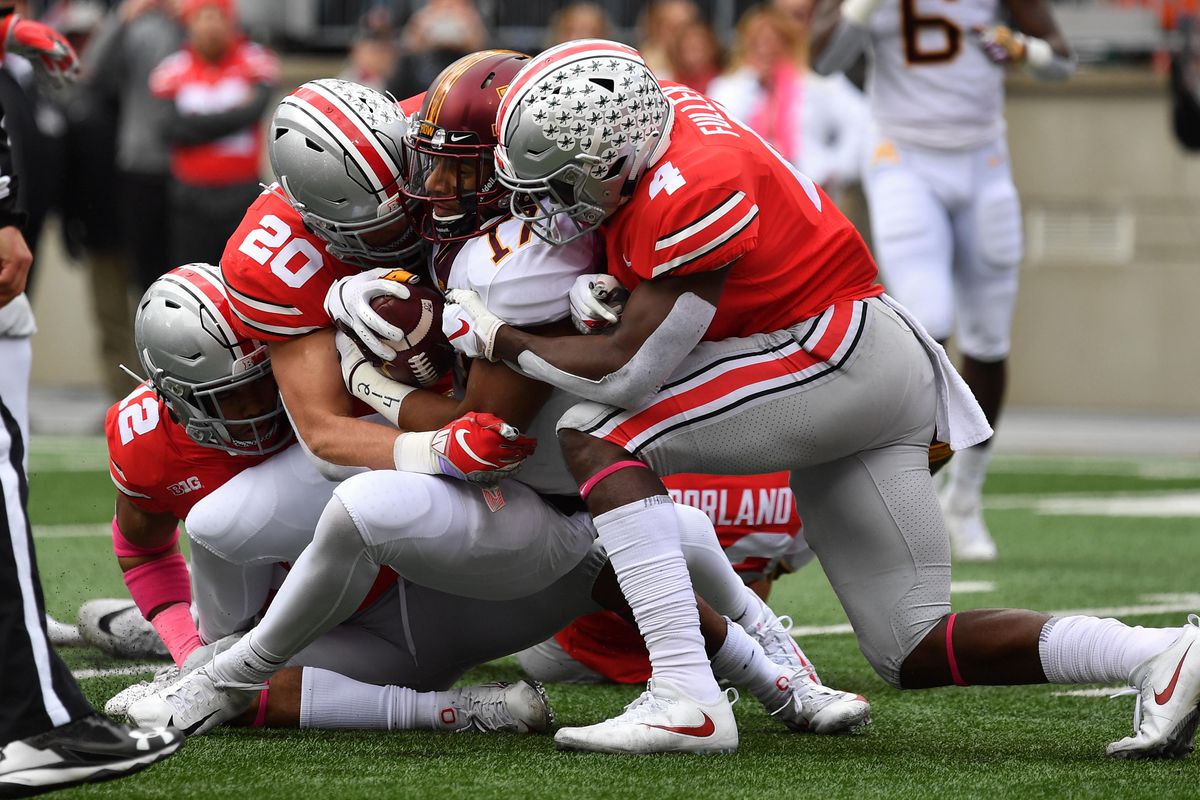 With its 30-14 victory over Minnesota, and Georgia's loss to LSU, Ohio State took over the No. 2 rank in the AP Top 25 poll. (Image: AP)
Georgia lost to a fellow SEC conference team LSU, who had been No. 5 the week before, but a loss to Florida dropped them to No. 13. They got back to fifth with a 36-16 beating of the Bulldogs. With the loss Georgia dropped to No. 8.
The loss put Georgia in a spot where they will need help from other teams, such as Notre Dame and Clemson, to get back into position to make the College Football Playoffs. Bulldogs coach Kirby Smart is convinced his team will still be in the postseason.
"We've got a lot to get better on," coach Kirby Smart said. "I've been saying that for three weeks. Every opportunity we had before the game is still in front of us."
That's not the case for West Virginia, Washington, and Penn State. The Mountaineers fell to No. 13, while the Huskies dropped to No. 15, and the Nittany Lions plummeted 10 spots to No. 18.
Buckeyes New No. 2
With Georgia losing, Ohio State took advantage, defeating Minnesota, but not covering the spread. The unimpressive 30-14 victory, the team was favored by 30 points, was enough to move the from third to second. They are behind Alabama, who defeated Missouri, 39-10. The Crimson Tide got all but one of the first-place votes, with the Buckeyes getting the other one.
Another Big 10 team that moved up was Michigan. They defeated former No. 14 Wisconsin, 38-13, and were rewarded by jumping up six spots from No. 12 to No. 6. Wolverines coach Jim Harbaugh said his team is playing well as it prepares to face rival Michigan State on Saturday.
"Good. Confident team," Harbaugh said. "Enthusiastic every day, we're excited to get back on the field and practice."
Big 10 Makes Noise
The Buckeyes and Wolverines were two of the six teams now in the top 25. Penn State and Wisconsin stayed in the poll despite losses. The Nittany Lions lost to Michigan State, while the Badgers were pounded by Michigan.
Iowa jumped into the poll to No. 19 after an impressive 42-16 win over Indiana. MSU got back in after a week gone with their upset of the Nittany Lions. Iowa coach Kirk Ferentz said the team has a lot more upside.
"If you have to give anybody credit, I'll start with our 13 seniors," Ferentz said.  "We don't have a big class of guys, but every one of them is totally on board.
"One of the things I'm really excited about is how much we can get better in my mind if we keep our focus where we need to.''
 The SEC still has the most teams with seven, but lost one this week when Auburn was knocked out after losing its third game of the year.