Texas Tech fired head coach Kliff Kingsbury after the Red Raiders (5-7) suffered a third losing season in a row.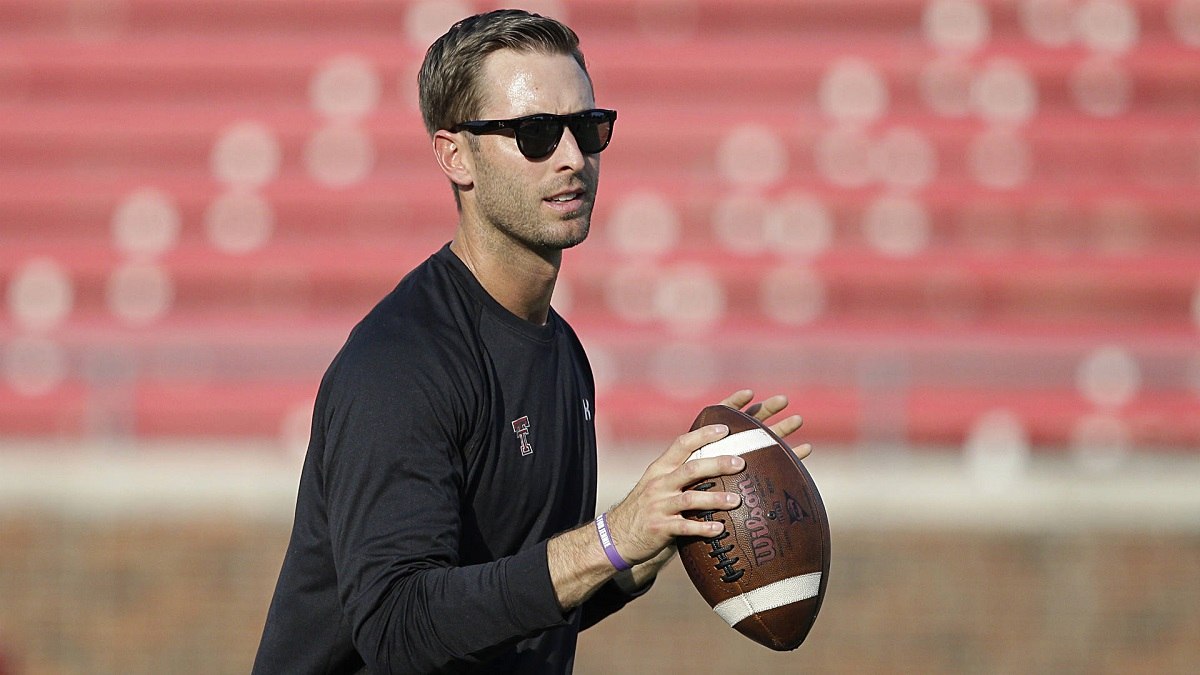 Kingsbury set numerous NCAA passing records as quarterback for the Red Raiders. However, he struggled as their head coach. In six seasons, Kingsbury finished with a 35-40 record and a 1-2 record in bowl games.
Texas HS Legend
Kliff Kingsbury made a name for himself as a standout player in New Braunfelds, Texas. The Texas High School Football Hall of Fame inducted Kingsbury this year, which is all you need to know about his skill level and awesomeness.
Kingsbury played for two different coaches at Texas Tech. Mike Leah became his coach in 2000 and introduced the QB to the Air Raid offense. Kingsbury helped bring the Air Raid offense from concept to reality in Lubbock.
In only 43 games, Kingsbury threw 95 touchdowns (plus 40 interceptions) for 12,423 total yards. By the time he graduated from Texas Tech, Kingsbury broke 39 school records and set numerous Big 12 conference and NCAA records. In 2002, Kingsbury was a Heisman hopeful his final season and finished ninth overall in voting.
From QB to HC
The New England Patriots selected Kingsbury in the 2003 NFL Draft. However, his professional career never materialized. Although he won a Super Bowl with the Patriots, Kingsbury bounced around the league for three seasons with stints at the New York Jets and New Orleans Saints.
Kingsbury headed to Europe and played for the Cologne Centurions in Germany. He later head north of the border and played in the Canadian Football League with hopes on getting a second shot at the NFL.
With a fledgling pro career in doubt, Kingsbury pivoted into the coaching ranks. He coached the Houston Cougars and introduced Air Raid concepts to the playbook. Their offense exploded and Texas A&M snatched him up.
In 2012, the Aggies gave Kingsbury a chance and hired him as their offensive coordinator. After one season in College Station, Kingsbury headed back home to Lubbock.
In 2013, Texas Tech head coach Tommy Tuberville abruptly bolted for Cincinnati. Despite lacking any experience as a head coach, Tech tapped their former quarterback to become their fifteenth head coach.
Troubled Waters in Lubbock
Kingsbury got off to a hot start in Lubbock winning his first seven games and he started walk-on freshman QB Baker Mayfield. Kingsbury became the only coach in the Big 12 conference to achieve that remarkable feat. Mayfield ended up transferring to Oklahoma at the end of the season, where he'd go on to win the Heisman and become the #1 draft pick. It's been a struggle for Kingsbury ever since.
In his first season, Kingsbury lost 5 out of their last 6 games but finished with an 8-5 record. Tech appeared in the Holiday Bowl and beat Arizona State for their only bowl win under Kingsbury.
In his second season, Tech finished 4-8 with an abysmal 2-7 record in the Big 12. Kingsbury bounced back in his third season with a 7-6 season. It would be his final winning season at Tech. The Red Raiders were bowl eligible, but lost to LSU in the Texas Bowl.
The Red Raiders went 5-7 and 6-7 over the next two seasons. Tech barely made a bowl last year and lost to South Florida.
After another rocky season in which Kingsbury shuffled three different starting quarterbacks, Texas Tech athletic director Kirby Hocutt saw enough. Tech dropped its seventh game of the season during a heartbreaking 35-24 loss to Baylor. It also marked its third losing season in a row. Hocutt fired Kingsbury the next day.
"I'd like to thank Kliff Kingsbury for his six years of dedication leading our football program," said Hocutt. "He's worked very hard and represented us in a first-class manner."
Texas Tech alumni Patrick Mahomes, who is tearing up the NFL, tweeted his support for former coach Kingsbury.
Thank you @TTUKingsbury for everything you have done for me and Texas Tech University! You believed in me when very few people did and helped me become the quarterback and person i am today!

— Patrick Mahomes II (@PatrickMahomes5) November 24, 2018
Tech Future
What will happen to Texas Tech? Former head coach and original engineer of the Air Raid, Mike Leach, expressed interest in returning to his former team. In 10 seasons with Tech from 2000 to 2009, Leach finished with a 84-43 record.
The current Washington State head coach lost the Apple Cup rivalry game to Washington this past weekend.
Other high-profile candidates include Utah State head coach Matt Wells, North Texas head coach Seth Littrell, and Oregon's defensive coordinator Jim Leavitt.
Colorado fired their head coach Mike MacIntyre last week. The Buffs expressed interest in Utah State's Wells as well.