Despite finishing last season with a 9-4 record in arguably the toughest conference in college football, LSU Coach Ed Orgeron is the favorite by oddsmakers to be the first coach in the SEC to be fired in 2018. Welcome to football in the south, where nothing less than a national championship is acceptable.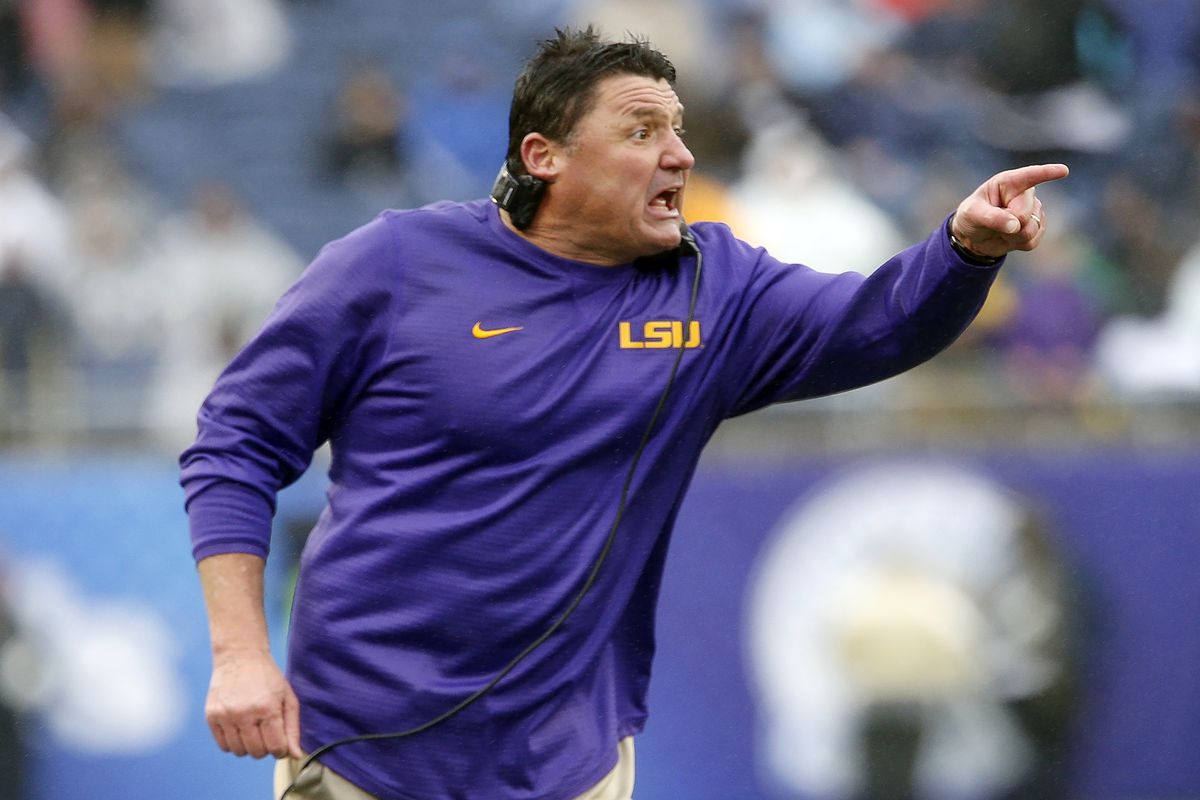 BetOnline has Orgeron as the 9/4 pick to be shown the door first out of the 14 coaches in the conference. Barry Odom of Missouri is next at 5/2, while Derek Mason of Vanderbuilt is 5/1.
Orgeron has only been the coach for a year, taking over as interim head coach when iconic head man Les Miles was fired in September 2016. Orgeron finished out the season at 6-2, and on Nov. 26, he was given the job.
Last year he led the team to a third-place finish in the SEC West, behind Auburn and Alabama. The team played in the Citrus Bowl, but lost to Notre Dame.
What Have You Done for Me Lately?
Despite a season that most coaches would sell a kidney for, it wasn't good enough for LSU fans, especially when the team lost at home to lowly Troy University. The bowl loss to the Irish also disappointed people back in Baton Rouge, and Orgeron is apparently on a short leash.
For whatever pressure is on the 57-year-old, he is not showing it. He appeared at SEC Media Day July 16, ready to move on from a self-admitted lapse in judgment in his hiring of offensive coordinator Matt Canada, who he fired in January.
"It's tough when you make a mistake, but it's even tougher not to admit you made a mistake," Orgeron said. "Just wasn't a good fit. I had to do what I thought was best for the LSU program. So that's why I did it."
His team has one of the toughest schedules in the country. They face Miami before conference play, and then will have Auburn, Alabama and Georgia to contend with in a season that has them projected to finish 8-4.
Still Orgeron feels like his team will be in the mix for the conference championship.
"We're more equipped to be able to compete in the SEC," Orgeron said. "We have ten analysts this year as opposed to five. We're giving our coaches more information, our players more information earlier in the week. So, yes, I feel more comfortable."
Other Candidates for Unemployment
Odom would seem to be the coach on the hot seat. Missouri finished 7-6 last year and he is getting nine of his starters returning. In the third year of his contract, this would be the season to live up to the state's motto of Show Me. If he doesn't he could very well be the first SEC coach shown the door.
Kentucky coach Mark Stoops could be the best longshot to go first. He is at 7/1, and under some pressure to produce his third winning season. He has been at the helm since 2013, and amassed a 26-36 record, and has not won a bowl game. Playing Florida and Texas A&M on the road this season doesn't help his cause, neither does hosting Georgia.