After an embarrassing loss to Miami, Florida State coach Willie Taggart was fired on Sunday. Taggart had been with the Seminoles for less than two seasons, compiling a 9-12 record in 21 games. He had been a favorite to be the first college coach fired at 5/1, but Rutgers coach Chris Ash (4/1) was dismissed first.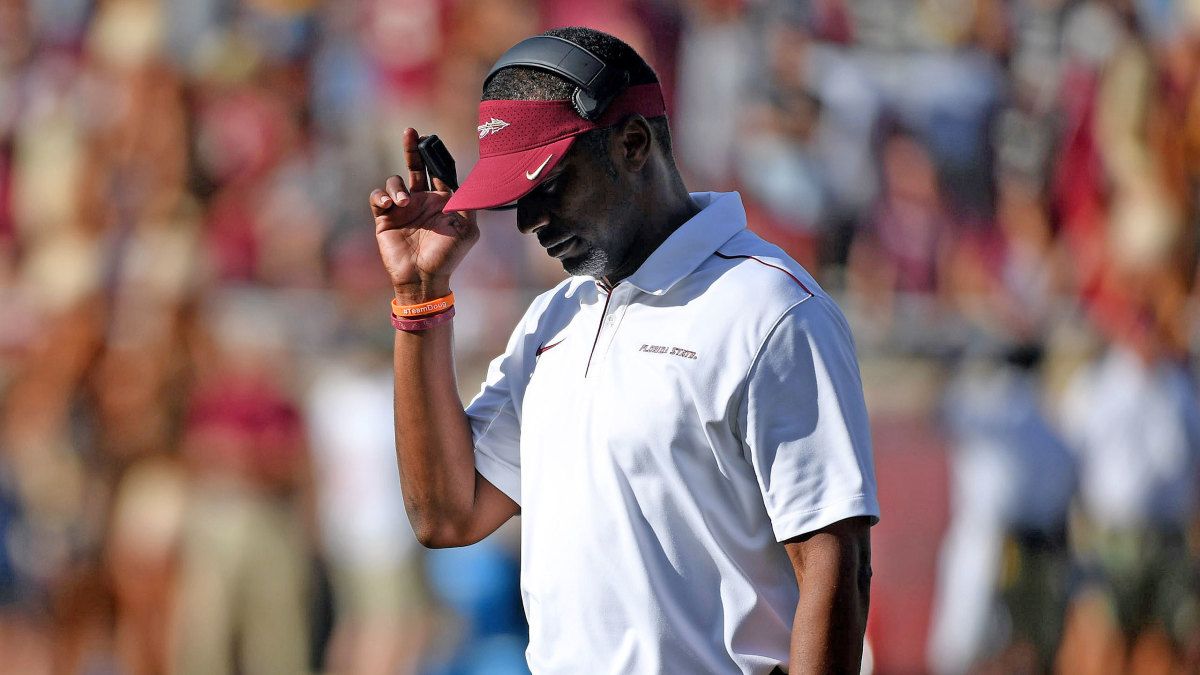 The Seminoles were 4-5 this season, and in danger of missing a bowl game for the second consecutive year. The last time FSU didn't qualify for a bowl game was 1981. The last time they missed a bowl game two years in a row was 1975-76.
Saturday's 27-10 home loss to Miami, where FSU was favored by three, was the third time Taggart's team lost when a favorite. They were defeated in their home opener by Boise State, despite being a 6.5-point pick. Then, they lost in Week 7 to Wake Forest as a three-point favorite.
Taggart Fired After Hurricanes Defeat
After losing to Miami for the second straight year, Taggart told reporters he didn't believe it was catastrophic. In regard to his job, he was wrong.
"I wouldn't say a significant step back," Taggart said. "Yes, it's a step back whenever you lose. I wouldn't say it's a significant step back. Again, the way you go forward, you go out and win ball games."
Apparently Seminoles athletic director David Coburn, and university president John Thrasher disagreed. They both announced the firing in a statement.
"I think very highly of Coach Taggart and wish him well, but in the interest of the university, we had no choice but to make a change," Thrasher said.
Coburn said in the same release that he had informed the assistant coaches and the players of Taggart's firing.
Proud Program Declines
It is hard to believe that FSU was the national champion only six years ago. The Seminoles thrived under Jimbo Fisher for seven of his eight seasons, including winning the 2013 National Championship.
Fisher replaced the iconic Bobby Bowden, who in 34 seasons, led the Seminoles to eight National Championships. Then Taggart took over and was fired in less than two seasons.
Taggart never came close to duplicating that success, but he said on Twitter after his dismissal that he wasn't given enough time.
"Obviously I am disappointed in the decision today as I believe our future is bright at Florida State," Taggart wrote. "Building a program and a culture takes time, and I regret that we will not have the opportunity to continue to coach these incredible young men,"
Who Will be Next FSU Coach?
With Taggart fired, the question is who will replace him? Longtime assistant coach Odell Haggins will be the interim coach for the rest of the season. He has been with the team for 26 years, and currently coaches the defensive line.
With speculation running rampant, there are several familiar names at the top of the list, including former Oklahoma coach Bob Stoops. He retired in 2017 after leading the Sooners to a 190-48 record.
One hot candidate could be Minnesota head coach, P.J. Fleck. The 38-year-old has led the Golden Gophers to their best record since the FDR administration. He also turned around the Western Michigan program before taking the Minnesota job.