Florida State fans are not happy with coach Willie Taggart, but the school would have to swallow around $17 million to buy out his contract. One fan is doing his part to make that happen.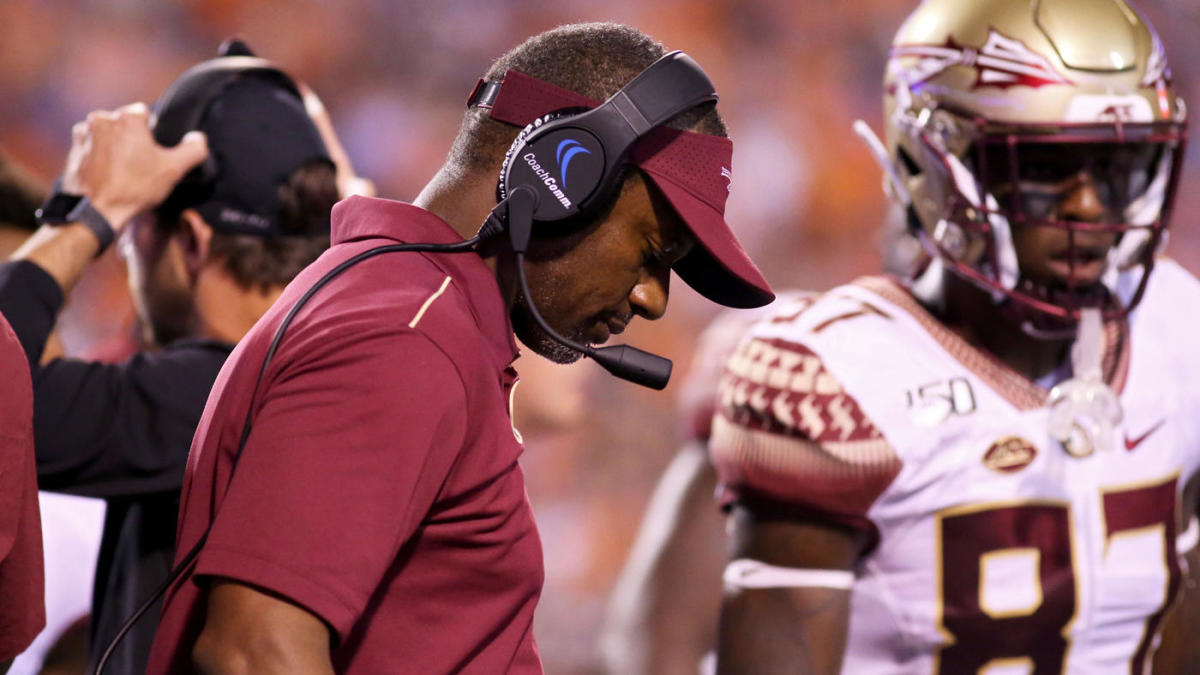 The four-year-old son of an FSU booster set up a lemonade stand outside of his grandmother's house in Tallahassee. He was collecting money by selling liquid refreshments. He sold out in less than three hours, collecting $241. His father matched the money, and then wrote a check to Seminole Boosters, Inc. under the heading "Taggart Buy Out!"
There wasn't much of a honeymoon period for the Seminoles coach when he was hired in 2017. A GoFundMe page was established in 2018, collecting money to pay off his contract. There is also a Facebook page and a website calling for his firing.
Before the season even started, Taggart was a 4/1 favorite to become the first college football coach fired. Now that his team is 1-2, only South Florida's Charlie Strong has better odds at 3/1.
After collapsing against Boise State in the first game of the season, many were criticizing Taggart. While he won't address his own situation, he did say the team can't listen to outsiders.
"We have to stay within our cocoon and not listen to the outside noise," Taggart said. "We don't play well, that's what's going to happen. Our guys understand that. If we want it to be anything different, we got to go all out and make it happen on the football field."
Alabama Defense Hurting
Alabama football might be 3-0, but the victories haven't come without a cost. Defensive end LaBryan Ray will miss Saturday's game against Southern Mississippi with a foot injury. Ray suffered the injury in the team's win against South Carolina.
It is feared that he may miss a significant portion of the season, and could even be lost for the year. Alabama coach Nick Saban told BamaInsider.com that the severity of the injury hasn't been determined.
"We're doing some further testing to see what the situation is with his foot, but it's undetermined right now as to how long he may be out," Saban said.
Ray is the third starter to be injured. Starting linebackers Dylan Moses and Joshua McMillion suffered season-ending injuries.
The Crimson Tide is still a 39-point favorite to defeat Southern Miss., but in the following weeks, they face Ole Miss, and then No. 17 Texas A&M.
Georgia Ready for Chaos
No. 3 Georgia is hosting No. 7 Notre Dame this Saturday, and the Bulldogs are a 13-point favorite. The Fighting Irish are trying to defeat a top-10 team on the road for the first time since beating No. 8 Oklahoma 30-12 in 2012.
For Bulldogs coach Kirby Smart, keeping his team focused and avoiding the upset is what he has been preaching this week.
"We don't really get into the exterior forces," Smart said. "What's going on outside, I mean you can think it's going to affect our guys, but it's really not supposed to. We're really playing the opponent that lines up across from us, and we even talk about playing ourselves more than anything. I know our guys will be excited to play. I know it will be an awesome atmosphere. Our fans never fail when it comes to support and being there. It'll be a record crowd with the additional seats. But after that it's going to come down to football, and that's what it always boils down to, who can block and tackle."