As trainer John Sadler put it after watching his star runner Flightline on Sunday, "Christmas came a day late."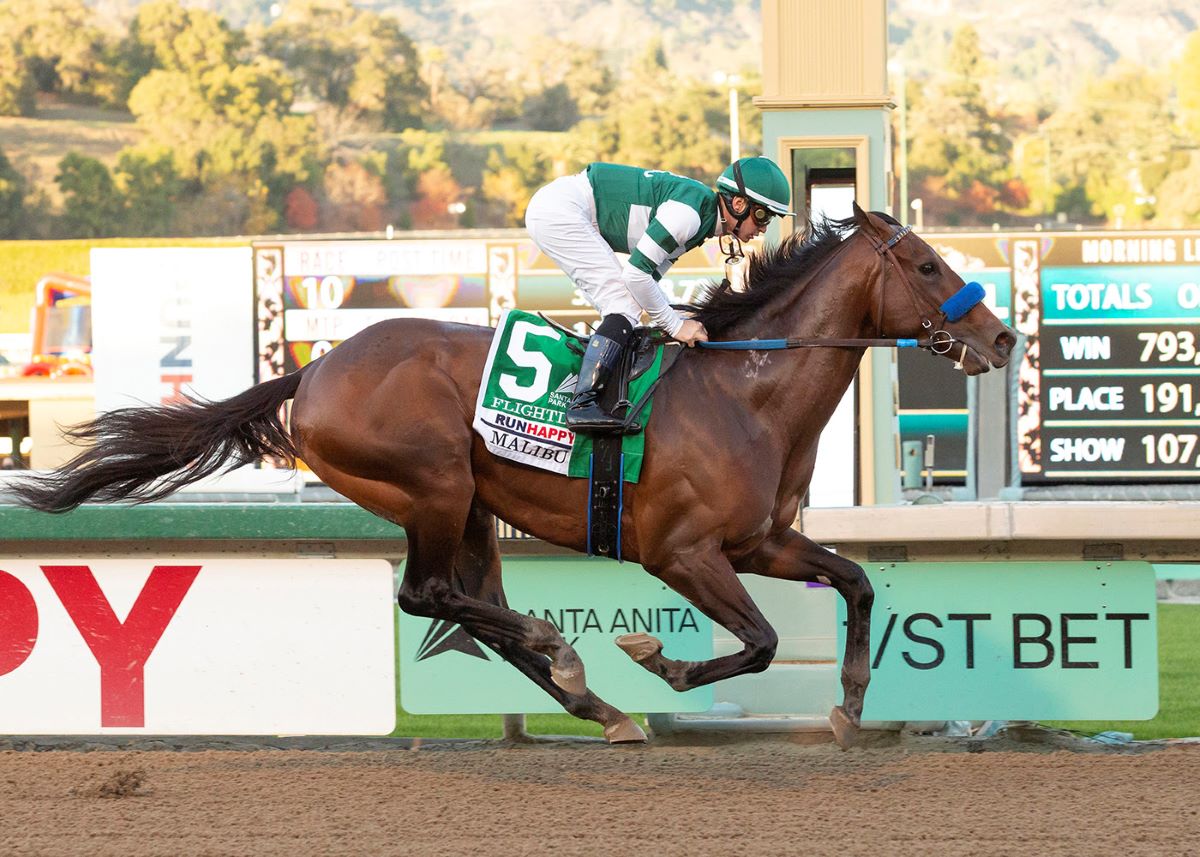 For Sadler and the connections of the 3-year-old son of Tapit, Flightline's performance in Sunday's Grade 1 Malibu Stakes at Santa Anita Park was the gift that keeps on giving. And giving. The $1 million purchase ran past all the hype, winning the Malibu by 11 ½ lengths.
Flightline's scintillating dismissal of his rivals as the 2/5 favorite came with a 118 Beyer Speed Figure. That's the highest Beyer recorded by a North American horse this year. It surpassed the 114 that Flightline clocked in his 12 ¾-length dismantling of a September Del Mar allowance field. Baby Yoda, who finished a distant second to Flightline, clocked a 114 Beyer in a Saratoga allowance.
"We were going very fast early, and for Flightline to have that kind of turn of foot later on was very impressive," said Jose Ortiz who was aboard Baby Yoda. "My horse ran a winning race anywhere else. If Flightline isn't there, I win. He's a freak."
Rival jockey stunned by Flightline's turn of foot
Ortiz had a front-row seat for Flightline's turn of foot. He stalked Flightline coming into the turn and was poised to pounce entering the stretch — only to watch Flavien Prat and Flightline come around the turn like they were shot out of a cannon.
"I was in cruise control the whole race, galloping freely," Prat said after the race. "He was quite impressive. I wanted to get a good position and get myself into the race. My idea was to get out there running and see what happened. He has been brilliant so far. He really has been quite amazing."
How amazing? Even putting aside the 105, 114, and 118 Beyers, Flightline's average victory margin in three races has been a tick over 12 lengths.
"This horse is on a different level," Sadler told Santa Anita's Ed Golden Monday. "All has to go right, but we might be looking at a historic-type horse before it's all over."
Next race TBD, but will likely be longer
As for what's next, Sadler was non-committal after the Malibu. He did say that Flightline came out of the Malibu in good shape and the colt will likely stretch out in his next race, telling reporters that Prat said there is more in the tank.
"We're not looking at anything yet," Sadler told Golden Monday. "We don't have any plans yet. It's too early for that. The bigger picture point I was trying to make is that he could run in any race, but we haven't honed in on anything."
Actually, Sadler has honed in on something. He's honed in on the fact Flightline has raised his blood pressure and his training game – in a good way.
A win that will go down in the history books. Flightline took the G1 RUNHAPPY Malibu Stakes, winning by an easy 11 1/2 lengths today at SA ! Congrats to #hronisracing @westpointtbred @woodfordracing #summerwindequine #sienafarms A HUGE thx u to our team at the barn @johnwsadler pic.twitter.com/ycCtLmSdKq

— JWS (@sadlerracing) December 27, 2021
"This is not an ordinary horse, this is a very special horse," Sadler said after the race. "We want to do right by the horse and all other things will fall into place … After Flavien got off him the last time, he said this horse can go further. He'll go a distance the next time. There is a lot of pressure on you, but it is the pressure you want. It's like the high school coach for LeBron (James). You know you have something special and he is much the best. This horse is there. You just don't want to screw it up."