Trainer Leonard Powell's comments about Flashiest entering a deep Del Mar Derby field is more an indictment on Flashiest's last race than an indictment on Saturday's Grade 2 Del Mar Derby.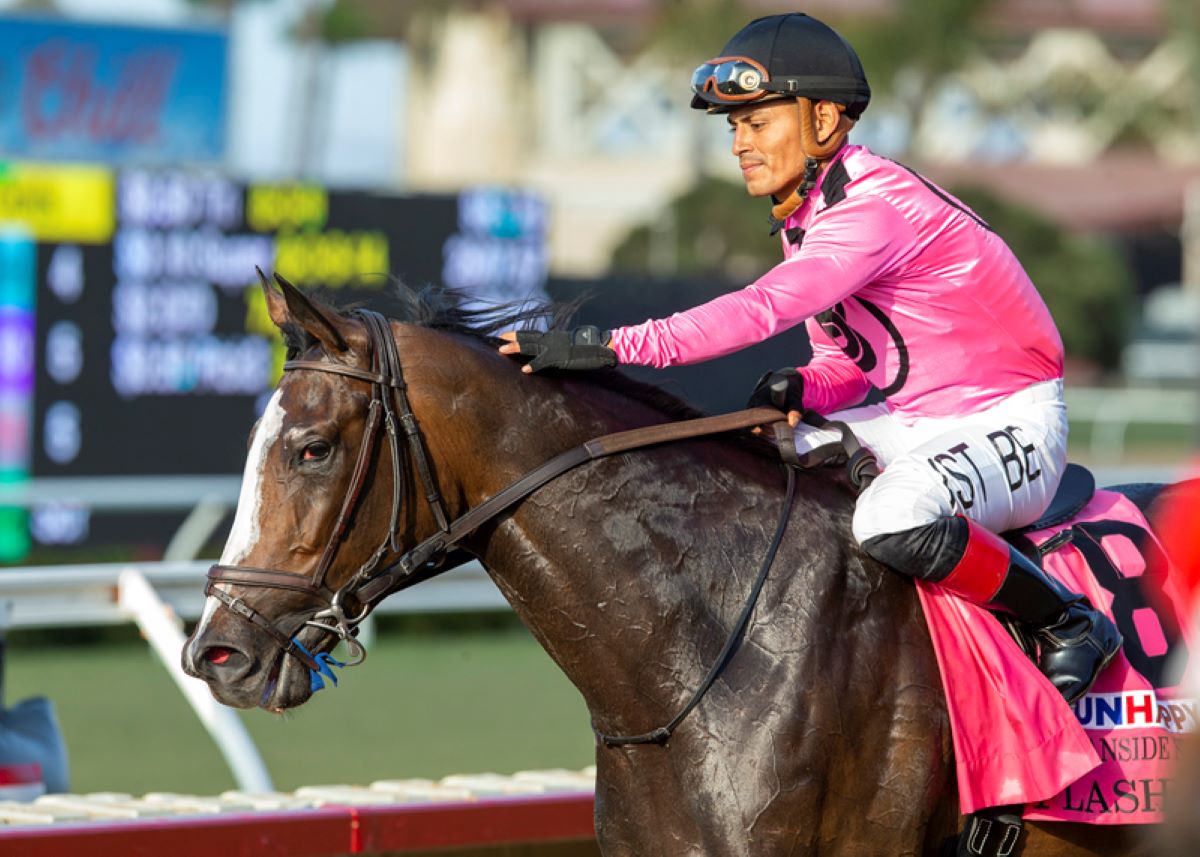 "The Saratoga trip didn't work out as we had planned, definitely not," Powell told Del Mar. "Maybe if he had run better at Saratoga, we would have stayed back east. But when he didn't perform very well back there, coming back here was the back-up plan. So we'll see."
Flashiest's "back-up plan" is one of three stakes on Del Mar's Saturday card. It sends the 3-year-old gelding against a deep field of 13 other 3-year-olds in the finale of a three-race turf series for sophomores. That maxed-out, 14-horse field includes 9/2 favorite Hudson Ridge, 5/1 second-favorite Sword Zorro, and Hockey Dad (8/1).
Sword Zorro, Zoffarelli, and Hudson Ridge went 1-2-3 in the second leg of the turf series, the Aug. 8, 1 1/16-mile Grade 3 La Jolla Stakes. All return for this final leg, meaning as back-up plans go, this is a pretty strong one.
Flashiest was anything but last out
Running outside of everyone in post 14 is 6/1 Flashiest. When we last saw the son of Mizzen Mast run, it was in the most forgettable race of his budding career. That was his dead-last 11th in the Grade 1 Saratoga Derby, when at 41/1, Flashiest went rank out of the gate.
At the three-quarters call, he climbed to fourth, only two lengths off the lead, but he never threatened. He weakened down the stretch, finishing nine lengths back of State of Rest.
That put the brakes on what was a terrific opening salvo of races. Flashiest broke his maiden at first asking in April, albeit in a maiden special weight at C-level Turf Paradise in Arizona. But Flashiest legitimized matters five weeks later, winning a Santa Anita Park allowance optional claimer at 10.50/1.
Oceanside Derby provided opening-day coming-out
He followed that with a good second by 1 ¾ lengths to Hudson Ridge in another Santa Anita allowance optional claimer in mid-June. That sent Flashiest and his 2-1-0 record to Del Mar, for what became his break-out race in the Black-Type Oceanside Stakes on Del Mar's opening day.
Going off at 12.80/1 and coming from four lengths back, Flashiest turned in a career-best 101 Equibase Speed Figure, beating Crew Dragon by a head. Other victims from that race included None Above the Law, Petruchio, and Hockey Dad. Those three, along with Crew Dragon, join Flashiest in the Del Mar starting gate for the Del Mar Derby. So does Barraza, who Flashiest beat in both his allowance victories.
Flashiest knows his opponents
So, Flashiest has beaten five of his expected foes already, and he sees them again on a track that he's vastly more comfortable running. Powell prefers to concentrate on that turf-series opening Oceanside Stakes win and not Flashiest's anything-but outing at Saratoga.
"The biggest obstacle will be the post: 14 out of 14. But the horse is doing well, so we'll just hope to make the best out of it," Powell said.