The 2020 NASCAR season probably won't see as many changes as last season, but there should still be some significant issues that will affect the sport. Last year, NASCAR got a new CEO, new president, and new rules package. This year? We'll have to wait for the drama to unfold.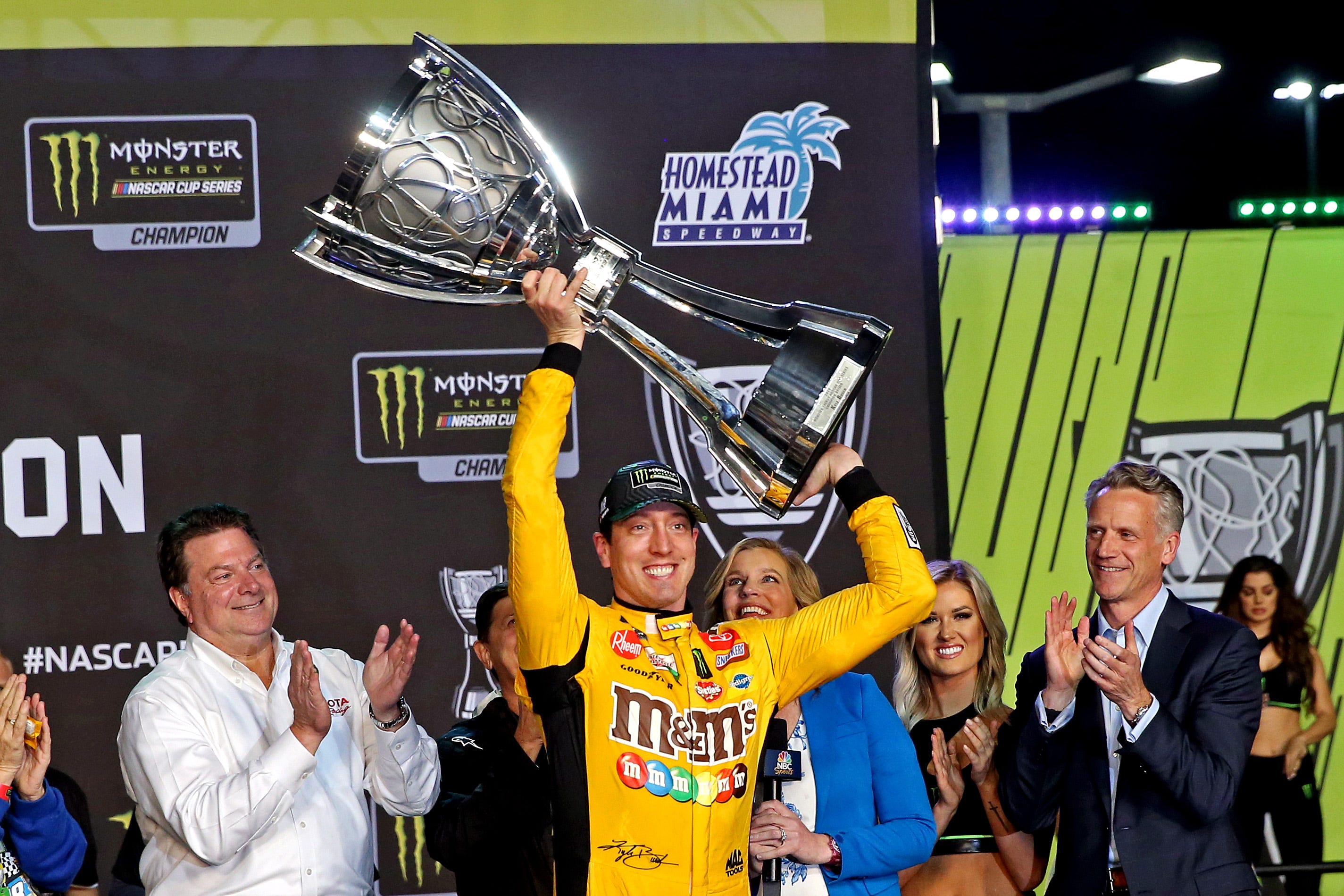 Jim France took over from his brother Brian as the head of NASCAR last year. He quickly appointed Steve Phelps as president. Jim France took a hands on approach, attending more races than his brother did. Drivers noticed the change right away.
 "I think we all appreciate Jim France being at the track as much as he's been," Kurt Busch said in February. "I'd say he went to 100 percent of the races at the end of the year."
That wasn't the only change. Phelps announced that the Championship Week would move from longtime racetrack Homestead-Miami to Phoenix next December. NASCAR 2020 might see Phelps move it again.
We consider that, along with four other that could impact the 2020 NASCAR season, it's fans, and gamblers.
1. Joe Gibbs Racing Dominates?
The four-member Joe Gibbs Racing team was like a murderer's row in 2019. Denny Hamlin, Martin Truex Jr., Kyle Busch, and Erik Jones won 19 of the season's 36 Monster Energy Cup Races. The team's impressive run began with the year's first race at Daytona, where Hamlin took the checkered flag, and ended with Kyle Busch winning at Homestead-Miami. All four team drivers made the playoffs.
So what does JGR do for an encore? Chances are, they'll probably keep winning races, and challenge again for the Monster Energy Cup Championship. The odds were recently announced for the Daytona 500, the year's first race, and Hamlin, Joey Logano, Brad Keselowski, and Chase Elliott are all listed at 10/1.
The odds are much better for a JGR driver to win the Monster Energy Cup Championship. Kevin Harvick is the favorite, but Busch and Truex are next at 6/1. Hamlin has the third-best odds at 8/1. Even Jones is in the mix at 20/1.
The only change to the team was the departure of Truex's crew chief, Cole Pearn. Pearn's departure seems to have stunned JGR members, but if Truex can jell with his new chief, James Small, the team will probably dominate again in 2020.
2. Rookies Will Impress
Just like the NASCAR Monster Energy Cup series has a Big 3, the Infinity series also had three dominant drivers who will all be running with the big boys in 2020. Tyler Reddick, Christopher Bell, and Cole Custer will all be driving the Monster Energy Cup circuit, and should make an immediate impact.
Also joining that group is John Hunter Nemechek. He told reporters a couple of weeks ago his goal is to have as many solid finishes as possible.
"That's my goal. Take what the car will give us and if we can increase it by a few spots, then great, but we're not going to go out there and try to run fifth and wreck it when we have a 10th-place car. Just something that I've had to learn the hard way over the past couple years, but overall, the opportunity with Front Row is pretty special to put my name in the rookie class with the Big 3."
3. Championship Weekend Moves Again
After 17 years of holding the year's final race at Homestead-Miami, the 2020 NASCAR championship race will be at ISM Raceway outside of Phoenix. It's a move that drivers like Kevin Harvick said was long overdue.
"To me, what happens in the race is irrelevant," Harvick said. "It's great that we're going to crown a champion. We all love Homestead. The event, and the market, and the notoriety — the new things that come to a new market that help carry that racetrack for a number of years to come, are important. We have to use our championship event to rebuild enthusiasm in markets."
CEO Jim France might have been listening, and could implement Harvick's suggestion of rotating Championship Weekend to different facilities.
4. Jimmie Johnson Farewell Tour Will Yield Mixed Results
When longtime driver Jimmie Johnson announced that the 2020 NASCAR season would be his last, it wasn't totally unexpected. The 44-year-old was in the last year of his contract with Hendrick Motorsports.
Last season was a tough one for Johnson, who had been mulling retirement for a while. His winless streak, dating back to Dover in 2017, continued, and then he missed the playoffs for the first time in his career.
Johnson has said 2020 won't be a nostalgic farewell tour, and that he wants to keep trying to compete and get back into the playoffs. He is a 30/1 pick to win Daytona, and 40/1 to win the championship. This might be the year he turns back the clock and wins a race.
5. More Feuding, Fighting Continues
Who doesn't like a little feuding in NASCAR? Fans enjoy it, and go on social media to crow about how their favorite driver got the upper hand. Last year, there were a couple of great skirmishes, including Logano and Hamlin, and Aric Almirola and Kyle Busch.
The 2020 NASCAR season could see a continuation of those feuds, and a couple others. It seems like officials are letting drivers lash out a little more than in the past.