The biggest schools may draw the most college football betting action, but this week, five games hovering under-the-radar might present the most interesting opportunities, if not intense excitement:
The San Jose State Spartans are desperately seeking for their first win of the season against Army Black Knights' third-ranked rushing attack.
The Hawaii Rainbow Warriors fly to the mainland for a shootout against the BYU Cougars.
The Princeton Tigers are first place in the Ivy League and trying to stay undefeated against Brown.
Illinois State, led by transfer QB Brady Davis, has an opportunity to put up big numbers against Southern Illinois.
Fordham, a small Catholic university from the Bronx, is praying for their first win of the season.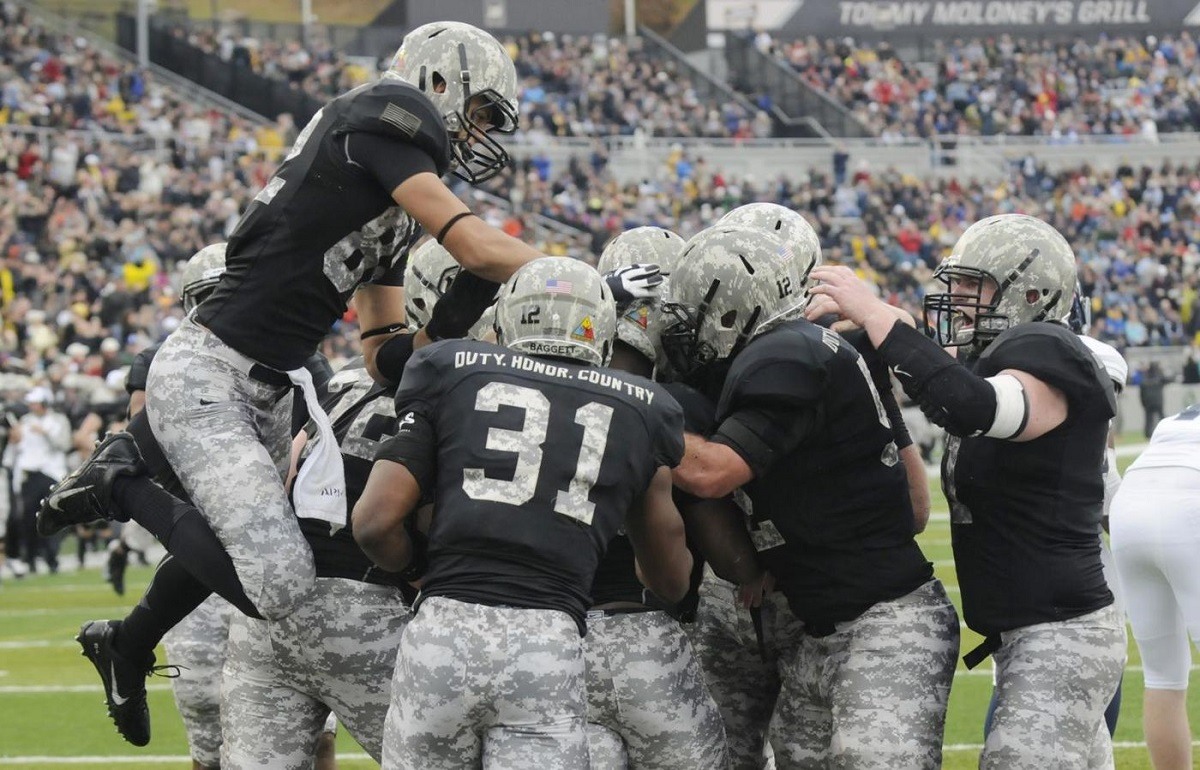 US Army Triple-Threat
Army Black Knights (3-2) at San Jose State Spartans (0-5)
Kickoff: 12:30 pm PT
Where: Levi Stadium, Santa Clara, CA
Point Spread: Army -14
Over/Under: 51.5
The winless San Jose State Spartans, last place in the Mountain West, host the well-disciplined Army unit. Army runs an old-school triple option offense led by QB Kelvin Hopkins Jr. (7 TD). The Black Knights average 308 rushing yards per game, or third best in the nation. Running backs Connor Slomka and Darnell Woolfolk have 8 combined rushing touchdowns.
Army is coming off a bye week. In Week 4, Black Knights almost pulled off an upset of a big-time Top 25 team. Army lost to #11 Oklahoma in overtime 28-21. Army is 3-0-1 against the spread in their last 4 games.
San Jose State allowed at least 30 points a game in every game this season and gave up 40+ twice.
High-Octane Rainbow Warriors
Hawaii Rainbow Warriors (6-1) at BYU Cougars (3-3)
Kickoff: 7:15 pm PT
Where: LaVell Edwards Stadium, Provo, Utah
Point Spread: BYU -12
Over/Under: 56.5
The high-scoring Hawaii Rainbow Warriors (6-1) are seeking revenge against the BYU Cougars (3-3). The Cougars won last year's matchup 30-20 in Hawaii.
The Cougars are coming off a 45-20 loss against Utah State last week. BYU's biggest win was a stunning 24-21 upset against the #6 Badgers in Madison, Wisconsin.
The Rainbow Warriors are 3-0 in the Mountain West. The Rainbow Warriors' sole loss was a 28-21 against Army at West Point Academy in upstate New York. It was farthest that Hawaii had to travel this year to play an away game. Hawaii won a thrilling 44-41 game against San Jose State in 5 overtimes.
QB Cole McDonald (24 TD and 2 INT) missed Hawaii's 17-14 win over Wyoming with an undisclosed injury, but he practiced all week and he's expected to start.
Hawaii scored 42+ in 5 of their 7 games. Expect this game to have a significant amount of points.
Smart Kids Football
Brown Bears (1-3) at Princeton Tigers (5-0)
Kickoff: 10:00 am PT
Where: Powers Field, Princeton, NJ
Point Spread: Princeton -40.5
Over/Under: 58
You have to admire Ivy League football. Without receiving any scholarships or have a chance at winning the Heisman Trophy, these players are battling every Saturday for the sheer love of the game.
Undefeated Princeton held every opponent to under 10 points thus far. Princeton is looking to run the table in the Ivy League.
For their sole win, Brown beat Georgetown 35-7 for their sole win. Brown got shut out by Rhode Island 48-0 last week in Providence and gave up 5 passing touchdowns.
Battle of Illinois
Southern Illinois Salukis (1-4) at Illinois State Redbirds (4-1)
Kickoff: 12:00 pm PT
Where: Hancock Stadium, Normal, IL
Point Spread: Illinois State -14
Over/Under: 50
In FCS Division I-AA action, the Illinois State Redbirds host the Southern Illinois Salukis in a Missouri Valley conference game. Redbirds QB Brady Davis transferred from Memphis last season. In five games for Illinois State, Davis threw 10 touchdowns in five games, including 4 TDs in a win against Eastern Illinois. RB James Robinson has 9 combined touchdowns this season.
The Salukis are trying to stop a four-game losing streak. SIU's leaky defense gave up 76 points against Ole Miss and 48 against SE Missouri.
David Foster Wallace, essayist and author of "Infinite Jest" novel, taught creative writing at Illinois State. NBA Hall of Famer Walt 'Clyde' Frazier is one of Southern Illinois' most famous alumni.
Pray for a Win
Fordham Rams (0-5) at Lehigh Mountain Hawks (1-4)
Kickoff: 9:30am PT
Where: Goodman Stadium, Bethlehem, PA
Point Spread: Lehigh -13
Over/Under: 52
In a Patriot League match up, the Fordham Rams (0-5) are looking for a win. Any win. Fordham University, a small Jesuit college from New York City, have high hopes that they can get lucky against the Lehigh Mountain Hawks (1-4).
The Mountain Hawks won their first game of the year, a 21-19 squeaker against St. Francis. The Mountain Hawks got trounced by Princeton 66-7 last week.
The winless Rams have been outscored 171-47 in five games, while the Mountain Hawks were outscored 178-47 in their four losses.